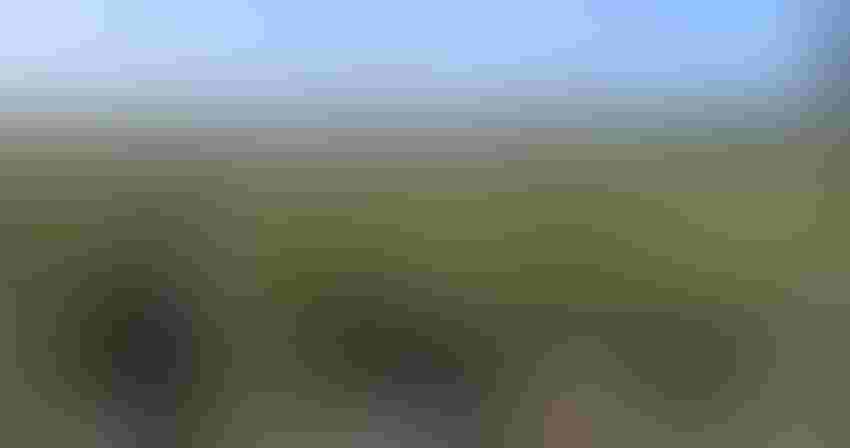 Sugarcane is grown throughout Louisiana.
Brian Ireland
Fluctuating prices have growers looking for creative ways to manage weeds in sugarcane and identify any populations that may have built up a resistance to the current herbicides.
Albert Orgeron, Sugarcane Pest Management Specialist with the Louisiana State University AgCenter, suggests managing weeds before they start.
"Sugarcane is a perennial crop and has not been genetically modified to tolerate herbicides such as glyphosate, so weed management is a complex task," Orgeron explains. "Once sugarcane is planted, the row-top, where sugarcane is grown is not appreciably disturbed until the field is fallowed 4 to 5 years later. This provides a competitive advantage for many perennial grass weeds.
"The foundation of weed management in sugarcane production begins during the fallow period because it provides the only opportunity to control weeds such as bermudagrass with non-selective or graminicide herbicides, which if were applied in crop would result in cane death. Additionally, the fallow period allows for complete field tillage and is another important tool for managing weeds and should be used in combination with herbicides to maximize weed control."
Orgeron noted various weed management challenges that arise when growing a tropical-type crop in a subtropical environment.
"Louisiana experiences freezing temperatures during the winter," he said. "Thus, the crop is dormant until February, cane emerges in March, and rapid growth does not occur until May allowing weeds to have a competitive advantage if not managed."
Although sugarcane is slow to emerge, it can catch up to the weeds and will eventually overtake the majority due to rapid growth. During winter or idle months, controlling the weeds before they can compete for sunlight is critical for sugarcane.
Herbicide
There are several herbicides on the market but are extremely limited for sugarcane producers.
"The sugarcane herbicide toolbox contains primarily old chemistries and has led to over-reliance on some modes of actions," he said.  "Paraquat is the only herbicide which has been utilized to manage emerged winter grass weeds such as Italian ryegrass," he said.
Researchers have identified ryegrass that is resistant to paraquat in three locations.
"Three populations of paraquat-resistant Italian ryegrass have been identified in the Louisiana sugarcane industry," Orgeron said.
He began getting calls about control failures in 2015 and his team's research has confirmed paraquat resistant Italian ryegrass populations in commercial sugarcane fields in White Castle, Bunkie, and St. Gabriel, LA. Lab work showed that it took 16 times the maximum labeled rate to achieve 90% control of these populations.
Chemicals such as Paraquat, a common herbicide throughout the industry, have been used to control ryegrasses. As ryegrass builds resistance to paraquat, other herbicides may be needed.
Identifying the best herbicide can be difficult but researchers and experts like Orgeron give advice based on experience and proven results from the field. 
"Other work has shown that these paraquat resistant populations can be controlled with a mixture of Asulam and Envoke," Orgeron said. "A treatment which has typically been utilized to manage rhizome johnsongrass after its emergence in sugarcane."
Growers can control the paraquat-resistant ryegrass with preemergent herbicides.
"With the recent labeling of three preemergent herbicides (Lumax EZ, Strellius II, and Visor S-Moc) in sugarcane, growers have made significant strides in managing these paraquat-resistant Italian ryegrass populations," he said.
The Louisiana sugarcane industry may face similar challenges across the rest of the world while still being unique.
"One thing that is unique to the Louisiana sugarcane industry as opposed to other domestic or worldwide industries is that regardless of rain events during harvest, harvest continues until the entire crop is processed," Orgeron said. "Louisiana producers harvest sugarcane in muddy conditions because the greatest risk to the industry is a freeze event, which would potentially sour the cane and render it useless."
Row spacing
Some regions use different row spacing that may be helping them. LSU grows on a six-foot row spacing based on the equipment where others may use five-foot spacing.
"The majority of worldwide sugarcane production is carried out on a narrower row spacing (5-foot) than what is used in Louisiana," he explains. "Canopy closure happens at a more rapid pace in narrow row production.  The quicker that canopy closure occurs, the better advantage the crop has to out-compete the weeds.  While Louisiana producers would love to adopt this row configuration, the current row spacing utilized by most Louisiana producers averages about 6-foot because the equipment required to harvest under Louisiana soggy conditions requires a wider track."
Due to heavy rains causing soggy conditions, the six-foot wheelbase and big tires allow the tractor to move through the muddy conditions easier. Louisiana averages 50-60 inches of rain per year.
Subscribe to receive top agriculture news
Be informed daily with these free e-newsletters
You May Also Like
---