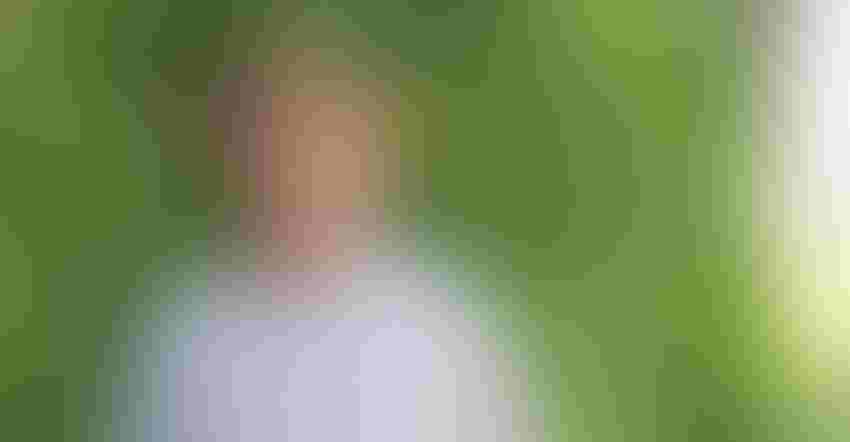 Texas A&M AgriLife Extension Weed Specialist Pete Dotray, Lubbock, discusses weed management in 2022 and what to anticipate in 2023.
Shelley E. Huguley
The worst-case scenario anticipated for weed control last planting season, extreme shortage of necessary herbicides, did not occur, for the most part, at least in West Texas.
"We spent a lot of time talking about potential product supply issues early last year," says Texas A&M AgriLife Extension Weed Specialist Pete Dotray, Lubbock. 
"I don't think we ran into supply issues  last year," Dotray said in a recent Farm Press interview. "We started the year so dry. For dryland producers, there was no cotton and no weeds.
"Because it was so dry leading into planting season, many producers didn't invest a lot in yellows or at-plant herbicides," he said.  "They were  waiting to see what Mother Nature would bring, which in some cases was nothing."
Irrigated farmers, he added "were  more careful with  inputs than usual. Many remembered 2011, when we tried, although unsuccessfully, to put on more  water to make up for limited rainfall.
"I've heard several producers in this area say, 'you can't outperform the environment.' I think that's wise and very true."
He said a lot of irrigated farmers decided to do the best they could with limited water and limited inputs.
Issues with moisture
Lack of moisture meant limited weed pressure and fewer  herbicide applications. "Weeds in many areas were non-existent until rains came. It became pretty apparent who had used soil residual herbicides and who had not."
He said those herbicides did "exactly what they were supposed to do, suppress weed emergence for four to six weeks."
The ones who did not use those products "had to control weeds quickly with foliar herbicides. It was hot, it was dry. Those are tough conditions for Liberty, but I thought Liberty performed well last year in spite of the harsh conditions. Maybe folks had fewer acres to cover and were more timely, hitting the weeds when they were small and using higher carrier volume."
He said awareness of the need to increase carrier volume and using a full rate also improved Liberty  performance.

He said Dicamba overall was not as effective as in previous years. How much of this was weather related? "Dicamba is a very good herbicide, but compared to just a few previous years, it seems like it might be slipping a little. Also, dicamba and 2-4,D products are not stand-alone technologies. They perform best when used as part of a weed management program. A  grower who didn't use yellows or didn't use at-plant chemistries was quickly challenged once the rains came and the weeds started to emerge."
Rain brought weeds
Rain was sparse. "We didn't see a lot of rain until well into the season," Dotray said. "In fact, some of our best rains came later in the growing season and the weeds started to come through"
He said that fall surge of weed populations might have been a blessing. "About halfway through the season, I was thinking we could be set up for bad weed pressure in 2023. But because of the late-season rains, I think producers in areas where herbicides were not active enough or if they did not use any could identify trouble spots and manage them.
"We saw lot of Palmer weeds and other summer annuals that typically emerge in the spring coming up much later in the year, which leads me to think maybe we're not going to be any worse off moving into 2023."
He said  weeds that typically emerge in May didn't come until August and September, when the rains came.
"We've had a few rains recently, and I'm already seeing winter weeds. I didn't see any winter weeds last year."
Managing abandoned acreage
Dotray said most farmers who abandoned 2022 acreage did not walk away from field management.
"A lot of those folks did a pretty good job keeping weeds from producing seed. I didn't see a lot of fields that just looked like a weedy mess.
"If they had a crop, they were doing the best they could to manage it, using some herbicides. If they didn't have a crop, they did a pretty good job making sure they didn't have a tremendous weed population producing seeds for next year."
He said most producers with failed acres continued to manage weeds. "It was so dry there weren't any weeds in a lot of cases. But if they did get rain, and a lot did late in the year, I didn't see those problems. They relied on tillage or paraquat, making sure weeds weren't producing seed."
 Plan now for '23
Dotray said farmers should  be planning 2023 weed management now. Looking back could be the first step. "Those who did have a crop had a chance to see how herbicides performed. If they identified hot spots, areas where weeds weren't responding to specific herbicides, they need to think about alternative chemistries because of the potential development of herbicide resistant weeds. They should consider diversifying as we move into what we hope is a much more normal year. The next few months will tell us that."
Weather always a factor
He said if the region gets winter rainfall, farmers will need more yellows, more at-planting herbicides.
Increased use of those products could make the shortage that didn't occur last spring possible in 2023.
"I'm not hearing a lot about shortages of active ingredients, inert ingredients, or emulsifiers in the formulated product," Dotray said. "But I do encourage producers to start developing a game plan as soon as possible. Once they decide on what they want, they can start planning to make sure it is available locally. In some cases, it might be deciding on  what the second best option will be,"
He said logistics could be a factor. Where is the product they need? How long will it take to acquire it? "It may take time for the product to be moved to where they access it."
Dotray said he has not heard of potential shortages of  glyphosates, but he has some concerns about Liberty. "Shortages didn't happen last year. If everything looks like it will be a more normal  year, who knows? We could see a lot of demand and maybe a few supply issues. We will  learn a lot more in the coming months."
He also encourages farmers who added limited inputs in 2022 and relied heavily on postemergence chemistries  to add residual back into the mix. "They should use traditional soil active chemistries as well."
High prices persist
Dotray does not anticipate much relief from higher herbicide costs.
"Herbicides costs rose quite a bit this past year. My gut feeling is that they're not going back to where they were. Cost may come down a little, but probably not to where they were in 2021 or earlier."
He's holding onto hope for 2023. "I want to be optimistic that next year will look far better to grow a crop."
It's looking better so far. "Some areas that typically have cover in the winter had no cover last year because of no moisture to get cover going. We already have some cover this year. I'm optimistic that we're already off to a much better start."
Subscribe to receive top agriculture news
Be informed daily with these free e-newsletters
You May Also Like
---