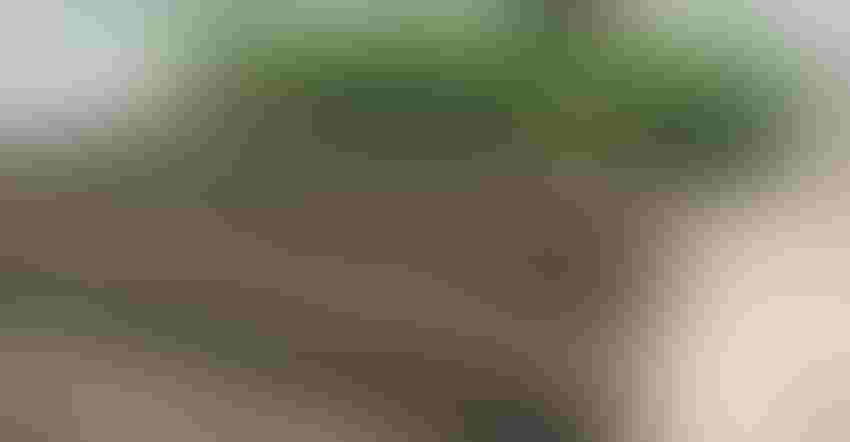 FIRST RUN: Two runs of the experiment (front, just beginning second run; back, just finishing first run) conducted in the greenhouse at the Pesticide Application Technology Laboratory at UNL's West Central Research and Extension Center in North Platte.
Waterhemp is a problem weed that can rapidly develop herbicide resistance in cropping systems throughout Nebraska and the Midwest.
Until recently, little research studied the competitiveness of different waterhemp populations, specifically herbicide-resistant populations, under similar environmental conditions.
A study published in 2018 by the University of Nebraska-Lincoln evaluated the competitiveness of three herbicide-resistant waterhemp populations with soybeans in a greenhouse environment:
• 2,4-D- and atrazine-resistant (2A-R)
• glyphosate- and PPO-inhibitor-resistant (GP-R0
• 2,4-D-, atrazine-, glyphosate-and PPO-inhibitor-susceptible (2AGP-S)
Plant biomass and stem diameter of each waterhemp population was measured to identify self-competition effects between waterhemp plants within a constant soybean population.
Waterhemp competitiveness with soybeans was evaluated across five target weed densities of zero, two, four, eight and 16 plants per pot (equivalent to zero, two, four, seven and 15 plants per square foot) with three soybean plants also growing in each pot (equivalent to 121,500 plants per acre).
Soybean and waterhemp plants were harvested at two timings (R1 and R7 growth stages). Researchers measured soybean biomass, the number of soybean pods (R7 growth stage only), waterhemp biomass and waterhemp stem diameter. At the R1 soybean harvest time, no difference in soybean biomass was observed across waterhemp populations.

WATERHEMP EMERGENCE: Soybean and waterhemp are emerging in experimental pots.
At waterhemp densities of less than eight plants per pot, the 2AGP-S population (the population susceptible to 2,4-D-, atrazine, glyphosate, and PPO-inhibitors) had the greatest biomass and stem diameter per plant; so, the susceptible 2AGP-S population was more competitive early-season – although this didn't translate to soybean yield loss (biomass) early-season. At the R7 harvest time, the 2AGP-S population caused the greatest loss in soybean biomass and number of pods compared to other waterhemp populations at densities of less than 16 plants per pot.
At the R7 harvest time, all waterhemp populations had reached similar biomass and stem diameters across all waterhemp densities. Meanwhile, the susceptible 2AGP-S waterhemp population had greater biomass and stem diameter early in the season compared to the other waterhemp populations, resulting in greater soybean yield loss (a greater loss in biomass and number of pods) late in the season.
This possibly indicates a competitive fitness cost associated with the evolution of 2,4-D, atrazine, glyphosate and PPO-inhibitor resistance in waterhemp. In other words, it's possible that with this evolution of resistance, waterhemp could become less competitive.
Weed management strategies should effectively use cultural weed management practices (narrow row widths, early planting dates and other agronomic strategies to increase plant vigor) to enhance crop competitiveness, especially early in the season, to increase suppression of herbicide-resistant waterhemp.
Authors of the study include Thomas Butts, graduate research assistant; Bruno Vieira, graduate research assistant; Débora Latorre, postdoctoral researcher; Rodrigo Werle, assistant professor; and Greg Kruger, associate professor at UNL. Butts and Werle are now at the University of Wisconsin at Madison.
Source: UNL CropWatch
Subscribe to receive top agriculture news
Be informed daily with these free e-newsletters
You May Also Like
---