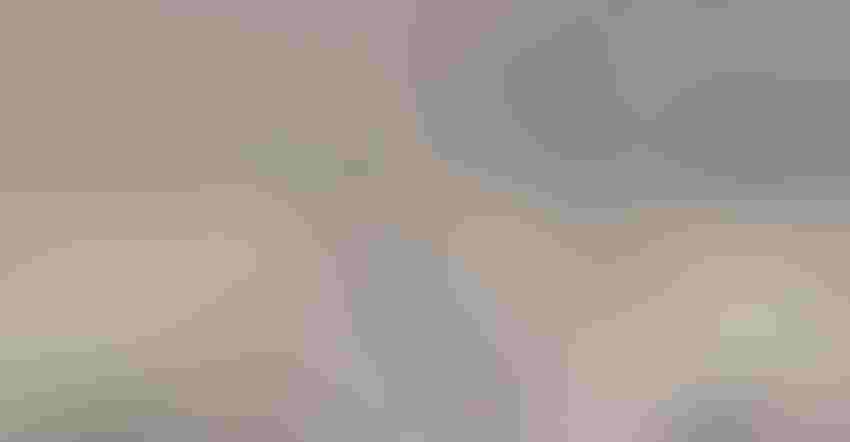 READY FOR COMEBACK: The brown skeletons of sericea lespedeza plants after a spring pasture burn are an indicator that the invaders will green up along with the native grasses. Rangeland managers are keeping the spread of sericea down with regular spraying and have had some success at reducing the seed bank with late summer burning.
P.J. Griekspoor
Range management is mostly holding its own when it comes to controlling sericea lespedeza. But another invader, old world bluestem, is proving to be stubborn.
Mike Holder, Extension agent in Chase County, says the decades-long battle to beat sericea isn't over, but ranchers are succeeding in preventing it from getting worse.
"We're making progress on sericea. I think we're holding it in check," Holder says. "People have their spraying program lined up to keep it from taking over and it's working. There's too much seed in the environment now to ever eradicate it. We just have to deal with it like we do other noxious weeds."
Old world bluestem, however, offers another challenge.
"The problem is this grass has so much in common with our desirable bluestems and other native grasses that it's hard to find herbicides that will knock it out without harming them, too," Holder says. "We are looking for ways to control it. Arsenal is showing some good results. It does weaken and stunt the native grasses, but it doesn't kill them. It does kill old world bluestem but the next year, seedlings come back from the seed in the environment. You can get rid of it by spraying two or three years in a row, but in 10 years you could be right back where you started."
Old world bluestem, like many other invasive weeds including sericea, was initially deliberated planted.
STUBBORN INVADER: Old world bluestem, initially introduced as a hay and forage grass, has proved to be an invasive plant that kills native grasses and spreads through pastures. Because it is a relative of the native species, it is difficult to find a herbicide that will kill it and spare the native plants.
"It was introduced as a grass that could be planted for conservation. The seed was cheap, and it was easier to establish and grow than the native grasses," Holder says. "But what we have discovered is that it isn't as good a grass as we thought. Cattle will graze it early in the season, but not later. It becomes invasive, kills the native vegetation around it and tends to spread."
He says it was also planted as an alternative hay crop, like brome or fescue in some parts of the country, but again, it didn't live up to the promise.
"It was just a so-so hay crop and soon showed its invasive property," he says.
Sericea is also an introduced species, initially planted as a forage crop and as part of conservation programs to hold the soil. It spread into pastures and rangeland when it gained an advantage because cattle prefer the native grasses. They graze those and leave the sericea to take over.
Eastern red cedar trees are also an invasive species that started out as a "somewhat native" tree in Kansas, Holder says. Cedars grow quickly and easily, but uncontrolled they take over pastures, using up groundwater and creating a major fuel source for wildfires.
"We planted a lot of trees early on for windbreaks and hedgerows and shade. Now they are a source for seed and animals and birds help spread them into the grasslands and now we have to control them," Holder says. "Fortunately, regularly burning provides good control for most of the woody or brushy plants. But you have to do it regularly. Skip burning for 10 years or so and you'll have trees that fire won't control."
Fire is not as useful against sericea or old world bluestem, although researcher K.C. Olson at K-State has had success at reducing sericea's seed production by burning toward the end of the summer.
"We have quite a few people who have tried a late summer burn with mixed results. It depends on the year and the weather conditions. You can't use the same burning methods as you do in early spring. But if you can get a complete burn, you can prevent it from setting seed and that's a win," Holder says.
Burning too late in the summer runs the risk of leaving the soil exposed over the winter, and that's a major erosion risk, Holder says.
"The bottom line is range management takes a lifetime," he says. "These undesirables are with is and the battle against them is going to be ongoing."
Know your noxious weeds
The first noxious weed law was passed in Kansas in 1937 to help combat species that had been shown to be a particular threat to agricultural crops and grasslands.
There are currently 12 species that have been declared noxious weeds by the Kansas Legislature. It requires every company, individual, organization or agency to control and eradicate those species.
The 12 species on the Kansas noxious weed list are bur ragweed, Canada thistle, field bindweed, hoary cress, johnsongrass, kudzu, leafy spurge, musk thistle, pignut, quackgrass, Russian knapweed and sericea lespedeza. Two other species, bull thistle and multiflora rose, can be declared noxious by county governments.
Subscribe to receive top agriculture news
Be informed daily with these free e-newsletters
You May Also Like
---