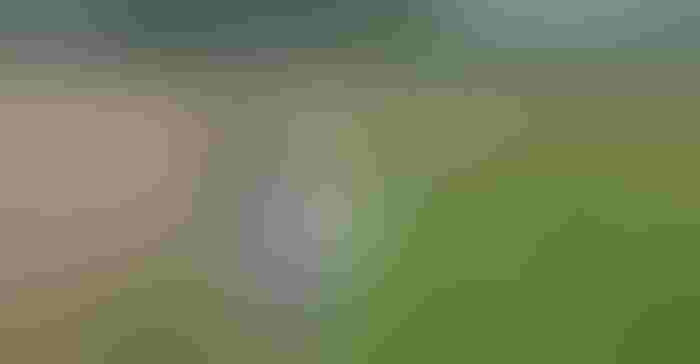 The Soybean Watch '22 project will build off Soybean Watch '21. This year's field has irrigation, and plans call for installing a soil moisture sensor. The goal is learning more about how soybeans respond to varying soil moisture levels.
In 2021, the field wasn't irrigated. In fact, the field isn't pattern tiled and is often plagued by poor drainage. However, too much rain gave way to no rain from late July through August.
"The dry spell took away top-end yields," says Steve Gauck, Greensburg, Ind., a regional agronomy manager for Beck's. He monitors the Soybean Watch field. "Some pods aborted near the top, and other pods dropped a bean. Those losses add up."
Gauck believes significant decreases in soil moisture in August caused plants to pull back. A weather station installed at the site confirmed that soil moisture at 6 inches below the surface dropped dramatically during the dry spell.
Comparing tillage systems
Gauck also followed soil moisture in the field next door, farmed by a neighbor. By chance, the same Beck's variety was planted side by side where the fields joined.
The Soybean Watch field was no-tilled into cornstalks in 15-inch rows on May 15. The conventional field was planted into tilled soil in 30-inch rows at about the same time. Gauck notes that although it was simply a demonstration, not a replicated test, results were intriguing.
Soil moisture at the 6-inch depth trended higher in the no-till field all season. After it turned dry, soil moisture levels dipped to around 10% in the no-till field but stayed 2 to 5 percentage points above the conventional field.
Mike Thurow, owner of Spectrum Technologies, Aurora, Ill., provided a weather station and soil moisture probes. Thurow and people involved with the field followed rainfall and soil moisture levels through an app on their smartphones.
"It's interesting to see what happens after a rain," Thurow explains. "Soil moisture comes up rapidly during the next 24 hours, then levels off."
Even when soils are saturated, at or above field capacity, soil moisture readings are about 40% to 45%, depending upon soil type. That's because soils contain other things, including air. When soil moisture drops below 17% to 18%, plants usually are near the wilting point, he observes.
The app allowed Thurow to graph soil moisture. "There definitely was a difference between fields as soil moisture declined sharply in August," he says.
Take-home points
Thurow visited shortly before harvest to measure soil moisture by a different method. He used a soil probe offered by Spectrum Technologies that measures soil moisture instantly at any point. Thurow walked a circular pattern in both fields, taking readings at multiple points. The device averaged the results.
Note that rains returned in September. Soil moisture readings were much higher than during the dry spell. No-till soil moisture by probe averaged 31%, compared to 29% for the tilled field. Permanent soil moisture sensors were showing about a 6-percentage-point difference higher for the no-till field.
"The probe averages soil moisture over the length of 8-inch rods, so that accounts for some difference," Thurow says. "Using the probe confirmed that readings averaged higher for the no-till field."
Everyone waited for yields. The same operator harvested both fields. The Soybean Watch no-till soybeans averaged 66 bushels per acre, compared to 59 for the conventional field. The farmer who operated the Soybean Watch field was disappointed that although he no-tilled in narrow rows and applied fungicide, his crop only made 7 bushels per acre more.
"It wasn't replicated and there were differences in soils between fields," Gauck says. "I view it this way. His field still yielded 7 bushels per acre more. Even at $11 beans, that was $77 per acre, a big contribution toward more profit. The stage was set to benefit more from proper management practices, but weather didn't cooperate."
Subscribe to receive top agriculture news
Be informed daily with these free e-newsletters
You May Also Like
---