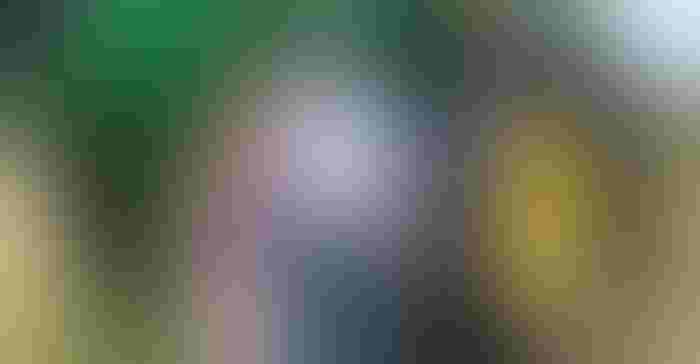 John Deere See & Spray Ultimate: Shannon and Sam Sparks farm in the Lower Rio Grande Valley. Sam is a John Deere cooperator and says he is amazed by the technology on the new sprayer. Shelley E. Huguley
Texas producer Sam Sparks credits the new John Deere See & Spray Ultimate for not only targeting specific weeds on his Cameron County farms but for reducing herbicide use and expenses. He says the new machine also helps him and his wife Shannon better care for the land God's given them.
"Farmers strive to be stewards of the land, and this machine plays directly into us being good stewards moving forward," Sam says at the John Deere See & Spray Field Day at the King Ranch, Kingsville. "We're hardly spraying as much as we have in the past."
The sprayer, launched in 2022, provides in-crop weed control for corn, soybeans and cotton, using targeted technologies combined with an option for broadcast spraying. Sparks says the machine allows them to target noxious weeds.
See, Despite 3 crop losses at harvest, couple holds out hope
"We've really seen the benefit of the See & Spray machine. We've been able to target weeds in the field even while the crop is growing. We don't have to apply blanket applications to our farm. We can target these specific weeds and weed areas in the field and eliminate them, not only before they spread, but also so they won't come back in the future."
No longer waiting
The new system eliminates the weed management waiting game. "I've talked to them (John Deere) about how in the past it was always, 'Wait. Wait.' We know the weeds are out there, we know they're a problem, but we need to wait until the most opportune time to spray.
"But with the See & Spray machine, as soon as we know the weeds are there, we're out targeting them. We're not going to miss those weeds. We're not going to allow them to grow and develop and flower and turn into seed and spread even further in the field."
The two-tank sprayer has allowed the Sparks to "drastically decrease" the amount of herbicide applied. "We have seen 50% to 60% savings in chemical usage, and maybe even 30%, 40% of fuel usage.
"If you're thinking of spraying a given area and you're going apply 10 loads, with the See & Spray machine, you might spray only two loads. It's a direct savings back to the farmer."
Much of the Sparks' land is broken into 40 to 50-acre fields. "We have ditches, tree lines around our perimeters, houses and schools. And so once again, that's a key component to the See & Spray machine. We're not applying anything we don't need to be applying."
See, John Deere rolls out See & Spray Ultimate
Reduced application also translates into less herbicide in their water runoff.  "When you apply a blanket rate of herbicides in the field, either after a rainfall or an irrigation, we have a lot of water runoff. A lot of times that runoff is picked back up and we're reapplying it to the soil at a later date. So, if we don't have that herbicide mixed in the soil that's part of the runoff, it's not getting into the water we're reapplying to the field. It's also not getting into the water that's going into the native woodlands affecting the environment."
The Sparks also note less loading downtime. "You're not having to stop and start to fill up the machine as often," Sam says, "so your spray time is more efficient."
Weed resistance
Weed resistance is an issue across the Cotton Belt. Sam says the See & Spray Ultimate can eliminate resistance. "Beforehand, if you're thinking about spraying 2,000 or 3,000 acres of cotton and the label is 14 to 24 ounces, a lot of farmers are faced with, 'I'm going to go with that 14-ounce rate because I've got to cover 2,000 acres. That's going to cost me a lot of money.'  With the See & Spray, you're able to use the 24-ounce rate, kill that weed and we're not going to have resistance any longer."
Technology
The See & Spray system includes 36 cameras along a 120-foot carbon boom and each camera can "see" a 2,200 square-foot area of field, which is about the size of a house, according to John Deere. Sparks downloads data gathered by the sprayer directly into his U.S. Cotton Trust Protocol profile.
When it comes to learning to use the new sprayer, he admits there's a learning curve but "once you get it figured out, you don't want to go back.
"I really can't say enough about the technology. It's unbelievable. It's unbelievable to see it firsthand and to utilize it. We have not seen any areas where we've missed weeds. We're spraying at 9 to 13 miles per hour in some instances with the crop in the field. So, the machine is able to identify the crop and still specifically target weeds as small as a blade of grass. It's really remarkable to see it. It is the definition of the future agriculture."
To learn more about the See & Spray Ultimate, visit johndeere.com.
Subscribe to receive top agriculture news
Be informed daily with these free e-newsletters
You May Also Like
---