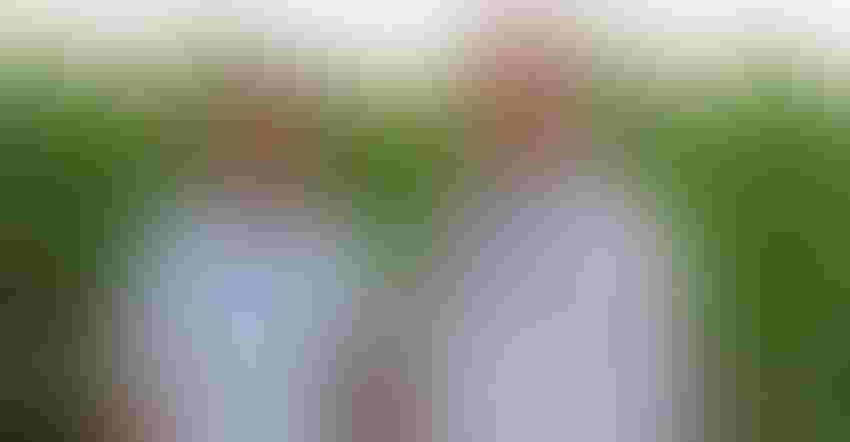 Brothers Billy, left, and Erick Rodgers farm 3,400-row crop acres in Humphreys and Leflore counties in Mississippi.
Alaina Dismukes
Conserving water and soil and conscientious herbicide use help Rodgers Farms protect the land and ensure a healthy crop on the fourth-generation operation.
"Our farm consists of 3,400 row crop acres located in Humphreys and Leflore counties in Mississippi," said Billy Rodgers, of the family partnership consisting of Billy and his wife Brittany as well as Billy's brother, Erick Rodgers and his wife Trish.
"About 85% of our farm is irrigated by surface and pivot irrigation systems," Rodgers said. "Soil and water conservation practices are also vital to us, especially considering the number of acres we irrigate. We use around 20 cellular soil moisture meters to allow for timely irrigations.
"Also, 10 cellular irrigation controls on our electric wells allow us to set timers and remotely cut wells on and off to prevent overwatering and overusing electricity. On some wells, where applicable, we use surge valves to reduce surface water runoff and soil erosion while providing better soil saturation."
Over the past few years, the Rodgerses have installed over 25 water control structures, such as flashboard culverts, to eliminate as much topsoil and pad runoff as possible.
"One of our plans for this summer and fall is to implement more water control structures into our operation," Rodgers said. "Conservation is important to us because farming has been in our family for decades, and we hope to pass down this way of life to our children and grandchildren someday.
Related:Corn planting: A slow start for Delta farmer
The Rodgerses advocate the Natural Resources Conservation Service (NRCS), which assists in funding conservation projects to help farmers make improvements to their farmland.
Weed control is an essential part of any farming operation. The Rodgerses are committed to an efficient weed control program. They normally do a spring burndown, followed by an application behind the planter if the weather allows.
"We try to get by with one application for a layby before the crop canopies, but given the field, environment, and targeted species, it sometimes takes two," Rodgers said.
"Using dicamba is critical and it is a very useful tool to help control the resistant weeds we deal with today. It is a risky herbicide if not used correctly, but we do all we can to stay within the label and use it the way it was designed to be used."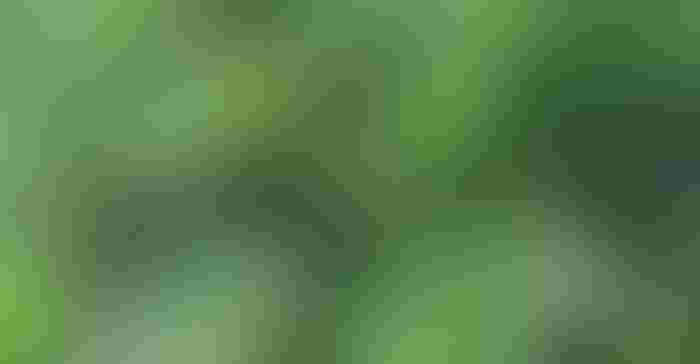 2020 crop
"This year, we planted the majority of our acres in soybeans, with a fraction of the acres in corn," he said.
The Mississippi Delta had a very wet spring with around 40 inches of rain from Jan. 1 through the planting season.
Related:Humble beginnings, consistent excellence
"We were only able to plant about 15% of our planned corn acres this year due to such a wet spring. We also had to deal with a good bit of flooding from all the rainfall," Rodgers said. "A lot of our acres are near the Wasp Lake and Yazoo River basin that is controlled by a structure going into the Yazoo River. When the river is up, the nearby lakes and ditches have nowhere to go but up, so we have dealt with this type of flooding over the past couple of years."
So far this season, the Rodgerses have not dealt with any new pests or have had much insect pressure.
"With every year, it seems there is always a new pest to deal with as well as the issues of resistance to herbicides and insecticides," he said. "We had a very mild winter this year, so the red-banded stinkbug is always in our crosshairs. Thankfully, LaMastus Consulting does a fine job scouting our fields to help keep us ahead of the problem when it comes to insects and weeds.
"Last year's crop got off to a slow start, too, due to the same issues we faced this spring — wet weather and flooding as well because of the lack of bed preparation from the wet fall before. We had a few stand issues last year because of all the rain during planting, which resulted in a slight decline in yields."
Raising show pigs
Erick and Billy, who grew up showing pigs in their local 4-H Club, also run a small show pig operation.
"We house around seven to eight sows on the farm and farrow around five to six litters a year," Rodgers said. "This is very dear to us because we want our kids to have projects and responsibilities that reap results.
"We are very passionate about raising high-quality livestock and giving our kids, as well as other youth around our state, the ability to compete at shows."
Family farm history
Billy and Erick, fourth-generation farmers, formed their official partnership in 2010.
"At one point in the 1990s, our family was farming around 12,000 acres with over 10,000 acres of cotton. Erick started full-time on the family farm after high school," Billy Rodgers said. "It wasn't until 2009 I came home to join my brother, father, and grandfather on the farm.
"I had graduated from Mississippi State in 2008 and was working full-time for Mossy Oak in West Point, Miss. After lots of prayer and discussion with my dad in the spring of 2009, I knew it was time to come home. God had a way of demonstrating that the decision I had made was the right one."
In the fall of 2009, Billy married Brittany. Unexpectedly, a month after Billy's marriage, his and Erick's father passed away.
"2009 was a year that every farmer in the Delta will remember," he said. "Over 2,000 acres of grain went unharvested on our farm in the fall, due to rain that seemed to never end."
In 2010, the brothers formed a partnership between them and their wives to preserve the family farm.
"In the past decade, much has changed in farming, from genetics to technology. I often wonder what my dad and granddad would think of the way things have changed just in the past few years," Rodgers said. "We grew up being taught to work hard and put all our faith in God, and no technology could ever take the place of that."
About the Author(s)
Subscribe to receive top agriculture news
Be informed daily with these free e-newsletters
You May Also Like
---