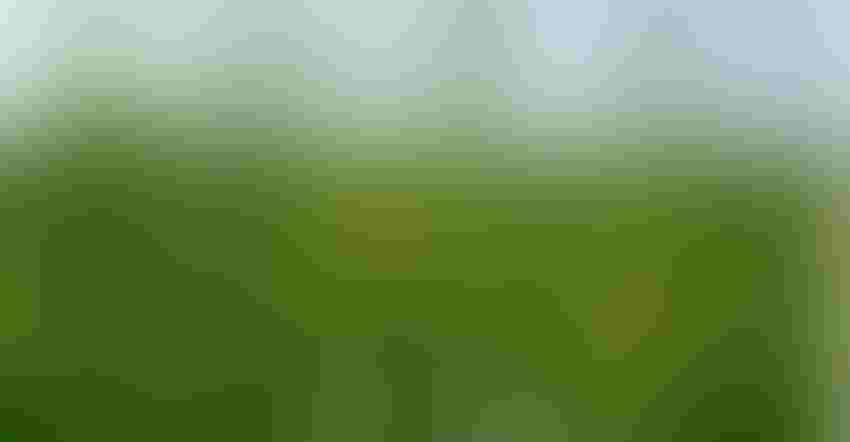 PESKY PALMER: Palmer amaranth can cause yield losses up to 80% in severely infested soybean fields and is resistant to six classes of herbicides.
University of Illinois
University of Illinois scientists have discovered two new reasons to despise Palmer amaranth. Molecular weed scientist Patrick Tranel and his research team recently uncovered two additional PPO-resistant mutations. Until their discovery, the glycine 210 deletion mutation on the PPX2 gene was to blame for PPO-resistant Palmer amaranth.
Red flags went up at the University of Illinois Plant Clinic when Palmer amaranth samples that were likely resistant to PPO inhibitors tested negative for that mutation.
"People were bringing in samples they were fairly confident were resistant, and the mutation wasn't showing up," says Tranel. "We started to suspect there was another mechanism out there."
Tranel and his colleagues sequenced the PPX2 gene in plants from Tennessee and Arkansas and located two mutations on the R98 region of the gene. They have not discovered this specific gene mutation in an Illinois plant — yet.
A scientific breakdown of the breakthrough
An organism's physical traits are determined by its genetic code and housed in DNA molecules known as nucleotides, explains Tranel. Mutations in genetic sequences that lead to herbicide resistance normally happen at a single nucleotide.
The new mutations follow the typical rules of herbicide resistance and impact a single amino acid in the plant's DNA, says Aaron Hager, a University of Illinois weed scientist. The originally identified 210 deletion mutation is more complicated. Instead of changes in a single nucleotide, Tranel says there are three deleted nucleotides.
Tranel and Hager agree it's too early to say how the two new mutations impact PPO-resistant Palmer amaranth control.
Palmer amaranth plants with the 210 deletion mutation render all PPO inhibitors ineffective, Hager explains. Further testing will confirm whether or not Palmer amaranth populations with the new PPO-resistant mutations will respond to certain PPO inhibitors.
Tranel says some resistant Palmer amaranth plants contained the glycine 210 deletion and one of the new R98 mutations, which makes all PPO inhibitors ineffective against those plants. 
What's next?
Tranel's research team is growing plants to use in follow-up experiments. He hopes to determine how common the three mutations are in any given Palmer amaranth population. "That way when a farmer sends us a resistant plant and it doesn't come back with the glycine 210 deletion, we will be able to tell him how likely it is that he's dealing with another one of these mutations," he says.
Tranel hopes other research groups or plant testing facilities use the new genetic discoveries to detect the mutations in plant samples. "The more labs testing for this, the more we learn about how widespread the mutation is," he says. 
What can farmers do while researchers seek more information about the new mutations? Weed scientists say the best course of action is an effective preemergence residual herbicide program and multiple modes of action in every pass to combat herbicide-resistant weeds.
"This all means that Palmer amaranth has evolved other ways of resistance that we didn't know it had," Hager says.
Subscribe to receive top agriculture news
Be informed daily with these free e-newsletters
You May Also Like
---