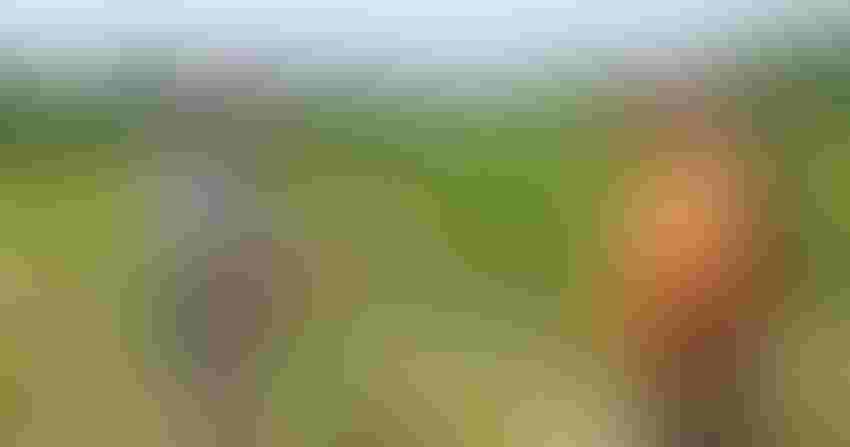 Larry Walker, left, talks with Dr. John Byrd, professor of weed science at Mississippi State University, in a corn field at the Michael Hawks farm near Holly Springs, Miss., in the spring of 2021. The field was sprayed using a Synergized Ametryn approach.
Steve Dixon
Farmers cover a lot of ground in the spring. Inevitably, fields get sprayed out of order, and, when they do, it can create worry for the grower. That's what happened to Steve Dixon on his farm in Franklin County, Tenn.
"We had a lot of pigweeds in our soybeans last year, and we decided to try a different pre-emergence herbicide approach when we rotated to corn this spring," he said. "When we sprayed our corn with our postemergence material, one field didn't get sprayed when we meant to.
"My son, Andrew, spotted the pigweed when he was side dressing that field – the corn was knee high and so was the pigweed," said Dixon. "When we came back and sprayed, I told him maybe the postemergence herbicide mixture would at least suppress them. But we couldn't find a live pigweed in that area when we checked it a few days later."
Larry Walker, left, and Steve Dixon are shown in one of Dixon's fields on his farm in Franklin County in middle Tennessee. (Steve Dixon)
The different approach was Synergized Ametryn, which was recommended to Dixon by Larry Walker, an agronomist who spent most of his career working as a product development representative for Ciba-Geigy and Syngenta before retiring and becoming a crop consultant in his hometown of Flintville, Tenn.
Walker holds beneficial interest and rights to the patent on Synergized Ametryn, which he has been working to develop commercially for 14 years. He believes using ametryn, a compound developed in the 1960s, along with HPPD inhibitors such as Balance or mesotrione can be a game changer for farmers who face increasing levels of herbicide resistance in weeds like Palmer amaranth.
Control failures
Dr. Larry Steckel, professor of weed science at the University of Tennessee, has reported control failures in greenhouse screenings with higher rates of dicamba and 2,4-D on Palmer amaranth this year. He and other researchers have begun asking if farmers are nearing the end of an era in herbicides.
Walker says Ametryn, which he thinks has been overlooked for years, could be the answer to those growing resistance problems.
Dixon was looking for answers to his pigweed problem when he talked to Jerry Ray, a former Swisher Sweets Sunbelt Farmer of the Year for Tennessee, last fall. Ray, who had used Synergized Ametryn on his farm for four years, recommended he contact Walker. Walker suggested a two-step plan using Synergized Ametryn.
"We applied 1.5 pounds of Ametryn, 3.5 ounces of Explorer, 12.8 ounces of Roundup and 12.8 ounces of Weedmaster per acre on all of our corn about a week before we started planting on April 15," Dixon said. "We followed that five to seven weeks later with 3 ounces of Explorer, 1 pint of Me-Too-Lachlor and 1 pint of MSO. (He planted 940 acres of corn this spring as part of his annual 50-50 rotation with soybeans.)"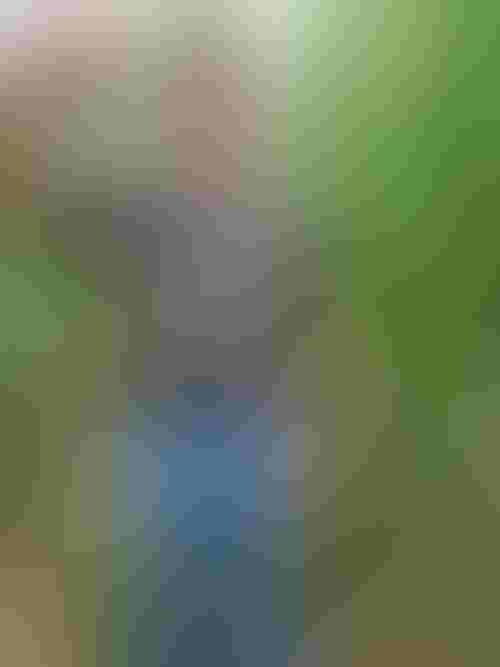 Steve Dixon holds a dead pigweed found in one of his cornfields that was treated with a Synergized Ametryn program in 2022. (Steve Dixon)
Dixon pulled up a three-foot-tall dead pigweed, something few farmers have seen since Palmer amaranth became resistant to glyphosate in the early 2000s, from the last sprayed area. "I was impressed," he said. "We cleaned up that field with Ametryn, Explorer (a generic mesotrione) and metolachlor."
"The half-life of Ametryn is 52 days, and the post application took place about five weeks after planting," said Walker. "We've tested Synergized Ametryn in 100 locations in 11 states over 14 seasons, and we've never had a control failure."
Potential synergy
Walker first learned about the potential for synergy in such herbicides in 2008 while reading a study conducted by University of Illinois crop science professor Dean Riechers.
In the study, Dr. Riechers asked if weed resistance to the then-new HPPD inhibitors could be prevented? His answer was that by tank mixing an HPPD inhibitor such as Callisto with a reduced rate of atrazine farmers could prevent or at least delay the development of resistance to Callisto.
Walker was familiar with Ametryn, a compound that was developed in the 1960s, from his work as a product development rep. "Dr. Homer LeBaron, a Ciba-Geigy weed scientist referred to as the "Father of Triazines," called it as the "most powerful methylthio triazine as far as weed spectrum and initial herbicidal activity with a long residual" in his book, "The History of Triazines."
Ametryn, which is a general use herbicide, has favorable solubility and adsorption characteristics which keeps it in the soil profile and reduces water contamination, two issues that EPA has cited in releasing proposed revisions to its September 2020 atrazine interim decision. It is active on weeds and grasses, including pigweed, marestail, sicklepod, teaweed, Johnsongrass, ryegrass, goosegrass, crabgrass and other annual grasses.
In 2009, Walker began working with Dr. Bill O'Neal, national technical director for AmVac, on protocols for developing what Walker called Synergized Ametryn. Over the next two years, they tested mixtures of Ametryn and HPPD inhibitors in the Tennessee Valley in Alabama and Tennessee and in Illinois, Missouri, Ohio and Pennsylvania.
In the fall of 2010, O'Neal became ill with cancer (he died in 2013). Walker continued to work with Synergized Ametryn, with crop specialists like Sam Atwell, then a University of Missouri Extension agronomist in New Madrid County. Atwell asked Walker to apply the herbicide combination on a problem field on the Hunter Brothers Farm near New Madrid.
Another successful test involved Amber Eytchison, a graduate student with Dr. Dan Reynolds at Mississippi State University, applying Synergized Ametryn in Reynolds' corn herbicide trial at the Black Belt Branch Experiment Station at Brooksville, Miss.
Chance encounter
In a chance encounter with the late Dr. Ernie Flint, an area Extension agronomist with Mississippi State University, at the Mid-South Farm and Gin Show in 2016, Flint told Walker about a grower who had spent $100 per acre hand hoeing soybean fields where herbicides had failed to control Palmer amaranth in 2015.
"He applied Ametryn and Balance-isoxaflutole in a trial on one of the growers' fields that spring," said Walker. "When I visited him in the field around the Memorial Day weekend, he told me 'This looks fabulous.'" (Flint also died of cancer in 2018.)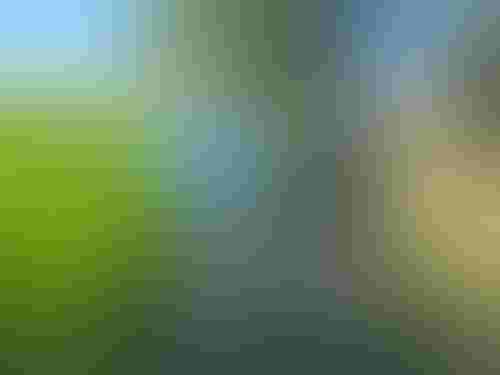 Larry Walker, left, and Wayne Jackson, an agronomist with the Lawrence County, Tenn., Co-Op, have been working on Synergized Ametryn for nearly 14 years. (Steve Dixon)
In 2018, Walker worked with Wayne Jackson, an agronomist with the Lawrence County Co-Op in Lawrenceberg, Tenn. Jackson's grower applied it in a demonstration comparing it with another crop protection company's product. The 80-acre field was swathed every 100 feet with the comparison weed control programs using precision application technology.
Last year, Walker worked with Dr. John Byrd, professor of weed science at Mississippi State, and Michael Hawks, who farms in the Holly Springs area of North Mississippi.
In a field day at the Hawks' farm headquarters in May, 2021 Walker said Hawks had experienced control problems with other herbicides on Palmer amaranth, ryegrass and other weeds in a 40-acre soybean field on the farm. He used the Synergized Ametryn approach when he rotated the field to corn in 2021.
"The Synergized Ametryn did a good job," said Hawks. "This field looks totally different than it did a year ago."
"Just about every grower in the last three or four years has had a field that they've almost lost," said Walker. "It wasn't that some weeds got by them, it was a fear they would lose that field or their farm. And with that fear they're willing to do things they might not do when corn prices are much lower than they are now."
Walker has been negotiating with several companies to bring a new, more economical Ametryn compound to market. "I will keep working to make this happen because farmers, the major stakeholders in the ag-chem crop protection business, need it. It's their livelihoods that are on the line."
Subscribe to receive top agriculture news
Be informed daily with these free e-newsletters
You May Also Like
---