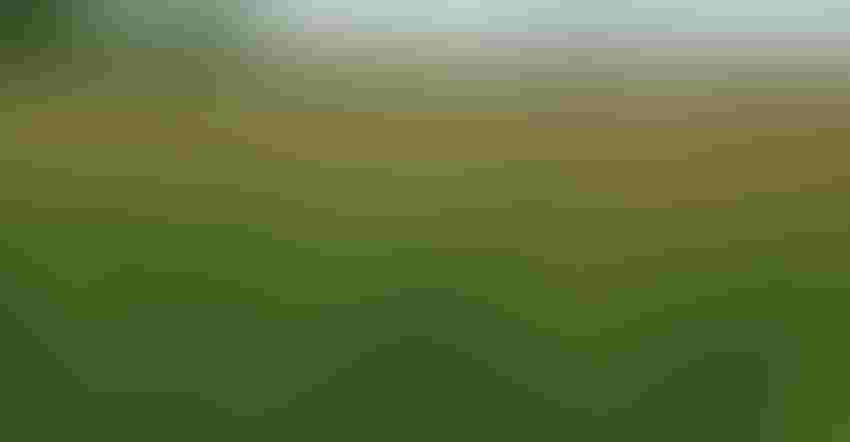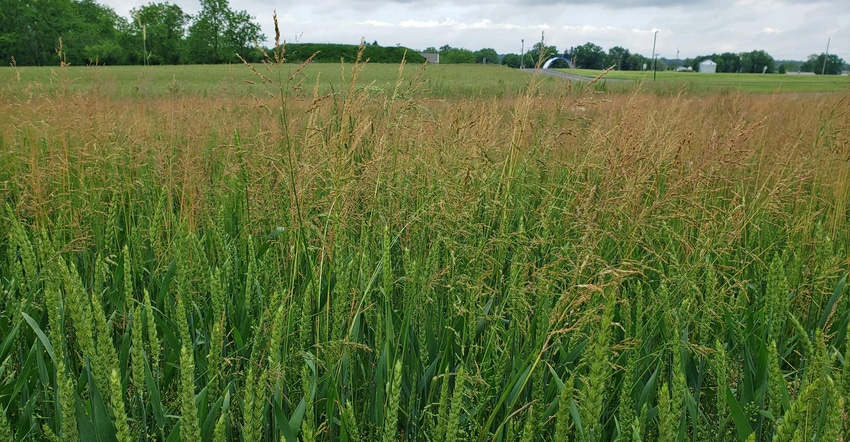 WATCHING WHEAT: Roughstalk bluegrass can grow up to 3 feet tall and can outgrow winter wheat, reducing yields. It's been a problem in the region, but this fall is an opportunity to attack it.
Photos courtesy of Dwight Lingenfelter
For many growers, wheat harvest is just about done and second cutting is likely complete. But if you noticed a golden-brown grass overtaking your green wheat heads early in June, you may have run into roughstalk bluegrass.
A longtime problem in turf, roughstalk bluegrass is now becoming an issue in winter wheat and forages in Pennsylvania, Ohio, Michigan and likely other states in the region.
"It appears that roughstalk bluegrass may be a bigger problem than we had anticipated. It showed up in local wheat fields last year, and it became a bigger problem this spring. This has been a very good year for cool-season grasses," writes Les Ober, a certified crop adviser and program assistant for agriculture and natural resources for Ohio State Cooperative Extension.
"Roughstalk bluegrass has continued to be a problem in the Lower Peninsula of Michigan. The primary places where this weed is a challenge are in forage fields with grass-alfalfa mixes and in winter wheat," writes Phil Kaatz, a Michigan State Extension educator in Lapeer County.
In a recent Penn State crops alert, weed Extension educator Dwight Lingenfelter warned about roughstalk bluegrass, and that it was becoming more of a problem in forage and wheat fields in the state.
Tough weed to crack
Unlike a typical bluegrass that usually grows low to the ground and in clumps, roughstalk bluegrass can grow up to 3 feet tall. It also matures earlier in the season and, once established, can be difficult to eliminate in a wheat field or before a first cutting of alfalfa. In fact, it can overtake a wheat field or alfalfa field, reducing yields and forage quality.
A cool-season perennial, it has stolons that allow it to easily grow back each year. But it can also spread if it's allowed to set seeds before the summer heat, especially in wheat. Once it gets too hot, like right now, it goes dormant.
"By now the tall stalks and seed heads should have dried and shattered, and the stalks will be falling down," Lingenfelter says. "However, the plant produces stolons near its base, and they will be the problem once late summer and fall temperatures start to drop. The seeds can also start to germinate later this year."
Once the weed starts to seed in a wheat field, though, nothing can effectively control it, including herbicides, Lingenfelter adds.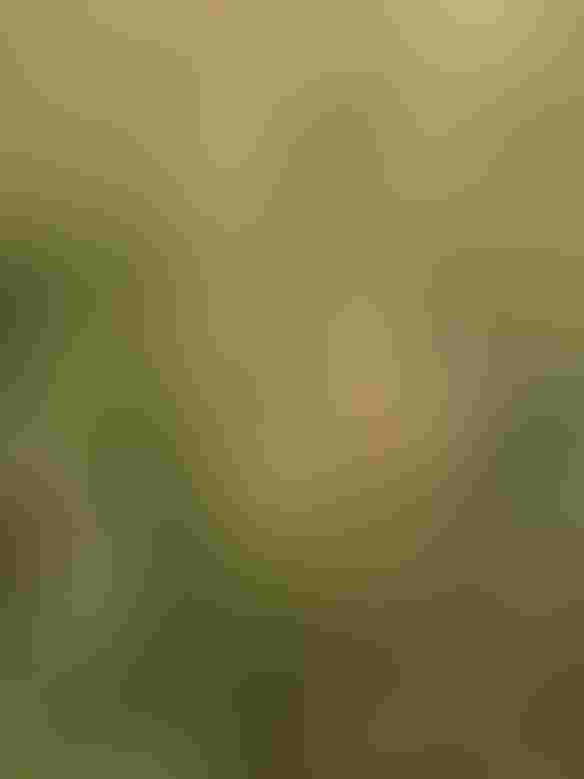 TOUGH TO BATTLE: Once roughstalk bluegrass gets established in a wheat field, it can be nearly impossible to control. Control in forages is even harder because of the potential collateral damage to other grasses.
Ober has seen this with his own eyes in some fields in Ohio.
"I have seen roughstalk populations reach the point where the wheat had to be cut for haylage," he says. "This field has now been sprayed with glyphosate. However, control may be questionable because the roughstalk may already be in early dormancy due to the extreme summer heat we are experiencing."
Do battle in fall
The good news is that fall presents an opportunity to control roughstalk bluegrass, if you can get to it early.
"In general, since it is a cool-season species it can grow in cooler temps, so applications around October will likely be effective," Lingenfelter says. "Also, there is some data that certain herbicides can be effective in early spring when the forage is still dormant. However, an application in April or May will likely provide better activity."
"In the fall, the best options are Osprey or Osprey Xtra [rated good-to-excellent]. However, these herbicides are not 100%, so it can still continue to be a challenge. These two herbicides are rated excellent for early spring control in winter wheat for roughstalk," Kaatz says, adding that winter wheat following forage will normally have the highest incidence of roughstalk bluegrass. "In winter wheat, many producers may not see the grass unless they are scouting early in the season. However, when the grain starts to mature, roughstalk will grow above the wheat, and they realize there's now a problem."
Christy Sprague, Extension specialist with Michigan State, says it's best to spray once winter wheat is planted and has emerged this fall.
"This is about the time that the majority of roughstalk bluegrass has started to germinate," Sprague says. "We have observed very good control with early spring applications [mid- to late April] of Osprey, Osprey Xtra and Axial Bold. As we move more into May, roughstalk bluegrass is starting to head out, and herbicide applications do not work as well.
"We have seen usually by early June, roughstalk bluegrass turns golden at maturity, and it generally drops its seed prior to wheat harvest. It will be a golden brown for two to three weeks prior to wheat starting to turn. We have observed up to a 50% reduction in winter wheat yield with a solid stand of roughstalk bluegrass. With lighter infestations, the yield loss has not been as great."
What does it look like?
Roughstalk bluegrass looks similar to turf bluegrass, but the big difference is that the leaves are folded in the bud. It gets its name from the fact that there are many small hairs on the leaf surface and margin.
The leaves are yellow-green and shiny, but will turn red during drought and heat.
Subscribe to receive top agriculture news
Be informed daily with these free e-newsletters
You May Also Like
---