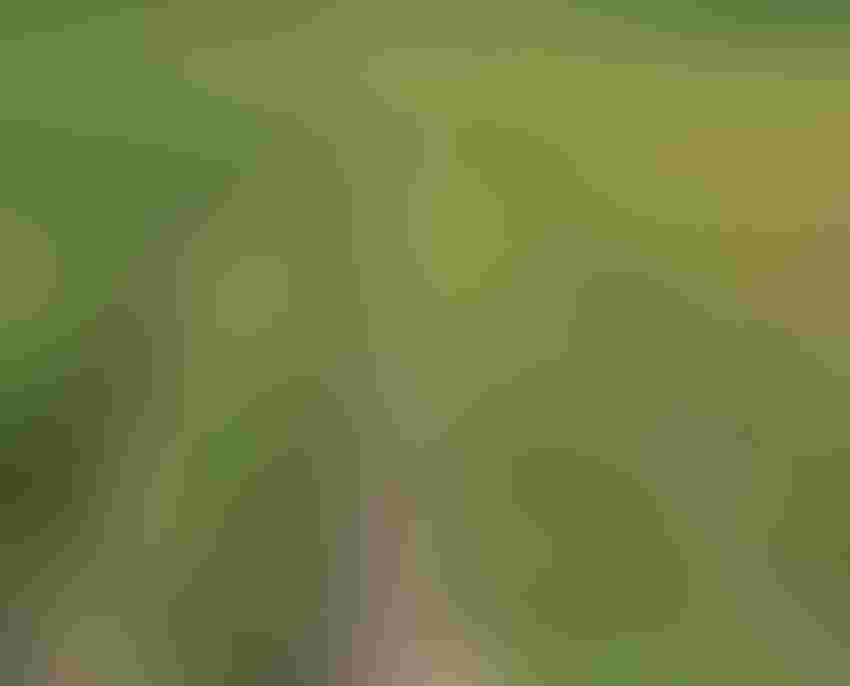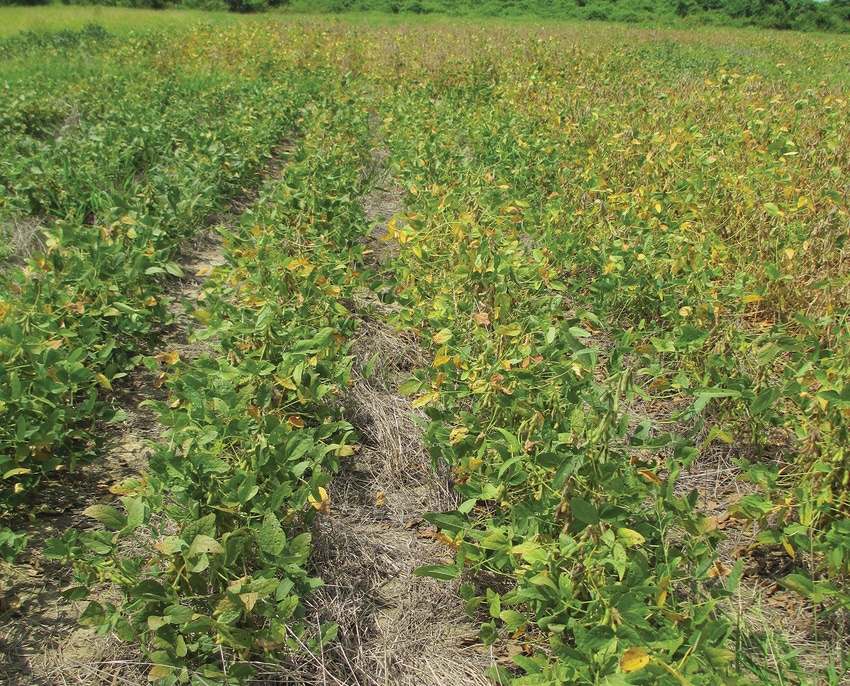 Soybean grown with no Italian ryegrass control prior to planting.
Mississippi Soybean Promotion Board
For over 15 years, Italian ryegrass has been a primary weed problem during burndown in Mississippi. Multiple resistances to glyphosate and ALS- and ACCase-inhibiting herbicides are common in Italian ryegrass populations across the state. Controlling glyphosate-resistant (GR) Italian ryegrass is expensive. The most successful management programs require multiple passes across the field, and in some cases, costs can exceed $40 per acre. That investment in the management of one weed species when no crop is present in the field is difficult to justify.   
Data generated at the Delta Research and Extension Center indicate that cotton and soybean are less sensitive than corn and rice to yield loss associated with interference from GR Italian ryegrass. Poor stand establishment and early-season growth have been observed in all four crops, even with 100% GR Italian ryegrass control before planting. In research partially funded by the Mississippi Soybean Checkoff Program, no yield reductions were detected due to the presence of GR Italian ryegrass. However, soybean maturity was delayed 17 days in plots containing GR Italian ryegrass residue compared with weed-free plots (see photos). Lengthy delays in maturity have negative implications for harvest scheduling and logistics.   
Research and field experience have demonstrated that:  
1. Fall applications of residual herbicides are the most effective treatments. 
2. Clethodim and paraquat are the only postemergence herbicides that reliably control GR Italian ryegrass.  
3. Multiple herbicide applications are required to approach complete control. 
4. Spring tillage is ineffective as a management tool.   
Many fields in the Mississippi Delta received a residual herbicide treatment in the fall of 2020. Although these treatments should set up spring burndown for success, situations requiring a single fall or spring burndown treatment are rare.   
Clethodim has been the primary postemergence herbicide used for the control of GR Italian ryegrass in Mississippi for many years. Because the GR Italian ryegrass problem is widespread and there are few other options, clethodim has often been used multiple times in a single year and in the same field in successive years. Therefore, Italian ryegrass populations in Mississippi have evolved resistance to clethodim. Counties known to contain populations of Italian ryegrass resistant to clethodim include Bolivar, Coahoma, Humphreys, Leflore, Sunflower, Sharkey and Washington.   
While multiple-resistant Italian ryegrass is a driver weed for winter burndown applications, it does not exist in a monoculture. Control from ACCase herbicides such as clethodim can be reduced when other herbicides are added to the spray tank. However, because of the mix of weed species present in most Mississippi fields, herbicide applications targeting a single weed species are difficult to justify. An early burndown application should include the maximum rate of glyphosate plus clethodim at 0.125 pound of active ingredient per acre. Auxin herbicides such as 2,4-D or dicamba may be added to the herbicide mixture if the maximum rate of clethodim is utilized.   
Italian ryegrass that escapes the early burndown application should be treated with paraquat at 0.75 to 1 pound of active ingredient per acre. Large ryegrass (12 to 24 inches) will require two applications of paraquat at 1 pound of active ingredient per acre, spaced 10 to 14 days apart. Metribuzin may be added to paraquat applications in fields to be planted to soybean.   
Tillage for Control? 
The question of using spring tillage to control GR Italian ryegrass is common in years where fall field preparation is delayed. Tillage when Italian ryegrass is small (fall through January, where possible) can be an effective control tactic. However, tillage in the spring (late February to March) with the intent of controlling GR Italian ryegrass is nearly futile. Italian ryegrass has an extensive fibrous root system. If established and rapidly growing plants are uprooted with a disk, they will generally re-root following the next rainfall.   
Editor's note: Jason Bond is a Research/Extension Weed Scientist at the Delta Research and Extension Center. You can reach him at [email protected] 
Source: The Mississippi Soybean Promotion Board, which is solely responsible for the information provided and is wholly owned by the source, Informa Business Media and all its subsidiaries are not responsible for any of the content contained in this information asset. 
Subscribe to receive top agriculture news
Be informed daily with these free e-newsletters
You May Also Like
---