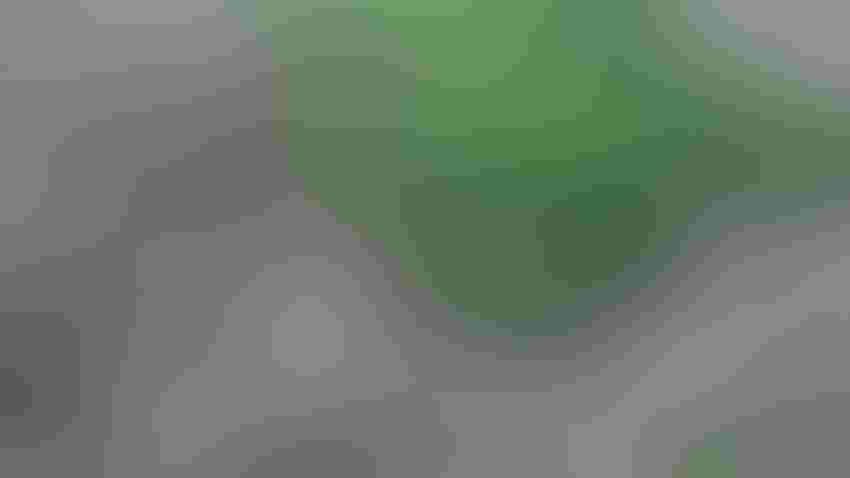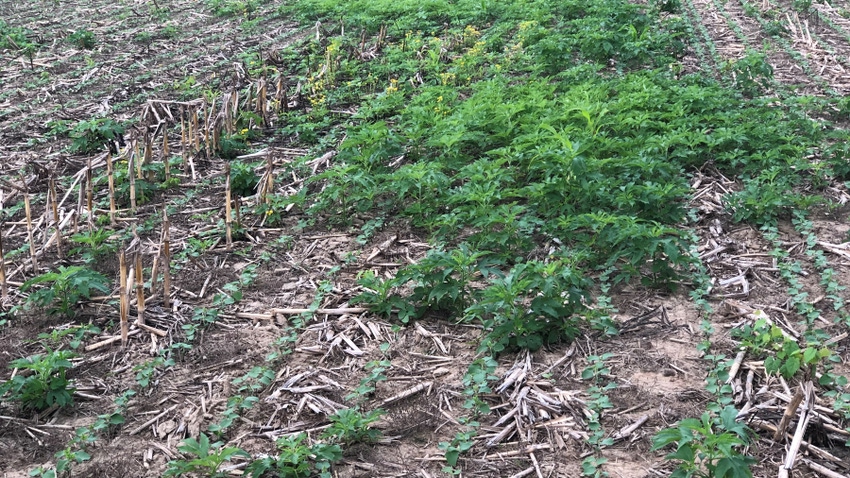 BIG TROUBLE: You're fighting a losing battle when giant ragweeds reach this stage. The goal is to take them out earlier, Purdue Extension's Bill Johnson says.
Tom J. Bechman
The 2022 season was a good one if you have a magical market for giant ragweed. If it's a weed for you like it is for everybody else, last season brought its challenges.
"One of the biggest problems is that we don't have really good preemergence herbicides for controlling giant ragweed in soybeans," explains Bill Johnson, Purdue Extension weed specialist. "It's somewhat easier to keep in check in corn, but in soybeans, it comes down to relying heavily on one, maybe two, postemergence passes. If you are not timely with them, it can get away from you."
One grower shifted to a heavy fall herbicide application program, hoping to get a jump on the weed.
"Fall applications are great for controlling winter annuals and marestail, but it isn't the answer by itself on giant ragweed," Johnson says. "If anything, keeping the surface freer of other vegetation in the spring might actually give giant ragweed a competitive advantage."
Clean start
So, how do you get a handle on giant ragweed in soybeans? Johnson directs you to the 2023 Weed Control Guide for Ohio, Indiana, Illinois and Missouri.
"Taking out existing giant ragweed by either tillage or a burndown is crucial," Johnson says. "You can come with 2,4-D ester or dicamba for burndown."
The weed control guide suggests adding glyphosate or Gramoxone if plants are more than a few inches tall. If you can't use 2,4-D, other options include Sharpen, Optill Pro or Verdict — all saflufenacil herbicides — plus either glyphosate or glufosinate, the active ingredient in Liberty. Glufosinate plus metribuzin is yet another option.
"Glyphosate is somewhat variable in control of early-emerging giant ragweed plants," Johnson notes. Glyphosate, or Group 9, resistance, is widespread. That's why adding 2,4-D ester or a saflufenacil herbicide is a good choice.
A residual herbicide containing chlorimuron, cloransulam or Scepter will reduce the giant ragweed stand and slow growth of remaining plants, but it won't control Group 2-resistant giant ragweed. Herbicides in Group 2 include Classic and FirstRate.
"Our choices just aren't that great for residual control on giant ragweed," Johnson says. "You're going to need a post application, and unless weed pressure is low or residuals work very well, you may need two post passes."
Postemergence options
In Roundup Ready soybeans, apply glyphosate at 1.1 to 1.5 pounds of active ingredient per acre, and use the higher rate in fields where giant ragweed wasn't well controlled before, Johnson says. Make a second application of glyphosate at 0.75 pound per acre three to four weeks later.
If you know you have Group 9-resistant giant ragweed or maybe even resistance to groups 2 and 9, you know control can be tough, Johnson says. Your best options may be glufosinate in LibertyLink soybeans or dicamba in Xtend soybeans.
Make that first application when ragweed plants are no more than 4 to 6 inches tall, he says. A second application may be needed. If you are applying dicamba in Xtend soybeans, remain aware of cutoff deadlines for spraying dicamba in your state.
If ragweed plants are not herbicide resistant and you are growing non-GMO beans, postemergence options for 4- to 8-inch giant ragweed plants include FirstRate, fomesafen 1.88L, or FirstRate plus fomesafen 1.88 L. Results with Classic and Synchrony are more variable.
Subscribe to receive top agriculture news
Be informed daily with these free e-newsletters
You May Also Like
---