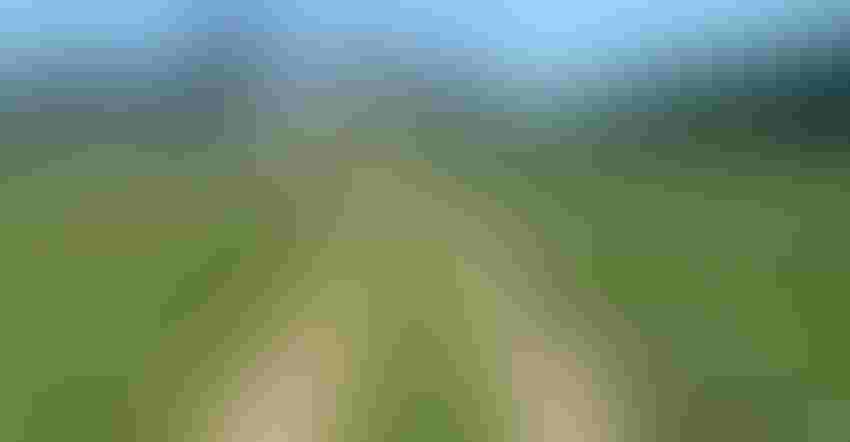 Thermal weed control via a tractor equipped with a generator, a transformer, and an operator could be an answer against herbicide resistance.
Marcelo Moretti/Oregon State University
Sometimes it takes a long time for an idea to be embraced by the public, like say the pet rock that had been around forever until it achieved eventual popularity in 1975.
Likewise, the idea around electric weed control, a concept first patented in 1890, that didn't receive much attention until a few decades ago. Now, according to weed whacker horticulturist Marcelo Moretti of the Oregon State University Extension Service, "Even if current ways still work, new ways are inevitable because they may be more cost-effective or perform a task faster, easier, and better."
Addressing the issue of managing herbicide resistance with electric weed control, he says, "Technology on many fronts is evolving so fast, perhaps EWC wasn't economically viable a couple of decades ago, but it could be today.  Look at robots for example.  We're seeing increased mechanization everywhere.
"In dealing with weeds, our biggest problem is that agricultural herbicides, pesticides in general, are encountering resistance.  We can delay that push back, but the chemical we have previously used to control weeds can now have a non-chemical companion tool."
Calling herbicide resistance "a serious problem in both organic and conventionally-grown crops" — in this case, tree nuts —Moretti believes thermal weed control via a tractor equipped with a generator, a transformer, and an operator could save the day.  And he reminds, the operator may be superfluous if an autonomous tractor is involved.
"EWC control appears to last longer because it kills weeds at the roots," he emphasizes.  "With mowing, you see re-growth in a week or two and, if there's a rainfall, all the weeds come back even quicker."
A 'poster child' for industry
While specifically researching weeds among hazelnut orchards in Oregon, "Our findings could become a poster child for the entire tree nut industry.  If EWC is safe enough for hazelnuts with their low-to-ground suckers, it's not hard to extrapolate to almonds, walnuts, pecans, and pistachios involving millions of acres plagued by weeds.  The Almond Board of California has already reached out and collaboration begun with UC Davis.
"In fact, I think the California tree nut industry would be a prime market for an EWC application because it is such a large portrait with flat ground and not a lot of debris that could be fuel for a fire.  In a nut orchard, we could use larger tractors than we would use in vineyards or among other crops."
Moretti cites increasing interest in the concept.  "More and more folks are looking at this as we find better ways to deal with human safety and cost reduction.  Having another tool that will last multiple seasons with proper maintenance is a good second option to pesticides that are increasing in cost with limited availability in today's market."
In a current three-year, USDA-funded organic production weed control study using 5,000 to 12,000 volts on a 75-horsepower tractor, he's discovering excellent efficacy with both annual seedlings and perennial weeds like horsetail, bindweed, nut sedge, and thistle.  "We're seeing better results than we expected with a tractor moving at 1 ½ mph through rye grass in a hazelnut orchard at a rough cost of $40 an acre, comparable to herbicide application costs."
Within the tree nut industry, Moretti says he sees no real issues to introducing the concept now, although movement may be a bit slower in other crops.  Optimistically, he says, "EWC appears to be something that could be a game changer on chemical-resistant weeds."
Subscribe to receive top agriculture news
Be informed daily with these free e-newsletters
You May Also Like
---