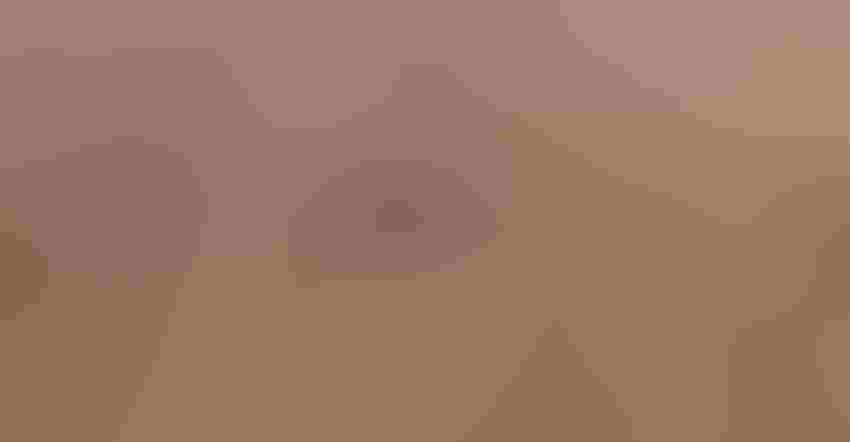 GET AHEAD: For producers wanting to get a head start on their 2023 weed control, Readel says that the postharvest burndown application shouldn't be skipped.
Richard Newstead/Getty Images
As harvest 2022 pushes on, we can already be planning for our 2023 weed control program. Regardless if you're for or against herbicide burndown applications, weeds such as marestail, waterhemp and kochia have proven that they're not going to sit still if you decide to skip this weed control method because "the field looked pretty clean."
Waterhemp, when given the chance, will emerge throughout the growing season. And your first step of control for the 2023 crop will begin after the 2022 harvest. Prior use of glyphosate-only applications has changed as well. We can no longer afford to rely on a single mode of action in any weed situation whether it is waterhemp, kochia or marestail.
Options to consider
One option is glyphosate plus a Group 4 herbicide of your choice. Not all Group 4s are created equal, which is of benefit to burndown applications! Group 4s can vary by site of action, meaning they work on different sites of the plants. When planning what products you'll use for an effective burndown, consider not only the mode of action but also the site of action. This way you're varying what you're using not only in the burndown application, but also as a preemergent, a layered residual and a crop treatment later on.
We know that our herbicide tools are becoming more limited every year. Mother Nature will do everything she can to outsmart us; therefore, no matter what product you're considering using, be sure to use full labeled rates.
We can no longer afford to cut costs by reducing rates. High water rates are needed to provide total plant coverage. Any plant that is emerged will be fighting for survival and pushing out growing points as quickly as it can. Don't let the plant outwit you because you chose to use only 8 gallons of water. To accurately deliver a lethal dose, 15 gallons are needed.
Don't skimp on adjuvants either. This is a point where you're not worried about crop response because no crop is in the field, so go ahead and be vengeful!
Insurance policy
If our spring season is wet and we cannot complete all our field tasks in a timely manner, fall-applied herbicides can act as an insurance policy to keep weeds at bay while you plant a crop. One fall option for your fields may be flumiozxian. Less weed competition is ideal for a newly planted crop to jump ahead and shade out potential problems later in the season.
We've heard this repeatedly: "My cleanest fields in 2022 have been the field that received a postharvest burndown application." Yes, finding time to do it can be difficult unless you make it a priority. Those applications mean that kochia and others won't have much time to grow and set seed.
Last thought: Many areas are dry after the first 6 inches from the ground surface. How will that affect burndown applications, tillage or planting of cover crops? Time will tell, but definitely factor that into your decision-making.
We welcome your comments, thoughts and questions at [email protected].
Readel writes from Hunter, N.D., and is one-third of Ag Mafia, a private agriculture business and agronomy consulting company covering North Dakota, portions of South Dakota, Minnesota and Montana. The rest of Ag Mafia is made up of Jason Hanson and Kyle Okke, and the trio has a combined 75 years of experience in agronomy and sales. Their column focuses on timely in-field topics, answers technical questions, and offers tips for succeeding on your farm or retail operation.
Subscribe to receive top agriculture news
Be informed daily with these free e-newsletters
You May Also Like
---