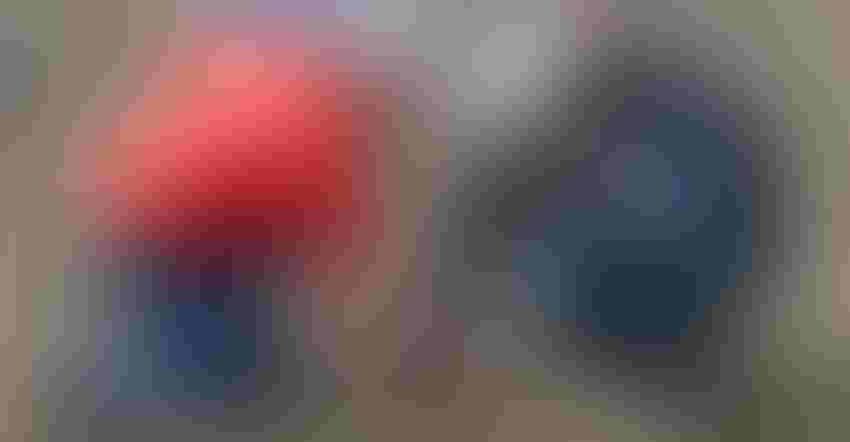 JUST DO IT: Get into the field, be diligent about sampling techniques and know what you are looking for by preparing ahead.
Farm Progress
I was at a dinner meeting several years ago, sitting beside a farmer who had a large cattle operation and an extensive crop enterprise to support his cattle herd. Without warning, he turned to me and asked, "Do you think I need a crop scout?" I asked him what his current scouting practices were. He responded, "I love my cattle, so that's where I spend most of my time. My crops are a necessary evil. After I plant the crop, the next time I see it is from the cab of the combine." 
For those of us who don't enjoy working with the plant side of farming or who are unable to scout our own fields, a good crop scout is incredibly valuable. For those of us who enjoy the plant side of farming and are able to scout our own fields, it is important to be as good a scout as possible. 
The goal of crop scouting is to improve profits by observing plant health and populations, identifying pests (disease, insects and weeds) and determining pest densities, and diagnosing any other causes of plant injury. Scouting uses thresholds, if available, to make decisions, and you note the changes that should be made in the future.
Always remember, safety is job one 
No crop is worth becoming hospitalized or dying. Take precautions to avoid heat-related illnesses. Stay covered up or wear a high SPF sunscreen. If you find "junk" in the field, call authorities to determine if it is a meth lab, etc. Here are a few items to consider as you approach crop scouting:  
Helpful resources available. Know what a normal plant looks like aboveground, belowground and on the inside. The key thing is to be able to recognize when something does not look right. If something does not look right, you can call your Iowa State University Extension field agronomist to help you sort it out. If you don't know your Extension field agronomist, contact your ISU Extension county office. 
These two publications at the ISU Extension store, Corn Growth and Development, PMR 1009, and Soybean Growth and Development, PM 1945, are excellent resources to remind you of what a normal plant looks like. Other resources include:
Nutrient Deficiencies and Application Injuries in Field Crops, IPM 42, will help you identify fertility-related injury. A soil map of each field will help determine if any patterns you see in the field correspond to differences in the soil. The Web Soil Survey is an excellent site to create and print soil maps. 
Assemble your scouting kit. Items you will want to have available include a trowel or spade for digging plants up to examine roots, a hawk-bill folding pocketknife for cutting plants open (the hawk-bill will make splitting a full-stature corn plant open much easier), and a 30X-21 mm hand lens for insect and disease identification.
Also, take along a 25- or 30-foot tape measure for making row-crop stand counts, a tape measure at least as long as the widest piece of equipment that will be in the field, and a bath towel to use as a beat sheet for counting insects per foot of row. Also handy to have is a 15-inch-diameter sweep net for insect scanning and counting. 
You need flags to mark plants that you may want to look at later, a camera to document what you see or to show someone else, and a GPS unit to get you close to any flags that were set. Smartphones and tablets should be able to substitute for a camera and GPS unit. Also, have equipment or materials with you to take notes. 
To maintain samples, take a cooler with ice or ice packs, vials or about any small container for insect samples, and paper towels and bags for plant samples. Place the insect and plant samples in the cooler to keep them fresh. If you are raising forages, fashion a frame 1-foot square out of heavy wire or plastic pipe for counting plants per square foot. You may need to search the internet for the most cost-effective hawk-bill folding pocketknife, 30X-21 mm hand lens and sweep net. 
Know what to look for and when. The references listed earlier can help with this. ISU provides many "alerts" on the ISU Crops website. Because the cropping season in the South is somewhat ahead of the North, watch what issues people several miles south are encountering. In southern Iowa, watching the University of Missouri and University of Illinois newsletters may also be beneficial. 
Hit the field. The standard equipment I carry with or on me include the pocketknife, hand lens, cellphone or tablet (be sure to install a "find me" app in case it gets lost), spade or trowel, and a few flags. If I will be scanning or scouting for insects, I'll also carry the sweep net or the beat sheet, whichever is appropriate. And I will carry a tape measure for row-crop stand counts. 
Before entering the field, try to get a big picture view of the field from a high spot and/or by standing in a pickup truck bed. SUAVs (drones) are excellent for this. Note any variations in appearance across the field. 
Observe field edges because insects, such as grasshoppers, stalk borers, soybean gall midges and Japanese beetles, often start at field edges. In some cases, spraying the field edges may prevent the need for a field-wide application later in the season. 
Best pattern to use. Select a pattern for field scouting and alter the pattern in successive scouting events. Zig-zag, diamond and transect are three patterns commonly used. Go a minimum of 100 feet into the field, randomly stop, close your eyes, move about 10 steps, open your eyes, and examine several plants aboveground, belowground and on the inside. Repeat for each 5 acres in the field. 
If your big-picture view revealed any variations, be sure to go to those locations and examine plants there. If you find differences that are not related to pests, compare patterns to soil maps and to the size of equipment used in the field. The rule of thumb is that people work in straight lines and Mother Nature does not. 
If you find nutrient deficiency symptoms, it could be a true deficiency in the soil, or it could be poor root function due to root injury or poor soil conditions. Examine roots for signs of injury, compaction-related issues, etc., and take soil samples if soil sampling and testing has not been done recently. 
Document what's seen. Collect any samples that you would like to examine further or have someone else examine. Plant samples should be placed in a bag with paper towels, sealed as well as possible, and then kept cool. Insects can be maintained short term in a sealed plastic bag or old pill bottle. Placing the insect in alcohol in a bottle will preserve the insect. 
Take notes, and perhaps pictures, to document what you are observing, when and where. If you observe issues related to equipment maintenance, adjustment or operation, put those items on the to-do list so that the issue can be resolved prior to the next use of the equipment. 
Good crop scouting takes some time and effort, but the economic improvement in crop production through good in-season decision-making and improved procedures in following years make it time and effort well spent. 
Schmitt is the ISU Extension field crop specialist based at Muscatine in eastern Iowa. Contact [email protected]. 
Subscribe to receive top agriculture news
Be informed daily with these free e-newsletters
You May Also Like
---