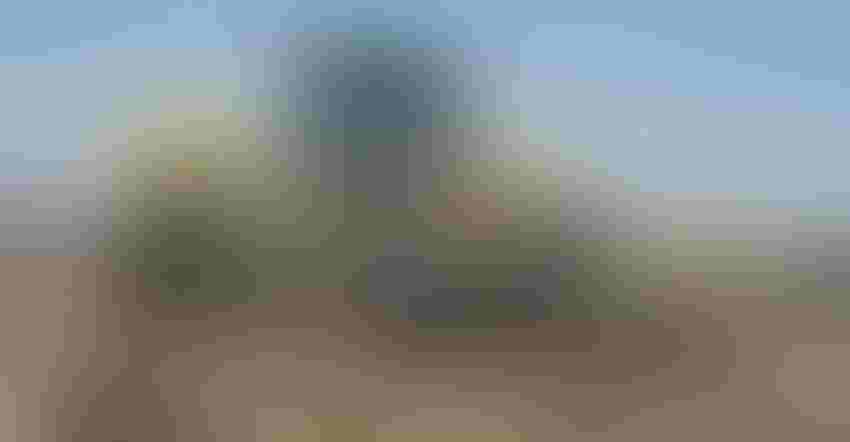 Virginia Tech's Vijay Singh does not recommend the use of glyphosate alone. Tank mix with products such as 2, 4-D, dicamba or Sharpen to increase efficacy of burndown.
Brad Haire
In this day of anticipated glyphosate shortages, Virginia Tech Extension Weed Specialist Vijay Singh continues to drive home the number one goal of weed management: start clean in order to achieve reasonable season-long weed control and stay clean.
In a recent virtual workshop put on as a collaborative effort between the University of Maryland (Kurt Vollmer and Benjamin Beale), Virginia Tech (Vijay Singh and Michael Flessner) and the University of Delaware (Mark VanGessel), Singh offered a number of pointers for farmers to consider in case of glyphosate shortages, and alternate herbicide options. 
Before planting, consider tillage instead of relying on glyphosate or other herbicides for burndown. Tillage is particularly effective for weeds such as marestail, common ragweed, and most winter annuals. Singh cautions growers not to rely on vertical tillage implements for weed control, as they are not very effective. Annual ryegrass is also difficult to control with tillage after it is more than 4 inches tall.   
Singh does not recommend the use of glyphosate alone. Tank mix with products such as 2, 4-D, dicamba or Sharpen to increase efficacy of burndown. Consider applications and planting restrictions mentioned in labels. For example, allow 2 weeks before planting corn after the application of 2,4-D. The interval between applying Sharpen and planting soybeans varies by soil type and rate. 
Singh encouraged growers to do everything possible to get the most performance from what glyphosate they have. Water quality is critical for glyphosate efficacy. Hard water reduces glyphosate effectiveness. Add ammonium sulfate before adding glyphosate. Use 1.5 -to 3-pounds per acre dry formulation. If using a liquid AMS product, be sure you are adding the appropriate amount of AMS.
Target weeds at 3-to 4-inches tall and use higher spray volume for better control. Use a minimum of 15 gallons (solution) per acre for small weeds and 15 to 20 gallons per acre for larger weeds. Avoid spraying when plants are stressed. Consider air temperature, which is especially important this time of year, Glyphosate works best when temperatures are at least 50o F following application. Preferable temperature is between 60o F and 75o F.  Midday applications made under good sunlight to actively growing weeds will increase the effectiveness of glyphosate. Be sure to allow for at least a 30-minute rain-fast period.
Try to use premixes or tank-mixes with at least two effective modes of action on target weeds with good burndown activity for effective control.
If Italian ryegrass is a problem, then the tank-mix should include glyphosate. Target applications for annual ryegrass when plants are still small.
Singh covered several alternative herbicide options in place of glyphosate for burndown applications. Each option has a fit depending on the individual circumstances (crop, weed size, etc.) and the weed spectrum present (grass, broadleaf, or both).
Examples discussed included:
Gramoxone + 2,4-D + metribuzin

Sharpen + glyphosate (low rate of 20 fl oz/a of Roundup Powermax 3 or equivalent glyphosate product) + 2,4-D

Sharpen + 2,4-D + metribuzin

Harmony Extra + 2,4-D + metribuzin

2,4-D + metribuzin + Select Max (mainly beans).
Benjamin Beale, who shared some of his work with on-farm research trials, indicated that Select Max has restrictions on rates and planting time in a corn system. Please check planting time restrictions for Sharpen and other herbicides before use based on cropping system. There is also potential antagonism between Select Max and auxin herbicides like 2,4-D. If using Select Max, consider using the full 12-ounce rate with AMS and COC. Using separate sequential applications can eliminate the antagonism issue.
Beale also suggested that if glyphosate is in limited supply, consider prioritizing it's use for soybean acres as there are several excellent PRE and POST herbicide options for corn. For example, on corn acres, consider adding treatments with atrazine, Acuron, Callisto, Lexar, rimsulfuron or thiencarbazone.
For soybeans, consider adding combinations of Classic, Select Max, dicamba, and 2,4-D.
Michael Flessner also offered guidance for incorporating a strong residual program into the weed management program. He suggested different herbicide programs based on specific weed scenarios. He emphasized that a strong residual program will serve as the backbone of your efforts to keep fields clean after planting. Choose a residual program with at least two effective herbicide modes of action that have activity on the weeds present in your operation.
Mark VanGessel and Kurt Vollmer also presented during the program. They suggested several IWM (Integrated Weed Management) approaches that may be useful this year. Understanding weed ecology/biology and incorporation of cover crops will enhance the weed management efficiency. For more information on the IWM techniques visit the GROW IWM website at https://growiwm.org/
Subscribe to receive top agriculture news
Be informed daily with these free e-newsletters
You May Also Like
---