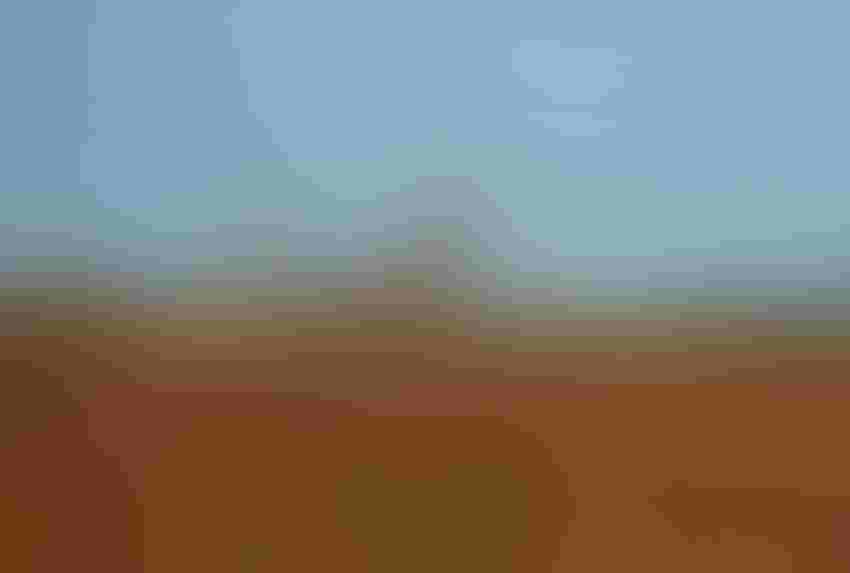 Deere leaps through a grain sorghum field in Lamb County, Texas. The launch of a non-GMO herbicide tolerant sorghum will allow growers to treat weeds such as Texas panicum and Johnsongrass without harming the crop.
Shelley E. Huguley
igrowth, the world's first commercially available non-GMO herbicide tolerant sorghum was launched in the U.S Tuesday, June 23, silencing years of rumors of the possibility of such technology, says Dean Loftis, marketing lead at Advanta/Alta Seeds.
igrowth will allow growers to spray imidazoline herbicides for weed control of broadleafs and grasses such as Texas panicum, Johnson grass and Palmer Amarath (pigweed) without damaging their sorghum crop.
"Today's announcement of igrowth is exciting and we know the growers are excited," says Justin Weinheimer, crop improvement director, United Sorghum Checkoff. "The magnitude of bringing herbicide tolerance forward cannot be overstated. It's been the number one agronomic request by sorghum growers for decades."
U.S. Commercialization
According to a 2006 Kansas State University poll, which focused on growers' primary concerns when considering growing sorghum, grass and weed control topped the results. "Here we are 14 years later, and it's fair to say that this survey hasn't changed much," says Tanner Antonick, regional sales manager for Advanta. "The issues confronting growers then are still major issues today with alternative methods to control weeds and grasses topping that list."
igrowth, technologies proprietary and patented by Advanta, was first launched in 2018, in Australia and Argentina and is now available in five countries, including Uruguay, Paraguay and Bolivia.
2021 Access
In the initial U.S. launch, five hybrids will be available. Though cost is still to be determined, growers can reserve seed this summer for the 2021 season. "There will be limited quantities available for the first season," Antonick says. "Our sales representatives will help guide growers to the hybrid that is the best fit for their farm and their situation."
Preordered seed will not be delivered until the product has EPA approval of Imiflex, the companion herbicide to the hybrid system, Antonick adds.
Imiflex
Imiflex, depending on the tank mix partner, can control tough grasses such as Texas panicum and broadleafs, says Lynn Justesen, UPL senior technical services lead for row crops.
The application window for the herbicide is from preplant to bloom, "exactly what that window will look like, again, is pending on EAP registration as well. We've asked for a very wide window and see no pushback at this point," Justesen says. "There are multiple tank mix options to deliver multi-spectral control. It's got a 6 to 9-ounce use rate."
Whether used in a preemergence or post application, Justeen says, Imiflex is not standalone product. But when put in a sequence with either atrazine or atrazine and Moccasin II, "that's where we see our best control."
Preorder
Preorders of the 2021 grain sorghum hybrids will be available at igrowth's Sorghum Frontier field days, which will be hosted virtually July 8 and then in-person August 18 in Enid, Okla., and Sept. 2 in Larned, Kansas. Growers can also visit with their local igrowth retailer or go online to altaseeds.advantaus.com to complete a preorder application.
Upon purchasing the seed, producers will be required to sign a Weed Control Sorghum Grower Agreement, which will detail best practices. "Proper management and stewardship of the igrowth system are important," says Antonick. "It's our goal to educate growers on the best methods to protect this technology and keep it viable for many years to come."
The agreement can be downloaded at AgCelerate.com, an online data management service that manages seed technology use agreements for seed companies. 
In the past, herbicide-tolerant sorghum has been discussed in the context of grain sorghum. But with a change in the markets within in the dairy industry and in weather patterns throughout the country, there is renewed interest in forage sorghum and forage sorghum products, says Ben Beyer, U.S. sorghum breeder, Advanta. "At the Sorghum Frontier Days, you'll be able to see the first generation of forage sorghum trials as well. We plan to bring those to the marketplace after our 2021 launch of grain sorghum hybrids."
Adama and S&W Seeds is also conducting field trials of a non-GMO herbicide tolerant sorghum that utilized different technology and expects commercial release in 2022.
State of Sorghum
Globally, grain sorghum is making a come back after several challenging years, Weinheimer says.  "China continues to be a major trade partner and exports to that country are up. But we've brought on some new trade partners over the last year as a result of the partnership with Sorghum Checkoff, the U.S. Grains Council, as well as, USDA."
The international demand for sorghum is filtering back to the export price for major export facilities, Weinheimer says. "We see it higher, relative to what's it's been, and that price translates through to the country elevator which gets to the farmer. It's great to see that pride's coming back and those trade partners coming back online."
This year, planted acres of U.S. grain sorghum are up, he adds. "There's still a lot of decisions being made in terms of the variability of the crop. We've got very good grain sorghum in South Texas but as you moved into the Plains with erratic weather conditions, it's to be determined what the final output of the crop will be. But acres are up."
Subscribe to receive top agriculture news
Be informed daily with these free e-newsletters
You May Also Like
---