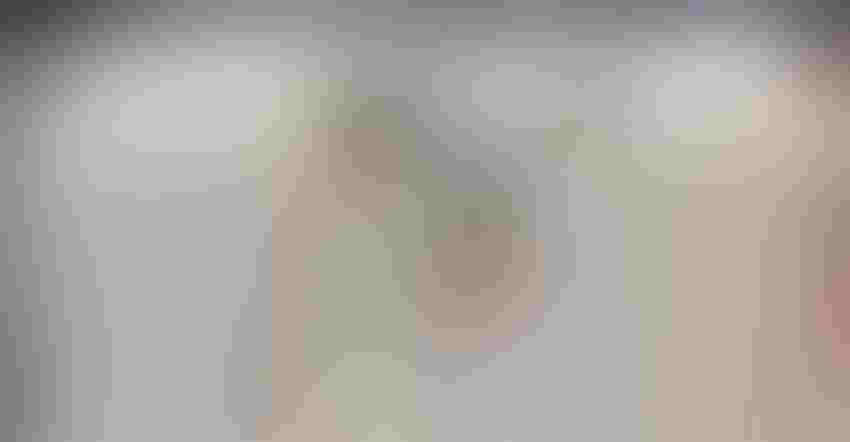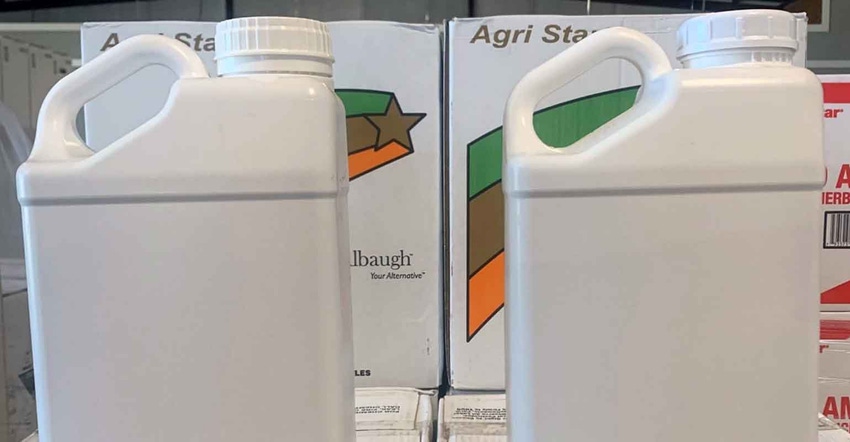 Backside of labeled pesticide containers. Left is fungicide. Right is herbicide. Easy to make a big mistake here if not paying attention!
Eric Prostko, UGA Extension
A lot is going on in the cotton and peanut belt right now. Side-dressing, planting, pesticide applications, irrigation, equipment breakdowns, etc. and etc.  In this fast-paced time of the year, much can happen, both good and bad.
Over the past two months, I have been involved with at least 15 herbicide hiccups. These ranged from applications of Liberty to non-Liberty-tolerant field corn to the off-target movement of paraquat.  Sadly, all of these were the result of human error and were very preventable. Everyone makes mistakes, just ask my wife (35 years) and 3 kids. I have made a ton of them. 
With beaucoup bucks on the line and anti-pesticide folks hoping for us to fail, it's important for all involved in production agriculture to up our games. Here are a few tips to help prevent herbicide hiccups. They're in no particular order and are meant to be humorous and, hopefully, rememberable.
Phone a friend! If you are not 100% certain that the herbicide application you are about to make is the correct one, STOP!  Call your local county agent, Extension weed specialist, pesticide purveyor, crop consultant, Pastor, Rabbi, Imam, or Priest.  Personally, I am more than happy to get a call from a county agent at odd hours with the hope of preventing a major hiccup.   

Mix only what you need.  If possible, try to have on hand only the herbicides that you need for that particular application.  For example, when making "cracking" applications of Gramoxone on peanut, there is no reason for 2,4-D (not DB), Xtendimax/Engenia, Diuron, Roundup, or Liberty to be in the same area.  Wonder why I mentioned those??? 

No label, no mix. It is unlawful to store pesticides in unlabeled containers but let's face it, they fall off or melt off.  Sometimes plastic containers crack, and the contents have to go somewhere. Probably a good idea to not use any pesticide from an unlabeled jug.   

Jug juggling. Many pesticide containers look very similar.  Make sure you grab the correct jug.

Stick your head in the tank (not literally). Many growers are not actually the person who applies the herbicides or cleans the sprayer.   Never a bad idea to look in the tank.  Is that five gallons of liquid at the bottom just water or something else?  When was the last time you cleaned your screens and nozzles? Did you recently use Valor in that sprayer? Consider swapping out old rubber hoses with new polyethylene hoses.

Plumb pudding. It is very common for planters to be equipped with herbicide applicators and in-furrow applicators on the same implement. A novice plumber's nightmare.  Is the right hose going to the right applicator?  Was the right pesticide put in the right tank?

Roadmap to Heaven. Keep excellent records and maps on the different technologies that are planted in each field. Is the crop you are about to spray Roundup Ready, Liberty-Link, Enlist, Xtend, XtendFlex, or conventional??? Better be sure here.

The Bible. Although a fantastic idea, I am not talking about the real one here, the one inspired by GOD and written by man. I am talking about the LABEL, the one written by man and inspired by 10-12 years of research and about $300 million.

Wind and Wuthering. In case you are wondering, that's an album title from one of my favorite 1980s bands, Genesis, to remind you about the importance of wind. For example, if paraquat is applied when its windy and there is field corn nearby, guess what happens!  I consider myself a very practical weed scientist and know that not every day is perfect for applying herbicides.  Early AM/PM applications (herbicide permitting), lower boom heights, slower tractor speeds, drift retardants, and nozzle/pressure combos that produce larger droplets are all tools that can help when conditions are windy but these will not work in Deadliest Catch force winds!
Whenever I am involved in an herbicide hiccup that resulted from human error, I am saddened and take it quite hard and personally. Is there something I could have said or done in the past to prevent this from happening?  
Farming is an intense high-pressure job with lots of demands. Thus, it is easy to make a mistake. I encourage you to consider these tips with the goal of reducing preventable problems. 
As always good weed hunting! 
Eric Prostko is a weed specialist with University of Georgia Extension.
Subscribe to receive top agriculture news
Be informed daily with these free e-newsletters
You May Also Like
---