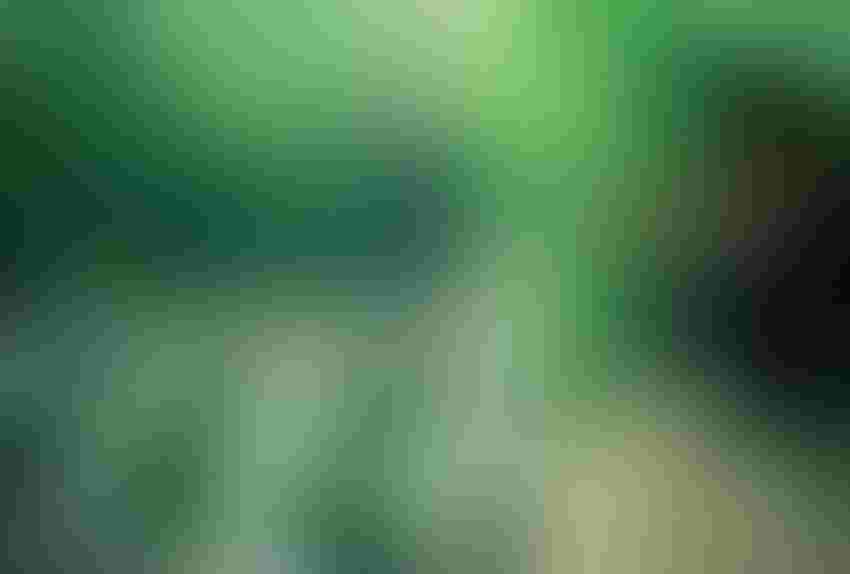 Growing cucumbers in sandy soil in Abu Dhabi.
Merle Jensen may not walk on water, but he knows a lot about it - the water part anyway.
He says, "Farming's future is totally dependent on the availability of good water for crop production and the proper placement of that water for higher yield. The whole future of growing crops is dependent on the best method of irrigation and fertigation, and farmers would be wise to consider adapting the concept of drip irrigation now - or they might find themselves out of business."
Jensen, a retired professor Emeritus plant scientist at the University of Arizona (UA), spent his career growing vegetable crops in harsh desert climates over the world - from Mexico and Latin America to Asia, the Middle East, and North Africa.
"There are over 20,000 miles of desert coastline in the world that, if made habitable, could feed millions of people," he says, strongly recommending drip irrigation for plants grown in sand.
In most cases, edibles are seeded directly into leached beach sand and once growing are put on constant liquid-feed solutions of commercial-grade fertilizer applied through the irrigation system.
With a United Nations estimation that the world's population will grow by an additional 4 billion to 11.2 billion by 2100, there's a major concern by food scientists about where food will be grown.
"Vast areas of prime agricultural land are being taken out of production each year and we're losing farmland and rich river valleys," Jensen says.
"Production of food crops will have to expand into land areas always thought as too harsh, too wet or dry. If we are to successfully increase our supply of food, we must increase the output our land is producing."
He adds, "Growth in food production will not keep pace unless we extend agriculture into new areas. And toward that end, the day will come when the world's deserts must be cultivated."
That day is here thanks to a variety of issues that work in conjunction toward a common goal, including trickle irrigation where measured amounts of a water and nutrient mix drip onto plants from a narrow hose running the length of the furrow, using whatever soil is available, including sand in Iran, Morocco, Jordan, Israel, and the American Southwest.
A People magazine feature on horticulture quoted Jensen saying, "Year-round growth can give yields 10 to 40 times greater than standard open-field production."
Another publication, Horticulture magazine, cited "the outlandish world of Merle Jensen" who "has a penchant for blending Buck Rogers with Rube Goldberg for futuristic desert farming." 
Well, the future is now.
According to scientists with degrees from Cal Poly, Cornell, and Rutgers, the pro versus con formula is pretty simple. Over the short term, the negatives include a higher cost to implement along with salinity hazards and an increased sensitivity to clogging.
Jensen replies, "Expensive, yes, but the future alternative is you're either in production or out of it, and you won't be in production if you don't find a way to conserve water."
Advantages tend to outweigh negatives - maximum use of water maximizes crop yield, less weed growth or soil erosion, relatively low labor and operational costs, less evaporation compared to surface irrigation, and decreased tillage.
AgricultureGuide.com notes, "One of the most important aspects of this method is that the watered zone is only along the plant line, leaving the rest of the field dry - using the least amount of scarce and/or costly water possible. Because the watered zone is shadowed by the plant itself, evaporation is minimal, consumption is lowered, and the required moisture level in the root zone is maintained. Additionally, fertilizers can be used via the drip system, thus reducing that volume needed."
Jensen proved the efficacy of drip irrigation at the UA's Environmental Research Laboratory.  Time magazine, in 1967, reported on Jensen's experiments in the integrated production of vegetables, electricity, and desalted water in the soil-poor desert of Arabia's Abu Dhabi.
They termed the growing of food in Sadiyat, a sandy, essentially barren, uninhabited island, 'sand culture.' And they proved it would work in an area with strong prevailing winds and rainfall that averaged less than two inches per year.
The facility and a previous prototype in Puerto Penasco, Mexico were intended to make a coastal desert agriculturally productive.
In Sonora, plants were seeded in separate plots of beach sand or sphagnum peat moss/vermiculite and grew equally well in either drip-irrigated medium. Once the efficacy of the concept literally bore fruit, it expanded to other countries throughout the world.
Another strong proponent of subsurface drip irrigation (SDI) is fellow Arizonan Howard Wuertz of Sundance Farms in Coolidge, the 2016 winner of Netafim USA's Award for Advancement in Microirrigation - http://www.westernfarmpress.com/irrigation/wuertz-honored-subsurface-drip-irrigation-pioneer.
"SDI delivers many benefits and we encourage growers to take measures to ensure the sustainability of their farming operations for generations to come," says Wuertz. 
"Successful farming in the desert is not only about using water more efficiently, but about being productive with the resources we have and subsurface drip irrigation has allowed us to boost our productivity per acre with less water than traditional irrigation methods."
The Wuertz family estimates a reduction in water usage up to 50 percent on their 3,200-acre farm.
While Wuertz has been referred to as "the father of subsurface drip irrigation," Jensen claims some of that parentage too due to his longevity in drip cultivation trials throughout the globe. 
Former colleague Hassan Elattir, Morocco's first horticulturist, worked with Jensen to initiate drip irrigation there. Elattir praises the growth since their first drip irrigation experiments in 1975.
"By 2020, there will be more than 500,000 hectares of crops under drip irrigation," Elattir says.
And that's good news as the estimation is that more food will needed in the first half of this century than was produced in the previous 100 centuries combined.
Jensen isn't one to generally say 'I told you so,' but in this case, he does. 
"The projects we've been involved with have demonstrated it is possible to produce vegetables in many sandy areas of the world where almost nothing now grows," said Jensen.
Subscribe to receive top agriculture news
Be informed daily with these free e-newsletters
You May Also Like
---