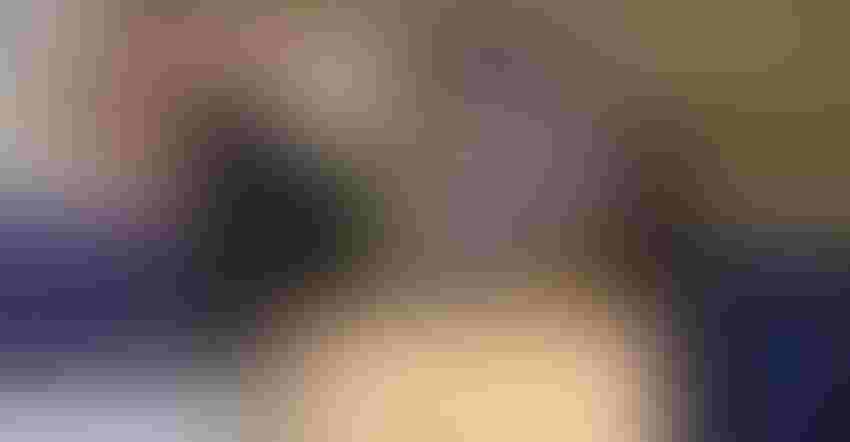 South Carolina farmer Bob Hall and wife, Susan, accept the honor and check for the 2021 Swisher/Sunbelt Expo Southeastern Farmer of the Year Oct. 19. Also pictured at left is Chip Blalock, executive director of the Sunbelt Expo, and far right Ron Carroll, vice president of marketing for Swisher.
Willie Vogt
Bob Hall walked to the podium, stopped, smiled and waited for his wife, Susan, to join him. Together, they were selected the 2021 Swisher Sunbelt Expo Southeastern Farmer of the Year.
Hall began farming 41 years ago. "And the Lord has provided for us through those years," he said. The Halls own and manage Bush-N-Vine Farm, a fruit and vegetable-growing operation in York, SC.
"I'm truly honored and humbled. All the others (farmers of the year), I think, are more deserving than I was," Hall said.
"And my wife, Susan, I call her my CFO. She's my accountant. And she's kept me on task for many years. Some of us are spenders and some of us are savers. She's the saver, and I have to justify why I needed another truck," he said.
Hall choked up when he talked about their five children they raised on the farm. "You know farming is not just a business, it's a lifestyle. They didn't complain about it, not going on vacation at times. They enjoyed it, as far as I can tell," he said, the farm-friendly crowd laughed.
At Bush-N-Vine Farm, produce is grown in three ways: in open fields, high tunnels, and greenhouses. Strawberries have been the farm's primary crop with 10 irrigated acres, yielding 17,500 pounds per acre. Other fruit crops include 15 irrigated acres of peaches yielding 320 to 400 bushels per acre, eight acres of cantaloupe and melons yielding 18,000 pounds per acre, three acres of blackberries yielding 9,000 to 10,000 pounds per acre, three acres of blueberries yielding 8,000 pounds per acre.
Vegetables include 10 acres of sweet corn yielding 500 dozen ears per acre and 25 acres of a wide variety of vegetables. Fresh market production takes place on 25 acres. High-tunnel production accounts for 130,680 square feet housed in fourteen 25' x 400' structures for all-season crops. Greenhouse production, including newly added hydroponic tomatoes, accounts for 44,850 square feet and continues to expand.
The overall winner was announced during the opening day luncheon at the Sunbelt Ag Expo Oct. 19 in Moultrie, Ga. The show and the farmer of the year judges' visit to the farmers were postponed last year due to the pandemic. The 2020 winners were brought back to compete for the 2021 honors. The farmers of the year judging team visited each state winner this summer.
Hall takes the top farmer title from Virginia farmer Michael McDowell, who won the overall honor in 2019. Since the award program was postponed in 2020, McDowell became the first grower to hold the top title for two years in a row.
"When we had to make the choice last year to postpone the show and the farmer of the year program, we decided then we would hold the program and bring back the 2020 winners as the 2021 winners. We didn't want any of our good farmer of the year families not to be treated to the red-carpet treatment at Expo. It was the right decision, and this was another outstanding farmer of the year class," said Chip Blalock, executive director of the Sunbelt Ag Expo.
Hall thanked Swisher and Sunbelt Ag Expo for the honor and gave a direct thank you to the land-grant Extension systems for the information they provide to improve efficiency and practice on farms across the Southeast, including his operation. He also thanked Hugh Weathers, South Carolina Commissioner of Agriculture, for his forward-thinking improvement to South Carolina's agricultural growth.
Over the previous three decades, Swisher has awarded $1.2 million to the state and overall winners. Each state winner receives $2,500 in cash and an expense-paid trip to the Sunbelt Ag Expo from Swisher.  A Columbia vest from Ivey's Outdoor and Farm Supply is given to each state winner and nominator. Syngenta donates $500 to each state winner's charity of choice and Massey Ferguson North America provides each winner with a gift package.
The overall winner receives an additional $15,000 from Swisher. Other prizes for the overall winner include use of a Massey Ferguson tractor for a year or up to 250 hours from Massey Ferguson North America, a Columbia jacket from Ivey's Outdoor and Farm Supply, a Hays LTI Smoker/Grill, and a Henry Repeating Arms American Farmer Tribute Edition .22 rifle from Reinke Irrigation.
Sunbelt Ag Expo provided information for this article.
Subscribe to receive top agriculture news
Be informed daily with these free e-newsletters
You May Also Like
---