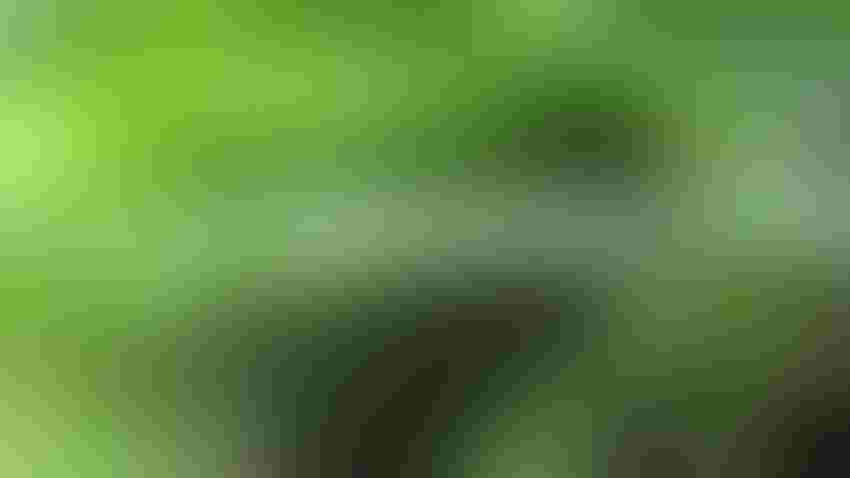 Romaine lettuce fills a container.
Tim Hearden
Growers of leafy greens are expressing frustration and heartbreak over an E. coli 0157:H7 foodborne illness outbreak linked to romaine lettuce from California's Central Coast.
The U.S. Centers for Disease Control and Prevention on Friday advised that consumers not eat and retailers not sell any romaine lettuce harvested from the Salinas, Calif., growing region, which includes Santa Clara, Santa Cruz, San Benito and Monterey counties.
The recall and warning follow a foodborne illness outbreak that has so far affected 40 people in 16 states, causing 28 hospitalizations but no deaths, the CDC reports. It's the second straight year that such an outbreak has occurred just before Thanksgiving.
Industry insiders say the root cause of the outbreaks remains a mystery despite a concentrated focus on safety by leafy greens producers and government regulators.
"No one is more frustrated than the producers of leafy greens that outbreaks continue to be associated with our products," said Scott Horsfall, CEO of the California Leafy Greens Marketing Agreement (LGMA), a food safety program created in 2007 to prevent foodborne illnesses caused by lettuce and leafy greens.
"We are devastated as a leafy greens community when this happens," said Dan Sutton, a farmer from Oceano, Calif. "Our thoughts go to those affected by this outbreak. But that's why we want to continue to work with governmental agencies to learn why this is happening so that we can improve."
Salad products recalled
The latest warning comes after Missa Bay,, LLC, announced it is is recalling approximately 75,233 pounds of salad products that contain meat or poultry because the lettuce ingredient may be contaminated with E. coli O157:H7.
The U.S. Food and Drug Administration said its inquiry into this year's outbreak led investigators to farms in Salinas and that they were looking for the contamination source, according to The Associated Press.
The federal warning includes all types of romaine lettuce harvested from Salinas such as whole heads of romaine, hearts of romaine, and packages of precut lettuce and salad mixes which contain romaine, including baby romaine, spring mix, and Caesar salad. The CDC advises consumers and retailers to discard any romaine from the Salinas area.
The advisory follows another E. coli outbreak linked to romaine from California's Central Coast that occurred just before Thanksgiving in 2018, sickening 62 people in 16 states and prompting stores and restaurants across the country to agree to temporarily stop selling the lettuce.
"A warning like this especially during the holiday week will impact not only romaine, but other leafy green vegetables such as spinach," said Michael Droke, a Seattle- and Palo Alto-based attorney specializing in agricultural and cooperative law. "Retailers will be pulling romaine and possibly all other lettuce/leafy greens from their shelves (a process called quarantining).
"This is becoming a growing trend in the industry-issuing a warning industry wide in order to protect consumers," Droke, a partner at the international law firm Dorsey & Whitney, said in a statement emailed to Western Farm Press. "Even small resellers such as airport sandwich shops will be removing romaine-related products within the day. Many companies with products containing lettuce will also add notice or stickers stating that the product 'does not contain romaine' in order to retain customers.
"The timing and type of warning in this incident demonstrates the importance of food safety and the speed at which the industry responds," he said.
LGMA updated after outbreaks
Before last year, foodborne illness outbreaks linked to lettuce were virtually unheard of in the decade since the creation of the LGMA, a marketing order with strict handling standards that many saw as a model for the Food Safety Modernization Act's Produce Safety Rule. The LGMA's metrics have been updated to fully align with the federal rule.
Member companies are required to have a complete food safety compliance plan, an up-to-date list of growers, and a written trace back program, according to the LGMA's website.
Food safety practices under the program cover several areas, including environmental assessments, water use, soil amendments, work practices and field operations, the website explains.
In mid-2018, an outbreak linked to romaine lettuce in Yuma, Ariz., resulted in over 200 reported illnesses in 36 states along with nearly 100 hospitalizations and five fatalities. Across that sector of the food industry, from growers to servers, millions of dollars in revenue were lost as romaine prices fell by more than 50 percent and farmers plowed under their fields or left them to rot.
Since the 2018 outbreaks, California and Arizona leafy greens producers made several changes to the food safety practices required of farmers, Horsfall said. The changes include updated protocols for irrigation and increased buffer zones between leafy greens farms and adjacent animal operations, he said.
"As farmers, we never want outbreaks to happen," said Sutton, who serves as the chairman of the LGMA. "We will continue to do everything we possibly can to improve our required practices, to improve the way we farm leafy greens and to make sure we can improve the safety of these products we are putting out to our consumers.
"The situation is heartbreaking," he said. "I have a very young family and the products we grow go to my family's dinner table. My children consume the very same products we are sending out to consumers across the nation. That's something I think about every day."
Subscribe to receive top agriculture news
Be informed daily with these free e-newsletters
You May Also Like
---