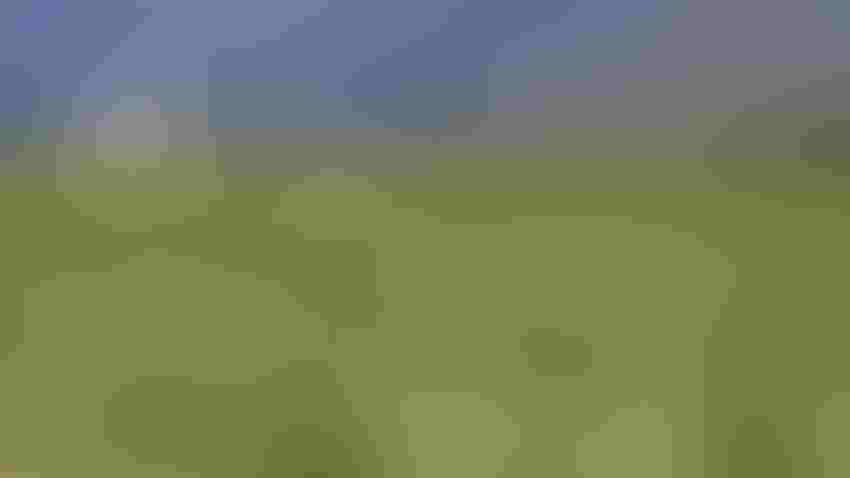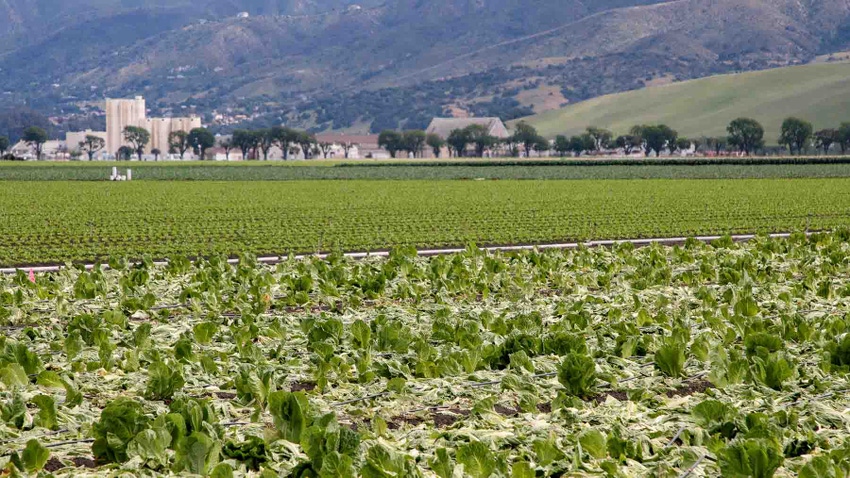 Estimates of the early lettuce crop in the Salinas Valley were elusive as flooding in March forced some growers to forego planting their early-season leafy greens. By early May it appeared that some lettuce had just been harvested, as other fields were still maturing.
Todd Fitchette
The summer vegetable crop in California's Salinas Valley may be a little shorter than normal as farmers work through issues surrounding this winter's floods.
Not all the early-season leafy greens typically planted in the Salinas Valley could be, because of the significant flooding that took place on the Salinas and Pajaro rivers. Monterey County's strawberry crop was also significantly impacted from the winter rain and floods, according to Norm Groot, executive director, Monterey County Farm Bureau.
Groot says county agricultural officials are still surveying damage from January and March floods. Early estimates suggest one-fourth of Monterey County's agricultural value, or about $1 billion, may be lost by the flooding and heavy rain. Lettuce growers remain concerned for this year's late-season lettuce crop after last year's Impatiens necrotic spot virus, or INSV, destroyed much of that crop.
Not all was lost. Lettuce harvest activities were under way in early May amidst rain and thunderstorms. Broccoli and artichokes could also be seen growing in parts of the Salinas Valley. Some fields still appeared to be unplanted as of May 4.
Groot says that surveys in January, and what they learned of the March floods, suggested that about 20,000 acres of farmland in Monterey County were impacted by the weather. He said the county agricultural department is still collating data. Early estimates suggest that 2,500 acres of the roughly 12,000 acres of strawberries planted in Monterey County were lost in the floods.
"There was one grower who had just planted a field last fall that went under in January," Groot said.
Wine grapes in the southern end of Monterey County appeared to be doing well.
"I heard there were a couple vineyards that went under water that were closer to the river, but for the most part, most of the grapes are okay," he continued.
The larger long-term issue will be restoring the Salinas River channel to better contain high flood flows when heavy rains fill the channel. The river channel has suffered from decades of overgrowth by invasive plants, some of which that were apparently planted decades ago by the Army Corps of Engineers to address soil erosion.
Sediment that flowed down the mountains after massive wildfires, coupled with the invasive plants and vegetation greatly reduced the river channel's capacity. Meetings between local and state officials continue to address necessary efforts to clean up the channel and protect property from massive floods resulting from floods that some suggest could become more common amidst climate change.
Subscribe to receive top agriculture news
Be informed daily with these free e-newsletters
You May Also Like
---