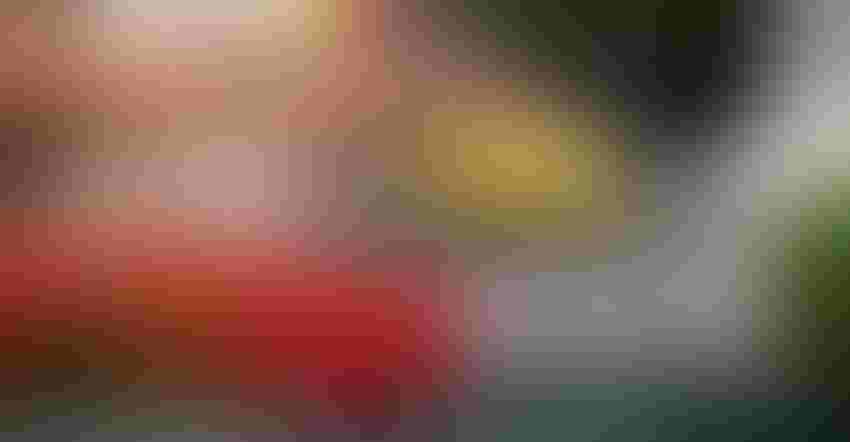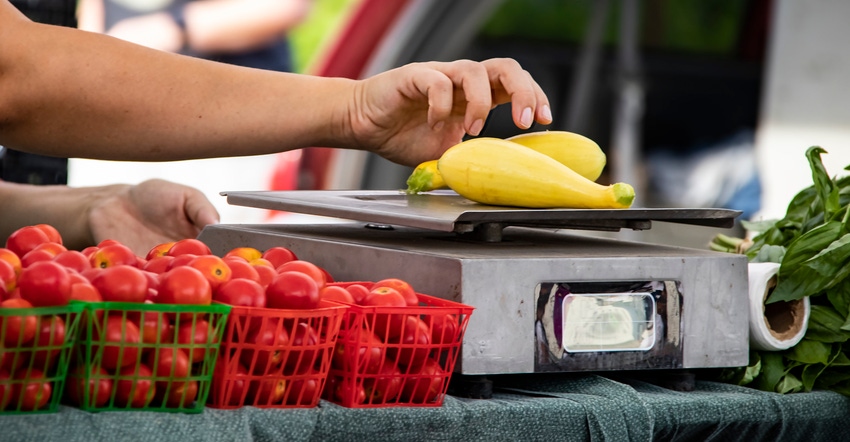 INSPECTION SERVICE: Buyers can shop with confidence knowing that they are paying for only what they buy at farmers markets, as the Missouri Department of Agriculture's teams inspect scales.
Susan Vineyard/Getty Images
When I was growing up, my grandparents and parents always had large gardens. I remember the hours my grandparents spent pulling weeds and swinging a hoe.
They were so proud of that first ripe tomato and mess of green beans. My mother still raises a large garden that allows her to can and freeze many items for the entire family to enjoy through the rest of the year.
Many of you were likely raised the same way. Truthfully, is there anything better than those fresh vegetables on your supper plate? For livestock producers, the entire plate can be "home-raised" when the protein at the center also came from the family farm.
However, raising a garden isn't an option for many people, for a variety of reasons. Even though I appreciate the bounty, my husband and I do not raise a garden because of the amount of time one requires. Fortunately, that's where farmers markets and roadside stands come into play.
Direct to consumers
Missouri is home to nearly 200 farmers markets in towns large and small, from one corner to the other. Market vendors have a full array of delicious home-raised produce. You can also buy meat and eggs, making it easy to prepare your meal entirely from items raised by your neighbors.
Many of these vendors work full-time jobs and raise their produce for additional income. For others, selling directly to consumers is their full-time job.
We celebrate all farmers markets and their vendors with National Farmers Market Week from Aug. 7 to 12. This is a week where we can recognize the effect markets have on agriculture and the local economy. Money spent at a farmers market stays in the community to be used over again for supplies or equipment.
Oversight of farmers markets
Missouri Department of Agriculture team members are involved in the farmers market. Here are a few ways we work to help vendors and consumers:
Device and Commodity Inspection Program. These team members are part of our Weights, Measures and Consumer Protection Division, which certifies scales used at every market. Any device used to determine the price of a commodity, including scales at a farmers market, must be tested and certified. It's important that consumers receive the correct amount of product for the price they pay.
Missouri Grown. Here, the team interacts with farmers market vendors and visitors through two farmers market nutrition programs that provide fresh products to low-income residents in our state.
Senior Farmers Market Nutrition Program. SFMNP provides benefit vouchers to low-income seniors, age 60 or older. Eligible seniors receive 10 vouchers ($5 each), totaling $50 annually, to be used for fresh fruit, vegetables, honey and herbs.
WIC Farmers Market Nutrition Program. This provides four benefit vouchers ($5 each), totaling $20 annually. Like the senior program, vouchers can be exchanged for eligible foods at a farmers market or roadside stand with an authorized farmer. Eligible foods are the same except for honey, which is excluded from the WIC program due to allergy issues in small children.
Both the SFMNP and WICFMNP nutrition programs are an additional revenue stream for Missouri farmers. There are 221 farmers authorized to receive vouchers through the two programs. We appreciate how this program brings fresh, delicious items to residents in need and also increases the bottom line for farmers.
If you want to learn more about the senior and WIC farmers market programs, visit agriculture.mo.gov.
Visit a market
August is a busy month, as people grab hold of the last days of summer before school begins again. For many people, a stop at the farmers market wraps up the summer. If you sell at a market, I commend you for the impact you make on agriculture and on your local community. Your efforts to produce quality products do not go unnoticed.
If you aren't a regular to farmers markets, I encourage you to find one nearby. Visit the Missouri Grown website at missourigrownusa.com for a complete list. Perhaps step out of your comfort zone, and buy a fresh fruit or vegetable that is new to your table.
Chinn is the director of the Missouri Department of Agriculture and a hog producer from Clarence, Mo.
About the Author(s)
Subscribe to receive top agriculture news
Be informed daily with these free e-newsletters
You May Also Like
---