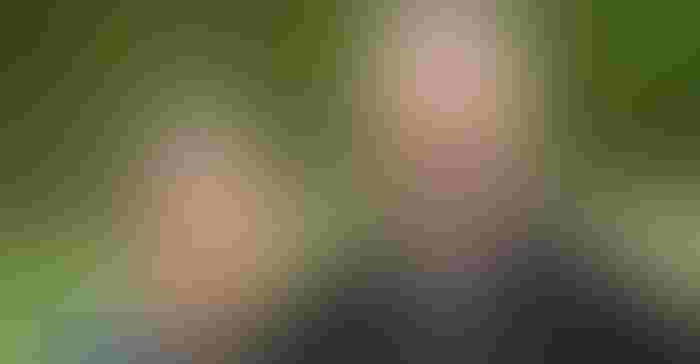 Neither John nor Aimee Good grew up on farms, but their unique life experiences have helped shape the farmers they have become.
The couple own and operate The Good Farm, a 10-acre certified organic farm that grows 40 varieties of vegetables and fruits for hundreds of Community Supported Agriculture members in Pennsylvania's Lehigh Valley.
The operation might be on the small side, but John and Aimee have proven that profitable, sustainable farming doesn't have to be big to survive and thrive.
Finding farming
The Goods grew up in the Emmaus area of Lehigh County, an historically rural area with a long history of potato growers.
Aimee attended the University of Pennsylvania, where she studied environmental science with a biology concentration and was a member of the women's soccer team. She spent a semester abroad in Australia where she studied pollination of rainforest flowers.
John attended the University of Massachusetts studying natural resources conservation and English. He spent summers working for the Lehigh County Pool Wildlife Sanctuary, as well as the U.S. Forest Service in Arizona and California.
In his last semester of college, one of his English classes required him to do a community service project. John and a friend decided to take a job at the famed Food Bank Farm in Hadley, Mass. He worked there each Friday. This was his first taste of farming.
"I got sucked into the world, and I really liked it," he says.
Aimee, who was traveling, met up with John and decided to work with him. They worked at Food Bank Farm for another year, but in hindsight, the training they got at the farm set the foundation for the future.
"Every farm that we've run has been modeled in some way on the Food Bank Farm because what we learned there was that … they did 40 acres of production with two farmers and four apprentices," Aimee says. "And so we learned that if you can have really good systems and be really efficient, you can have a decent life on a vegetable farm."
For a farm with low mechanization where the bulk of planting and harvesting was done by hand, doing things quickly was key.
"As a plant goes in the ground, closed. Two touches. Then onto the next one," Aimee says.
"If was just about flow and efficiency and teamwork," John says. "Everybody had a role, and they knew what it was."
Coming home
The couple spent two years in New England. They took jobs at Caretaker Farm in Williamstown, Mass., in 2001. They also were members of the regional CRAFT program, which trains young and beginning farmers.
But home was calling, and they were ready to come back. In 2002, they took over as managers of Charlestown Cooperative Farm in Phoenixville, Pa. They managed the farm for four seasons, growing the farm's CSA from 40 to 150 members and selling at the Phoenixville Farmers Market.
"At that point, we weren't even intending to manage a farm," John says. But their friendship with the farm's owners allowed them to earn a decent wage and focus solely on growing practices in the field.
On their own
In 2006, the couple started their own business, Quiet Creek Farm CSA, on land leased from Rodale Institute in Kutztown, Pa. They pounced on a newspaper ad from Rodale, which was looking for someone to manage a CSA on the farm's property.
"It was leased land, but the business was ours, so everything that the farm bought now was ours, financing was ours," John says.
This was a turning point. They had been looking to buy a farm, but they were too expensive. Starting at Rodale gave them the chance to build equity and more experience for a future farm purchase down the line.
The farm didn't need much. All the infrastructure was there to support it, and they could contract with Rodale for services, such as weeding and tillage.
In the 11 years they were at Quiet Creek, the couple grew the CSA from 150 to 270 members.
"Just gaining all that experience was huge," Aimee says.
"It was kind of like when our farm grew up," John says. "We started gaining more infrastructure, high tunnels, got more mechanized every year."
"And the business being our own, that was a big jump," Aimee says. "We learned so much on how to run the business. We didn't have any kind of business background. Everything jumped up a whole notch by being under our control, and there were ups and downs."
Several hailstorms did major damage to their crops, and a major outbreak of late blight in 2010 destroyed all their field tomatoes. But the couple learned important lessons. For example, they now grow late blight-resistant tomatoes.
Even more important, though, was establishing connections in the larger farm community. This was critical in 2018 when they lost a barn roof and sustained severe damage to a greenhouse during a bad late-winter storm. Through their connections and friendships with other farmers, they were able to quickly call up some friends and get their barn rebuilt.
That's the benefit of connections.
"Nothing is constant. We were there [Quiet Creek] 11 years, and everything changed all the time," Aimee says. "It's a constant state of change, and you have to keep constantly learning and adapting in order to stay relevant and successful. It's just the name of the game."
Finding land
The Goods ran a solid business at Rodale, but they longed for their own land and somewhere they could truly call home. By the mid-2010s, they started looking for a farm for the long term.
They wanted to buy a farm with outbuildings and infrastructure, but the choices were few and the prices were still too high. They also needed a central location so they could take most of their CSA members with them.
Finally, they found a property in Germansville, close to Emmaus, that had to be turned into a functioning farm but came with the acreage they needed.
For three years, John and Aimee ran Quiet Creek Farm CSA at Rodale while transitioning their Germansville location into a certified organic farm and putting in new infrastructure. They even moved into Aimee's parents' house for a year while their new house was being built.
At the end of 2016, they took apart their entire farm at Quiet Creek — greenhouse, high tunnels, equipment — and moved everything to Germansville.
In 2017, they started The Good Farm CSA with about half of their existing CSA members. Since then, they've sold out CSA shares every year.
Running a CSA has gotten more challenging since the Goods started farming. Many more CSAs exist now than when they started. But the business model still works. The COVID-19 pandemic showed that local interest is still there.
"Prior to the pandemic, the past three years it seemed like the market was becoming saturated and people might have gotten bored with it," Aimee says. "But then the pandemic hit, and it has come back. Part of the point of CSA is to expand your knowledge, teach people to learn how to cook, those sorts of things. There's this huge increase and interest in local food again. It's like 10 years ago."
"We sold out even faster this year than last year. We've gotten a lot of interest and sold out at the end of March," John says. "There's still that sense of, OK, now I can throw in all my energy into growing for you. You can do a much better job when you're really focused on the production side of things. We still have to communicate and do marketing, but it's not the same as like we can't find a buyer for this."
Small but intense
Growing 40 different crops on limited acreage is intense and requires lots of planning. The Goods start all their own transplants in greenhouses and use high tunnels and row covers for season extension.
Cover crops are crucial as they provide most of the fertility. Compost is applied every other year. Every vegetable field is cropped only once a year. Once a vegetable is harvested, a cover crop gets planted.
Since they're organic, tillage and frequent cultivation are necessary to build a good seedbed and prevent weed growth. They use an Italian spader machine that provides a good seedbed and causes minimal disturbance of the soil.  
The couple have even tinkered with building their own cultivation tools specific to their needs. Cultivation happens every 10 to 14 days when crops are small enough.
As soon as a crop is harvested, it's tilled under, and the soil is prepped for a cover crop.
The couple are the first to say that they don't know everything about organic vegetable farming, but they like sharing what they've learned with others. They have three full-time employees and some seasonal workers.
Over the years, they've trained 10 prospective farmers who have since gone on to their own operations or have joined larger farms. One apprentice even went to work a vineyard in Italy.
"That was how we learned, and we just felt that was invaluable," Aimee says. "We couldn't be where we were if we didn't have the experience we had at Food Bank Farm and at Caretaker Farm. There's no better way to learn this business than to work for people who have experience."
The Goods are frequent speakers at small farm and sustainable ag conferences, and workshops for Penn State Cooperative Extension. John is vice president of the PASA Sustainable Agriculture board of directors and is up for president of the board in 2022.
Aimee is an active member of the Rural Preservation Association of Northwestern Lehigh County, a group that advocates for farms in an area that's under constant development pressure and does fundraising events for local students to get into agriculture as a career.
The couple also have represented PASA Sustainable Agriculture at past Farm Aid concerts. They have a son and daughter, Lyle and Celia, who also help out on the farm when needed.
John and Aimee Good, at a glance
Operation: The Good Farm, Germansville, Pa.; 16 acres of organic vegetables, 40 types of vegetables
Family: Two children, Lyle and Celia
Ag and community involvement: Board members of PASA Sustainable Farming; member of PASA Sustainable Farming vegetable apprenticeship steering committee; PASA DVA Master Farmer; members of Lehigh Valley Preservation Association; winners of 2018 Lehigh Valley Tianna Dupont Award
Subscribe to receive top agriculture news
Be informed daily with these free e-newsletters
You May Also Like
---