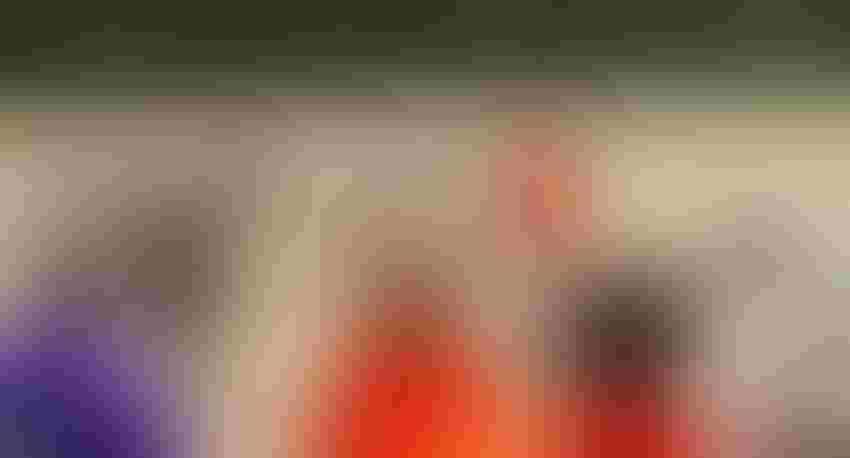 Anthony Keinath leads a demonstration on vegetable cultivation at Clemson's Coastal Research and Education Center in Charleston. Keinath is the 2018 recipient of the Godley-Snell Award for Excellence in Agricultural Research, Clemson's highest agricultural research honor.
Clemson Public Service and Agriculture
If you're coming down with a disease, you want to see the best doctor you can.
If you're a vegetable, that doctor is Anthony Keinath.
Keinath is the state vegetable pathologist for South Carolina and a professor, researcher and Extension specialist for Clemson University. He's also the newest recipient of the Godley-Snell Award for Excellence in Agricultural Research, Clemson's highest agricultural research honor.
Keinath works mainly with diseases that affect the two economically most important groups of vegetable crops in South Carolina:
Cucurbits, plants in the gourd family such as cucumbers, melons, pumpkins and squash; and
Brassica, members of the mustard family that include broccoli, cabbages, cauliflower and our official state vegetable, collard greens.
Watermelons alone brought more than $33 million in South Carolina farm sales last year, ranking it seventh among field crops in farm revenue, according to the U.S. Department of Agriculture. That's not counting other cucurbits or the Brassica family.
But these valuable vegetables are vulnerable to attack by a large number of plant pathogens. To safeguard these crops requires knowledge that is both deep in biological know-how and broad in experience with multiple crops and diseases.
Keinath is internationally recognized as an expert in the management of cucurbit diseases, especially gummy stem blight, powdery mildew, anthracnose and Fusarium wilt — diseases that are every bit as nasty as they sound.
His research isn't confined to the lab. It is applied research directed to problems that farmers face every day.
"Dr. Keinath always took our call, acting with an urgency and determination as if it were his own farm," said Angela O'Neal of Coosaw Farms, a four-generation family farm growing watermelons, cabbage and blueberries in Hampton and Beaufort counties. "This award is well-earned. We are very pleased Dr. Keinath's fervency in plant pathology is being recognized today.
"Fruits and vegetables are some of the healthiest choices we can make for our bodies. But fresh produce is a fragile crop to grow and highly perishable once harvested," O'Neal said. "It critically requires leading science to keep what we grow sustainable and forward-moving. Something small and microscopic can ultimately take down acres in a matter of hours."
Based at Clemson's Coastal Research and Education Center in Charleston, Keinath combines a researcher's fastidious focus on science with a teacher's passion for sharing knowledge with the people who need it. While the majority of his job is dedicated to research, he also team-teaches Clemson students for in-field plant-disease diagnosis and serves as major adviser to graduate students pursuing their master's and doctoral degrees.
Through Clemson Extension, Keinath works with farmers, county agents, home gardeners and the Master Gardener program, sharing disease management recommendations that including include fungicides as well as cultural practices. He's a sought-after source for advice and a frequent speaker at field days and vegetable grower meetings.
"His broad level of expertise and adaptability is unique among plant pathologists in the Southeast and rare across the nation," said Keinath's colleage Harald Scherm, head of the plant pathology department at the University of Georgia.
"In the past five years, he has conducted research and published on at least eight different pathogen genera, which includes both root and foliar pathogens as well as diseases from all four major organismic groups — fungi, oomycetes, viruses and bacteria," Scherm said. "His research directly addresses and mitigates annual disease losses of $41.3 million in cucurbits and of $3.5 million in Brassica greens — an excellent return on investment for his research and extension program."
Much of that investment is made through the many contracts and grants Keinath has attracted. In 25 years at Clemson, he has received 189 competitive grants, contracts and gifts that have totaled more than $3.5 million. These funds have helped him build an up-to-date laboratory with molecular diagnostic capabilities and paid for technical support and graduate students needed to run the lab.
A magna cum laude graduate of Michigan State University with a bachelor's degree in botany, Keinath earned both master's and doctoral degrees in plant pathology at Cornell University. Following postdoctoral work at Cornell and the U.S. Department of Agriculture's Beltsville Agricultural Research Center in Maryland, Keinath joined Clemson in 1991.
His recent research crops read like a farmer's market of fresh vegetables: watermelon, summer squash, butternut squash, cucumber and muskmelon; mustard, turnip and collard greens; and tomatoes.
In recent research projects he has investigated the epidemiology of gummy stem blight; fungicide efficacy against Southern blight of tomato, gummy stem blight, anthracnose and powdery mildew on watermelon, and downy mildew on squash; resistance to fungicides in fungal pathogens; grafting, planting date modification and other cultural practices to manage Fusarium wilt of watermelon.
"He has a model program for generating research results that in many cases are translated directly into his Extension programs and are immediately utilized by vegetable growers in South Carolina and across the Southeast," said John Mueller, a fellow plant pathologist and director of Clemson's Edisto Research and Education Center in Blackville. "If left unchecked, the diseases with which he works could destroy a quarter of the state's watermelon crop each year."
The value of Keinath's work to vegetable growers is reflected in the fact that the South Carolina Watermelon Association awarded him their Distinguished Service Award in 2010, shortly after the American Society for Horticultural Science awarded him the "Outstanding Extension Publications" award as part of a group authorship in 2009.
Keinath's mission — finding solutions to the disease problems vegetable growers face — embodies the spirit of the annual Godley-Snell Award, which was created to stimulate excellence in agricultural research by faculty members involved in research through the Clemson Experiment Station.
Named in honor of the late W. Cecil Godley, former director of the South Carolina Agricultural Experiment Station, and Absalom W. Snell, former associate director, it is the largest annual agricultural research award given at Clemson. The award is allocated from earnings of a fund that was established in 1986 upon Godley's retirement and increased in 1988 when Snell retired.
About the Author(s)
Subscribe to receive top agriculture news
Be informed daily with these free e-newsletters
You May Also Like
---