Whole orchard recycling has promise for new almond plantings
Whole orchard recycling has promise for new almond plantings
Whole orchard recycling increases soil organic matter and carbon, soil nutrients, and microbial diversity, leading to better productivity for the new trees planted in the old orchard's place.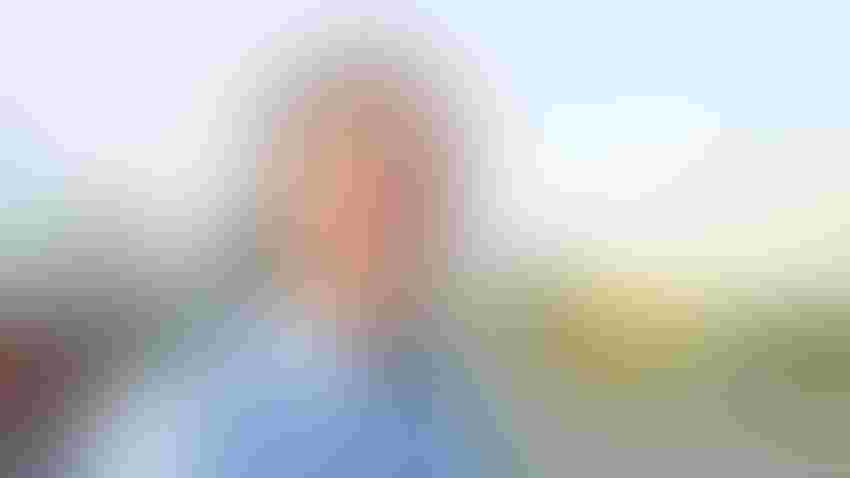 Brent Holtz, University of California Cooperative Extension pomology advisor based at Stockton, Calif., stands near an equipment display at an all-day grower workshop at Chico, Calif. He gave a presentation on whole orchard recycling of almond trees.
Tim Hearden
When it comes time to push out old almond orchards, grinding them into the ground will improve soil nutrients for the next planting, a University of California Cooperative Extension researcher has concluded after years of studying the practice.
Whole orchard recycling increases soil organic matter and carbon, soil nutrients, and microbial diversity, leading to better productivity for the new trees planted in the old orchard's place, says Brent Holtz, pomology farm advisor in the UCCE office at Stockton, Calif.
He has compared the performance of almond trees planted after a whole-orchard recycling project with others that were planted after the previous orchard was taken out and burned. By the third year, soil nutrients were better in the grind treatments than in the burn, he says.
"We didn't see a big difference in tree diameter in the first year," he told growers at a recent workshop at Chico, Calif. "In the fourth year, trunk diameter started to be greater in the grind treatments. By the sixth, seventh, and eighth years, though, trunk diameter was significantly greater with the grind. It took a while for that nutrient difference to show up in the trunk diameter."
Bigger trunks — and thus larger trees — equate to better yields. In trees planted in 2009, the Butte variety yielded 1,956 pounds per acre in 2017 in plots where the previous trees had been ground into the soil, compared to 1,539 pounds per acre on burned plots, Holtz says. Nonpareils showed an even greater difference, producing 2,247 pounds per acre in the grind plot versus 1,872 pounds per acre in the burn section.
Further, the test plots last year went without water for 97 days "by mistake," Holtz says, giving researchers a chance to see how the trees performed in dry years. Bud failure was greater in the burn section than the grind, and through the year trees showed less water stress in the plot where the previous orchard had been recycled.
In nature, trees either burn or decompose.When an orchard is removed, some 25 to 30 years' worth of photosynthesis and carbon and nutrient accumulation are ground up and hauled away, Holtz says. As such, 25 to 30 years of organic matter — estimated at 60 tons per acre for almonds — is lost from the system.
With funding from the Almond Board of California, he began studying whole orchard chip incorporation into soil in 2003, shortly after changes in the Clean Air Act placed limitations on growers' ability to burn piles of old trees. In 2008, he started a project at the UC Kearney Agricultural Research and Extension Center at Parlier, Calif., using a 100,000-pound rock-crushing device, called an Iron Wolf, to uproot and grind stands of almond trees and push the woody biomass into the soil. In another section, researchers used standard tree removal and burning procedures. They then planted new trees, and since then Holtz has been examining soils and trees in the two plots.
As some Central Valley cogeneration plants have closed in recent years, the Iron Wolf has elicited more curiosity among growers. Holtz hosted a field day two years ago to demonstrate the device in an orchard at Chowchilla, Calif.
At first, his soil analyses in the Kearney experiment found higher levels of organic matter, carbon, calcium, and other nutrients in the burn treatment than in the grind. But over time, that changed as the woody biomass in the grind treatment decomposed into the soil.
The benefits of recycling appear to be numerous. For instance, whole orchard recycling increased water-holding capacity of the soil by 15 percent, which would explain the trees' better performance in drought conditions. Researchers have also found lower levels of pH in the grind treatment, and there was half the sodium levels in leaf tissue in the grind treatment than in the burn — a product of organic matter in the soil binding up sodium.
That's a big deal for Central Valley growers, who have seen an increase in problems with salinity in groundwater, to the point that it affects the quality and quantity of their harvests. "Unfortunately this is a big problem in the south," Holtz said at the Chico workshop. "A lot of orchards are burning up because of sodium. I've had growers say they're going to grind their orchards … just because of the sodium."
There are some drawbacks and imperfections to using the Iron Wolf. "There were some bowling ball-size pieces of wood still in the ground" after treatment, Holtz says. Incorporation into the soil is uneven, and some growers have resorted to using manure spreaders to spread wood chips on the ground. However, "the efficiency of wood chipping continues to improve," he says.
Subscribe to receive top agriculture news
Be informed daily with these free e-newsletters
You May Also Like
---