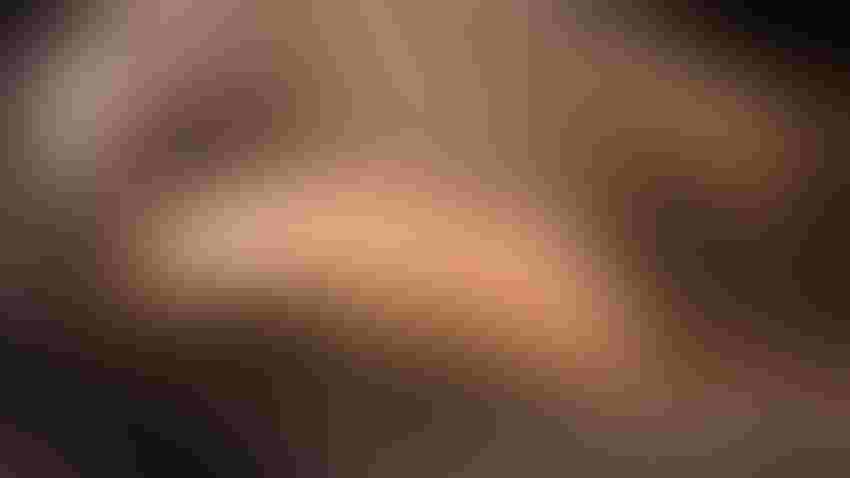 Navel orangeworms are a key pest in almond orchards. This year's wet winter stifled orangeworm development but didn't kill them all.
USDA ARS
As the wet winter and spring has begun to give way to hot summer days, a University of California scientist is warning almond growers not to become complacent in the fight against the navel orangeworm.
Late rains kill some overwintering navel orangeworms, but they don't kill them all, cautions Sudan Gyawaly, an integrated pest management adviser in the Sacramento Valley.
"Our rainy, wet and cold winter definitely had an impact on navel orangeworms," Gyawaly told growers at a field day near Arbuckle, Calif., in mid-May. "The first navel orangeworms were caught in mid-April. The cold winter definitely slowed down their activity."
However, growers still need to monitor the population, Gyawaly said as he demonstrated several traps in the UC's outdoor Nickels Soil Lab. The NOW flights in orchards are just picking up after biofix – the point at which degree-days begin to accumulate for insect development – was recorded at Nickels on April 22.
Getting the correct date for biofix in a particular orchard is very important to limiting NOW damage, as biofix and degree days are used to predict the start of egg-laying for each generation, Gyawaly explains. Shaking nuts ahead of the start of egg-laying of later generations in August and September can reduce NOW damage, he advises.
IN the meantime, growers in the coming weeks should check for hull split in the upper southwest canopy of edge trees, a UC almond newsletter advises. Early is better than later for hull split sprays.
"The time to be concerned about damage is at hull split," Gyawaly said.
Navel orangeworms are a key pest in almonds, as larvae bore into the nutmeat and later instars can consume most of the nut. Control efforts are year-round, as growers remove empty or "mummy" nuts during the winter, apply insecticides early in the season and harvest early to make it harder for females to find nuts to lay eggs on.
Subscribe to receive top agriculture news
Be informed daily with these free e-newsletters
You May Also Like
---