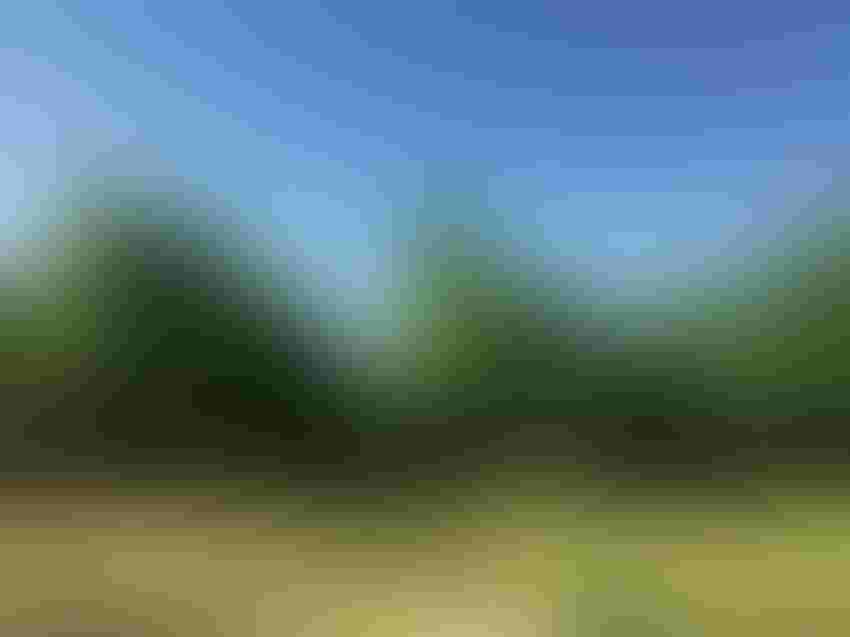 Flooded Feather River bottom pecan orchard in a swale on May 23, 2017. Water stood into summer.
Janine Hasey
Recent research on nut trees damaged by floods in 2017 may help growers protect their orchards from similar problems in future years.
Flood damage to tree nut orchards was severe in California last year due to heavy rains throughout the Sacramento Valley and the northern San Joaquin Valley. In addition, the Oroville Dam damaged spillway crisis affected growers whose orchards in the Feather River bottoms beneath the dam were flooded by stored water releases.
Bruce Lampinen, University of California Cooperative Extension walnut specialist, says growers are seeing evidence this year of the 2017 flood damage. "Orchards that were flooded for extended periods did not leaf out very well.
"When they've been flooded, roots tend to be very shallow, and once you get into the hot part of summer, the evaporative demand is very high. So, it can be very difficult to meet a tree's water needs with the shallow roots that develop as a result of flooding the previous winter."
Janine Hasey, UCCE farm advisor in Colusa, Sutter, and Yuba counties, and a team of scientists have been conducting research on the effects of flooding in tree nut orchards. The other scientists include Lampinen; Greg Browne, U.S. Department of Agriculture plant pathologist; and Astrid Volder, UC Davis plant scientist.
The research team made several observations about tree survival, disease, recovery, and how to minimize losses in 2018 in flood-impacted orchards. They noted that unprecedented high and fluctuating water flows in the Sacramento and Feather rivers in 2017 damaged orchards from direct flooding and indirectly via under-levee seepage. Many trees had a long exposure to waterlogged conditions through the winter, spring, and summer months.
DISEASES AND WATERLOGGING
They studied walnut trees in the Feather River bottoms that were partially submerged for prolonged periods, examining two potential problems: diseases caused by Phytophthora water mold, and the impact of waterlogging on the root system.
Dormant walnut trees often survive winter flooding due to low soil temperatures, cold water, and a lack of active roots. Cold water holds more oxygen than warm water; oxygen is essential to generating root growth.
According to the Sacramento Valley Walnut News, Spring 2018 issue: For walnut trees infected with aerial Phytophthora, the scientists "advocate a wait-and-see approach, keeping trees as long as they are economically productive. Trees girdled and nearly girdled with Phytophthora may not survive, but some scion cankers may stop or die out in heat."
In earlier research, "phosphonate (also known as phosphite) treatments were found to suppress canker expansion caused by Phytophthora citricola." In terms of disease resistance, "It is advisable to replace trees killed by Phytophthora with clonal Paradox RX1 rootstock."
Regarding waterlogging, flowing water tends to contain more oxygen than stagnant water, thereby enabling tree survival. The stagnant water that remained in low areas and swales in the summer warmed up, causing tree damage. For walnut trees affected by waterlogging, "consider topping trees that have vigorous shoot growth on lower limbs. From grower experience, these trees often recover."
Lampinen advises that walnut growers avoid planting walnuts in low areas. "A lot of walnuts are grown near rivers, since they have well-drained soil, but they are also prone to flooding in these wet years when the river level comes up." 
PECANS FARE BETTER
Pecan trees may be an option for some walnut growers. Pecans can withstand flooding better than walnuts, according to a farmer who grows both. This observation was confirmed by scientists when they began studying the effects of the 2017 flooding on California tree-nut orchards.
Yuba County farmer Brad Foster, who grows walnuts and pecans, says the previous landowner planted pecans in the river bottoms because of their flood tolerance, rather than walnuts, which can die from waterlogged conditions.
When heavy rains filled Lake Oroville to the brim last year, the Oroville Dam spillway started crumbling, leading to the evacuation of 200,000 citizens downstream. Water was quickly released from the dam to prevent a catastrophe, which resulted in flooding of farmland in the Feather River bottoms.
Foster has about 250 acres of walnuts and 10 acres of pecans on his farm. While many of his submerged walnut trees died, his pecan trees survived the flood conditions. "We haven't lost a lot of trees," he says, "because pecans can live under water for six months. Our pecans were underwater for three months because of the crazy water release. The walnuts were also under water and we lost probably 100 trees.
"The pecans that were underwater the whole time weren't affected. It didn't bother them at all —they're happy campers."
Foster says he has one of the older pecan ranches, planted by the previous landowner who understood the value of the trees in river bottoms. Before the dam was built, he says, the Feather River would flood the river bottoms, so the "old school" farmers planted pecans, knowing they could withstand the seasonal flooding.
Subscribe to receive top agriculture news
Be informed daily with these free e-newsletters
You May Also Like
---