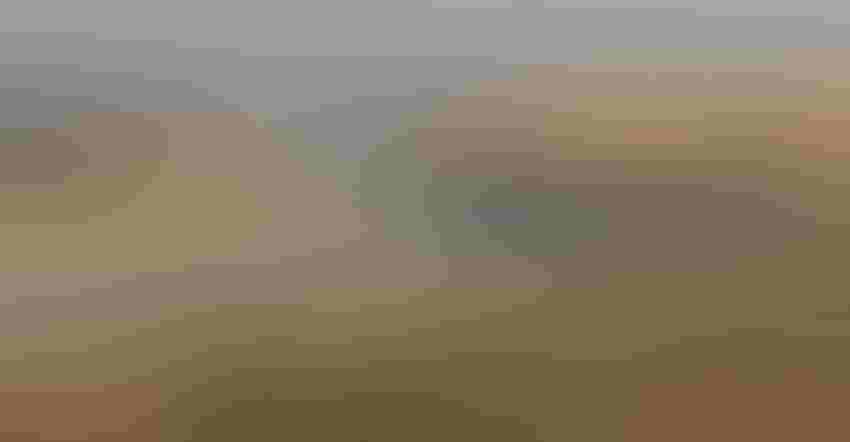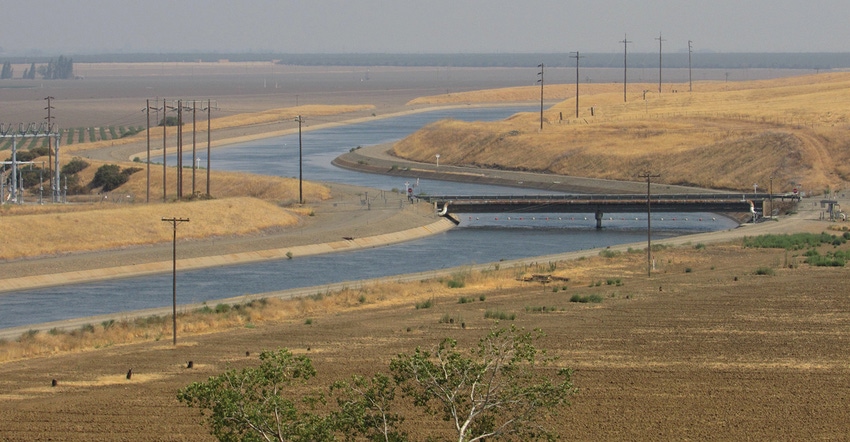 The California Aqueduct carries water through the San Joaquin Valley.
Tim Hearden
While some crop varieties will be hurt worse than others, it will be a tough year for those who plant and grow, where decisions not faced before will have to be made.  The results are not pleasant to contemplate.
Witness just two of the latest releases by the California Farm Bureau: "Food production along the California-Oregon border is due to suffer this year (as a result of) federal water cuts," CFBF reported.  The U.S. Bureau of Reclamation expects to deliver less than 15% of allocations from the Klamath Water Project and Ben DuVal, president of the Klamath Water Users Association, predicts vast acreage will be fallowed in 2022.
A second companion news release offered the same ominous omen: "Drought is bringing hard choices for farmers throughout the Central Valley." Ernest Conant, the Bureau of Reclamation's regional director, acknowledged that the federal Central Valley Project would be granting zero allocations this year, adding, "There's going to be hundreds of thousands of acres in the Sacramento Valley that have never been fallowed before that are going to be fallowed this year."
Farmers and ranchers in Mendocino and Sonoma counties are waiting for the next shoe to drop with adoption of an amended emergency order extending last year's curtailment of water rights in the Russian River watershed for an additional year.
Tree nut growers are especially concerned and are searching for short-term drought assistance to protect their long-term assets.
A previous Western Farm Press story on the subject quoted research from California State University, Fresno, with Ag Business Professor Todd Lone referencing the historic drought in 2012-2016 that forced steep surface water cutbacks: "Row crop growers can limit planting in years when they can't get much water, (but) a tree farmer must keep trees alive and productive.  In a drought situation involving multiple years, they can't afford to have that drought cut into their bottom line."
Many developments
Not only is it hard to make the right decisions, but it's also even harder to stay current with developments on the water supply front.  Growers in Mendocino and Sonoma counties, for instance, are awaiting adoption of last year's emergency order curtailing water rights in the Russian River watershed, trying to negotiate details and mitigate potential impacts as the 2021 curtailment order expires in July.
The California Department of Food and Agriculture has already estimated $17 billion in losses from last year's drought conditions with a growing impact on the state's 10 million agricultural acres.  CDFA reports close to 400,000 acres were fallowed in 2021 with another hot, dry year expected in 2022.
Free Report: Tree Nut Management Guide
Although no one has the definitive 'right answer,' the Public Policy Institute of California thinks the state's rivers could help in the drought problem.
In its Planting Seeds blog, Julie Rentner, president of the nonprofit River Partners, is quoted about a state in the grip of an historic drought: "The Central Valley was once a gigantic wetland before we spent decades draining and channelizing that water and rivers may have to convey up to five times as much floodwater past farms over the next half century.  We work to buy marginal, flood-prone farmland to turn it into flood-compatible habitat."
Citing Dos Rios Ranch Preserve near Modesto as the largest floodplain restoration project ever, she says the complex endures deep flooding and serves as a shock absorber to take pressure off floodwater further downstream.  "Allowing more water through river corridors and letting it soak in, especially in areas with groundwater deficits, could put water back in the ground through floodplain recharge.
"We need to be thinking differently about how we plumb the San Joaquin Valley because if we don't get work going now, we'll be facing an even more devastating situation during ensuing drought."
Subscribe to receive top agriculture news
Be informed daily with these free e-newsletters
You May Also Like
---