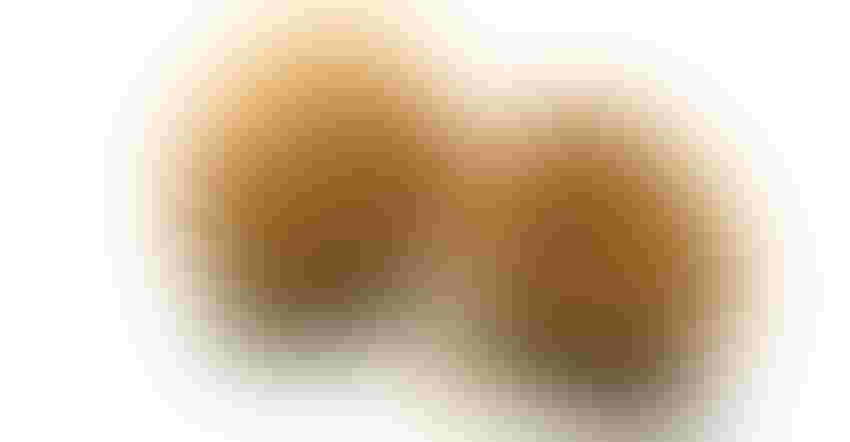 Walnut yields in Lake County, Calif., ranged from 1 ton to 3 tons per acre last season depending on water availability.
USDA ARS
While the trees were blooming and buds breaking, nut industry personnel were taking a final, long look at last year -- what happened, when, and why -- to either repeat the happenings or circumvent their recurrence.
This was also the time of year for learning with a lot of training recertification taking place, for instance on the North Coast where the University of California Agriculture and Natural Resources folks in Lake County were sponsoring their annual Walnut Update.
"Our irrigated tonnage from the 2021 growing season was in the 1 ton (per acre) category for the less-irrigated orchards to a respectable 3 ton harvest elsewhere, mainly Chandler and Hartley," said Pomology Farm Advisor Emeritus Rachel Elkins, who has been watching trees grow in Lake and Mendocino counties since 1987.
"Our tonnage as well as the dollars-per-ton and the non-bearing acreage has gone down the last couple of years and probably isn't looking much better for this year," she said..
"Water drives our yield from an estimated 3,500 acres and water will be a recurring theme into the future for our hillside properties that are largely dry land maintained by between 50-90 growers.  Near-to-long-term climate change will continue to affect our major growing areas in Lake County, after it impacts other parts of the Central Valley, because it will always be about the weather here.  It's variable and unpredictable --- as will be the water supply and our ability to ensure that supply."
56% of normal rainfall
One of Elkins graphics showed rainfall patterns from the previous July 1 through June 30, indicating only 56% of normal…just under 18 inches of a base of 32 inches suggested to grow trees and make crops.  "And I'll bet money that we're not going to make up that 14 inches by the end of June," she said.
"Last year we only had 42% of what we needed for the upper lake, which is considered a high spring rainfall area.  We're way behind this year and chances of getting a lot more rain is just about nil.  Lake County never meets the established baselines for well-watered walnut trees, although we do maintain acceptable levels.
Free Report: Tree Nut Management Guide
"We're always subject to things like high temperatures, sunburn, and unexpected freezes.  We've suffered some really bad winters and kills that have affected our quantity and quality."  Based on those variables, she predicted that Chandler, Hartley, and Tulare varieties would be expected to continue to drive the market.
"Lake County's niche in recent years has been our organic production which we can maintain fairly inexpensively compared to other counties due mainly to our lower pest control costs.  Lower management costs, good soils, and continual weed control all help and we need to keep on top of those."
Other seminar speakers addressed topics of grower interest including follow-up tree care for freeze damage and optimizing tree health to increase yield.
North Coast IPM Advisor Cindy Kron outlined research on a key pest, the walnut husk fly, and a search for a more effective trap than the current industry standard.
"The yellow sticky traps with ammonium carbonate in a pouch still perform best," she reported with 2022 research aimed at finding more favorable shapes, colors, or lures to attract gravid females earlier.  "Earlier detection means earlier spraying to knock down populations," she said.
Plant pathologist Jim Adaskaveg, UC Riverside botany professor, reported less rainfall produced less alarm about the most serious walnut disease issue, blight.  "Lower rainfall and warmer temperatures in 2021 produced diminished blight levels.  We're also looking at developing new methodologies to supplant copper formulations that showed some partial resistance last year in Tulare and Solano counties."
Subscribe to receive top agriculture news
Be informed daily with these free e-newsletters
You May Also Like
---