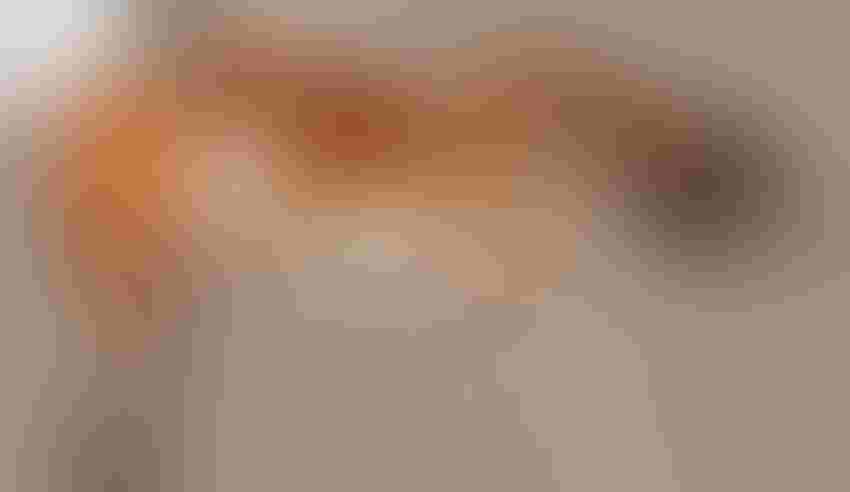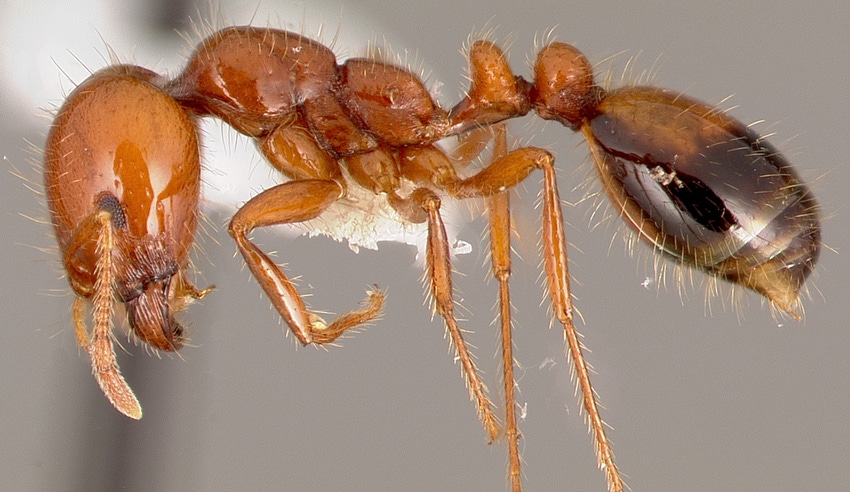 Southern fire ants can do damage in almond orchards, a UC IPM expert says.
April Nobile
Trying to keep things in perspective — there are 12,000 known ant species in the world, each with its own unique characteristics that help them survive in their environment.
In California, there are about 300 ant species, many of which have no impact on agriculture.
In the California almond-growing community, "(w)e're lucky because there are only two species on our radar that adversely affect the industry, the pavement ant and the southern fire ant," says Kris Tollerup, a University of California Integrated Pest Management advisor in the Fresno area.
The pavement ant is more frequently found in Northern California while Southern California more often sees the southern fire ant. Growers in the central part of the state can often find both in their orchards.
"If you're a grower checking out your trees, looking down as well as up, and you spot ants, you need to know what species they are to determine if they will do your crop damage," Tollerup says. "If you've done sampling and don't find examples of the two bad species, chances are any other kinds of ants can be left alone because they won't be a bother."
In fact, most ants outside the suspect species, are beneficial in that they eat the larvae of damaging pests like the navel orangeworm.
"Put some corn chips, a slice of hot dog, or some almonds in a vial and leave several vials in the orchard. Collect them in the morning, then freeze them and look at them the next day under a hand magnifier. The UC IPM website has some good resources that will help growers identify the species of ant they've recovered."
Inspection is best done early
Orchard ant inspection is best done early on, like May in southern San Joaquin Valley, but June in northern San Joaquin and Sacramento valleys is not too late to discover colonies and apply baits, because their destruction is really done when nuts are on the ground, say sometime during an August harvest. A second bait treatment may be pertinent in younger orchards where high ant populations can cause significant damage to a smaller crop than that found in a mature orchard.
"The longer the nuts lay there desiccating for processing, the longer they are vulnerable to ant damage, especially the soft-shell, the nonpareils, that have a small split in the shell that can act as an open door for ants," Tollerup says.
So, removing nuts from the orchard floor as soon as possible after shaking will help limit ant loss because when the nut meat is exposed, ants feed directly. "They go in and use their mandibles and chomp, chomp. Ants can completely hollow out nutmeats leaving only the pellicle."
The amount of damage is contingent on a number of variables such as the number of colony entrances over a specific square footage and how many days the nuts stay on the ground. 
"I've seen growers get up to 12% damage where nuts have been on the ground for three weeks," Tollerup says.
Even if control methods don't get started until later in the season and it's too late for insect growth regulators, there are control options available in the category of stomach poison baits that work quickly. Foraging ants collect the bait and bring it back to the colony where it eventually kills the queen and stops development of maturing larvae.
According to the folks at UC IPM, the more destructive southern fire ant is more prevalent in drip- and sprinkler-irrigated orchards than in the flood-irrigated ones. Notes one grower about the micro-irrigation environment, "Drip lines have become freeways for ants who build condos along those freeways."
"Ant damage potential also appears to be less in weed-free orchards and those without cover crops," reports UC IPM.
For more news on tree nuts as reported by growers and farm advisors, subscribe to the Tree Nut Farm Press e-newsletter.
Subscribe to receive top agriculture news
Be informed daily with these free e-newsletters
You May Also Like
---