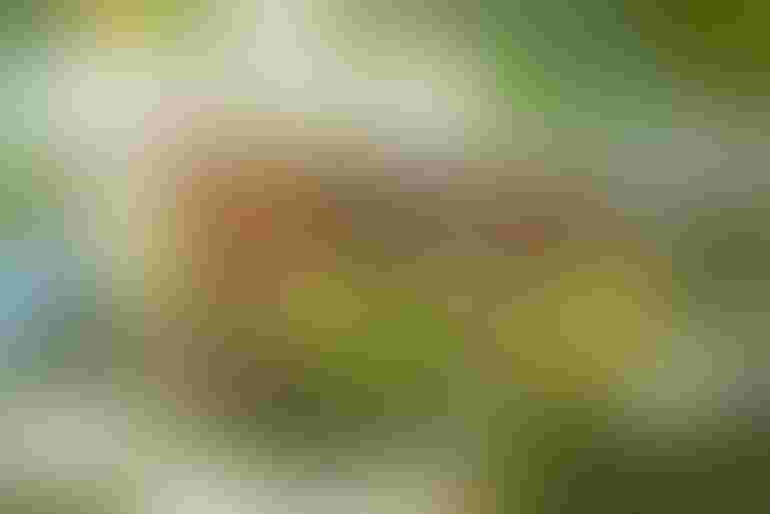 Walnuts are on a tree.
California Walnuts
Though it enjoys a sort of monopoly, the walnut industry's recovery from a tough 2018/2019 season started slowly and got slowed down even further with the arrival of the coronavirus chaos.
"Coming off that rough season, we saw early market momentum and were on the road to recovery until the evolving COVID-19 situation created great uncertainty that continues to change daily," says Michelle Connelly, CEO and Executive Director of the California Walnut Board and Commission.
Despite the uncertainties of the overall marketplace, it's still a fact that more than 99% of the walnuts in the U.S. are grown in the fertile soils of California's Central Valley — made possible by the efforts of the more than 4,800 family farms that have been growing walnuts for over a century.
Walnut production began a climb into positive territory starting in 2007 with production more than doubling since then. Last year's bearing acreage was reported at 365,000 acres, up from 350,000 in 2018. Final production figures showed 650,000 tons (1.3 billion pounds), which, although impressive, was down 3.8% from the previous year.
New numbers are expected in May when USDA National Agricultural Statistics Service reports out current acreage figures. 
"The CWB does not conduct subjective estimates involving crop expectations, but an official crop estimate is scheduled for NASS release in August," Connelly said. "Like others in the agriculture industry, California walnut growers and handlers are affected by the rapidly changing COVID-19 landscape, but we anticipate growth will continue as our non-bearing acreage is approximately 60,000 acres,
"Growers and handlers have made adjustments to continue meeting supply chain demand while ensuring the safety of our teams," she said.
COVID-19 precautions
Connelly cites altering employee shifts with a mandate that only small groups work together in orchards; extra sanitation and safety measures are taken; and social distancing is observed.
"The California Walnut Commission, at the forefront of issues impacting our industry, continuously makes updates based on the latest safety guidelines provided by the Center for Disease Control and Prevention and the World Health Organization."
The group's production research program, exploring industry trends and production challenges, runs an annual cycle that culminates in January when proposals are made for CWB-funded projects.
At their 52nd conference this year, held prior to the mandate to prohibit large gatherings, the committee discussed walnut breeding and genomics; orchard management; plant pathology/nematology, and entomology involving on-going research projects that will continue this year.
"That program balances short-term orchard management needs with long-term goals of improving quality through the breeding program," Connelly says. "Hosted by UC Davis, this is a forum to share advancements in ongoing research with a preview of future research."
Among the current endeavors is the incorporation of newly discovered marker-assisted breeding tactics; breeding new nematode-, crown gall-, Phytophthora-, and Armillaria-resistant rootstocks, and validation of the concept of delaying the start of the irrigation season by using tree water status readings.
Funding decisions will be made on new project proposals such as the development of new techniques to track navel orangeworm migration among crops and across regions; possible recycling/reuse of fumigants lost from chamber exhaust; evaluation of soil-applied insect-attacking fungi as a potential controller of walnut husk fly, and a project to breed new varieties less prone to rancidity without negative impacts on nut health and nutritional quality.
"Through our Management Committee, we remain engaged with our stakeholders to mitigate risks to the industry and to advocate for programs, legislation, and access to the tools vital for ongoing operations and future success," Connelly says.
For more news on tree nuts as reported by growers and farm advisors, subscribe to the Tree Nut Farm Press e-newsletter.
About the Author(s)
Subscribe to receive top agriculture news
Be informed daily with these free e-newsletters
You May Also Like
---