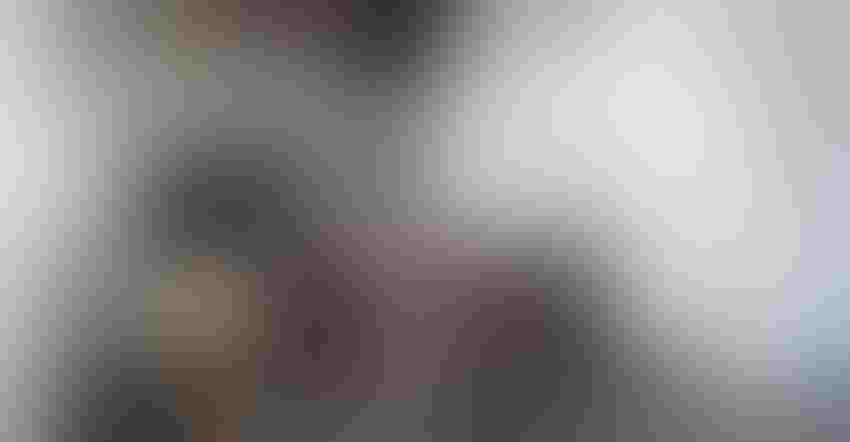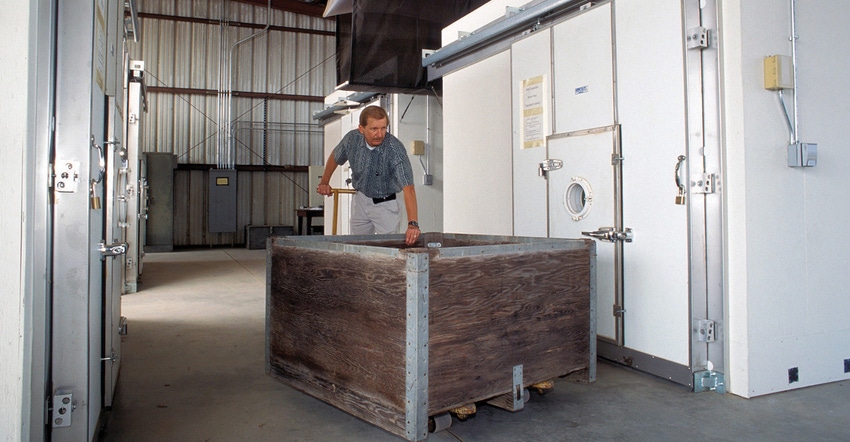 A technician prepares to roll a 500-pound bin of walnuts into a controlled atmosphere chamber.
USDA ARS
Early on this season, according to a University of California Agriculture and Natural Resources bulletin, focus and concern was on routine things like how spring rainfall might play out and whether or not walnut blight would be an issue.
Then came March, April, and May and natural phenomena played a part. "We had some rain events and those growers who weren't skimping on expenses sprayed ahead of those events, so I haven't received a lot of calls involving walnut blight," said UCCE Farm Advisor Luke Milliron who represents Butte, Tehama, and Glenn Counties.
It was the unexpected that brought some doom and gloom into orchard managers' lives this year. "Frost, although not widespread, became a conversational topic in my counties in the north. One grower near Chico, in just about the coldest spot around, got hit hard with severe damage to foliage and a lot of lost crop. He considered his fields a total loss.
"And almond growers in my area were also impacted. Almond growers didn't have a crop in some cases unless they were able to run frost control ahead of the weather. It didn't get as cold as the late February freeze, but it represented more crop loss, in some cases from 10 percent up to 40 percent loss."
The California Farm Bureau reported severe cold damage in walnuts, pears, and grapes. "It's a timing issue and depending on the variety of walnut, there were extremely high losses especially in the early varieties," said Lake County Farm Bureau Manager Chuck March.
So now June is upon us, summer is here, temperatures are climbing, water is scarce or non-existent — what kind of season are nut tree growers looking at going forward?
"I'm surprised growers aren't more pessimistic than they sound, especially those who have been in the business for a long time and seen previous ups and downs," said Milliron. "Despite growers having what appears to be a substantially reduced crop that may not cover expenses, I'm not hearing doomsday predictions. They're a levelheaded group pressing forward for the long term."
'Real pain' next year
Besides the usual litany of problems, there's a new consideration. "One large grower told me that while things weren't financially tough yet because they're still getting paid for last year's crop, the real pain will be felt a year from now, particularly if you didn't have a crop this year or a minimal one," said Milliron.
"You're not going to be getting those checks that are still coming in currently and when those checks have dried up is when it's going to be really tough to bear the cost of orchard production."
To that point, things are humming along without major surprises at this juncture. The USDA National Agricultural Statistical Service (NASS) subjective almond forecast for the 2022 crop came in at 2.80 billion pounds, in line with market expectations. Bearing acreage is at record high levels, 1,370,000 acres, with forecast yield at 2,040 pounds-per-acre. Those numbers, reports Laura Gerhard, vice president of Blue Diamond, "are expected to have little effect on price in the near term".
Although export shipments for the month and year-to-date are both down as a result of weather and logistics, California continues to ship within industry expectations. New sales are trending upward with five shipping months remaining in the crop year.
Subscribe to receive top agriculture news
Be informed daily with these free e-newsletters
You May Also Like
---