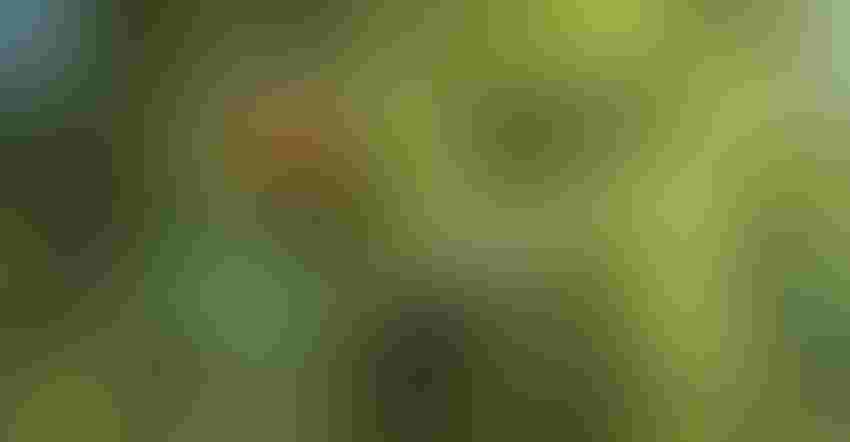 The 2022 U.S. almond crop may be down as much as 11% from last year because of weather and water woes. The smaller crop may help the correct an oversupply exacerbated by supply chain issues that slowed exports and left too many nuts unsold.
Todd Fitchette
California expects to harvest 2.6 billion pounds of almonds this year, down 11% from last year.
One of the culprits in this year's lower yield estimate was a late February freeze that left some orchards without a harvestable crop. Drought conditions and lack of irrigation water for other areas compounded the losses.
The survey revealed areas hit hardest by water availability and freeze damage. Nut counts per tree were lowest in Colusa and Madera counties, with the highest nut set in Merced and Tulare counties. Padre and Independence varieties had the highest nut set, according to the USDA survey.
Donny Hicks, a field rep with Olam Edible Nuts, said frost damage in the Sacramento Valley, coupled with irrigation availability along the westside of the valley decimated yield potentials. Northern California growers had an earlier bloom amidst 80-degree weather in early February, followed weeks later by a deep freeze that dropped temperatures into the low 20s for several nights, he said.
Kernel size varies depending on variety with notable varieties like Nonpareil and Independence statistically unchanged from last year. Hicks said growers who can achieve good nut sizing in the Nonpareils will likely receive a good premium from their processors.
Bearing acreage is up slightly to 1.37 million with a slightly tighter tree count per acre, now at 122.5 trees per acre on average. Ten years ago, growers averaged 112 trees per acre on 820,000 bearing acres of almonds.
Data reliability in the survey suggests an 80% confidence level that this year's harvest will yield between 2.28 billion to 2.92 billion meat pounds. The survey is funded by the Almond Board of California.
Growers optimistic
A sense of cautious optimism permeated the California almond industry in the weeks leading up to the July 8 report, as the May position report of almond shipments and inventory revealed improved exports to some markets.
Blue Diamond Almonds wrote in a newsletter update that the May report "exceeded expectations for the third month in a row and posted the best shipment number of the crop season thus far."
Those numbers suggest the carryout from this crop year to the next could be lower than the feared 900-million-pounds once thought by industry leaders and bankers.
If there's a silver lining in the sub-$2 almond prices now in their third consecutive year, it's that buyers still want California almonds. The issue remains the ports and maritime shippers.
Subscribe to receive top agriculture news
Be informed daily with these free e-newsletters
You May Also Like
---