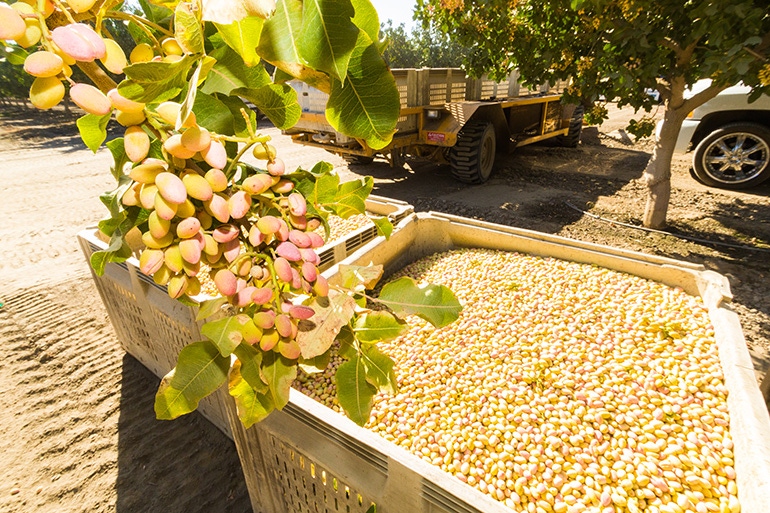 The American Pistachio Board reports the most recent harvest yielded about 730 million pounds
Todd Fitchette
One of the most challenging aspects of bringing the news, issues and updates about tree nut production in the California Valley each month is the sheer volume of activities, meetings, accomplishments, successes and failures that happen on a regular basis.
Such is the work of agriculture in general, but when it comes to nurturing the full cycle of a deciduous nut from start to finish, things can get complicated quickly. In short, to grow a successful tree nut, it becomes apparent one must take on at least one attribute of the crop they choose to grow, this means the nut grower must become the nut.  No pun intended.
Speaking of nuts, the American Pistachio Board (APB) is reporting a good harvest this year in California. With the year rolling to a close, an early final crop estimate is in and overall the 2019 American pistachio harvest produced about 730 million pounds over the last 12 months or so.
Hats off to California's very high-quality pistachio growers and their efforts to produce such a good crop. It is a testament to their hard work and commitment to the industry. Keep it up! We do love our pistachios! It sounds like another home run year.
And since we're passing out kudos to the gals and guys of the pistachio board, we shouldn't leave out California's congressional delegation who joined Executive Director Richard Matoain, global marketing vice president Judy Hirogoyen, USDA staffers in Arizona and a stream of other tree nut industry folks and supporters who worked diligently to convince President Donald Trump to include an extra $6 million in sterile orangeworm research to help manage escalating NOW problems in the San Joaquin Valley region.
Those are the types of boots on the ground that get the job done and often get by without due mention or appreciation. Never miss a chance to win one for the industry because every battle counts – large and small!
How pecans are helping New Mexico agriculture remain strong
The Rio Grande River corridor stretching north from Elephant Butte Reservoir and south to the Texas-New Mexico state line and beyond has created a pecan travel-way for pecans moving in and out of the two U.S. states and in and out of Mexico where more and more pecans are being  ground-shipped and are the largest collection of high quality pecans in North America. Once again New Mexico has been tagged the most likely leading pecan producing state as Georgia continues with setbacks created by Hurricane Michael two years ago and struggles to recover from the storm's relentless fury even after two years of new orchard development.
Officials in Georgia say it may be another two to five years before Georgia's pecan numbers can return to pre-storm harvest levels even as Texas, Oklahoma and even Arizona gain pecan acres over their east coast competitors.
Meanwhile, a trade war and emerging competition continue to diminish industry prices and the lingering devastation of a hurricane led damages to the peach-pecan state to the lowest national production levels in over 10 years.
Phillip Arnold, president of the New Mexico Pecan Growers Association and a pecan grower himself said this year's state harvest was lighter than expected at many orchards due to a lack of rain this past summer and an earlier freeze this fall.
"The summer months are when we get most all our moisture here," Arnold said.
In October, the U.S. Department of Agriculture forecast New Mexico would lead the nation for the second consecutive year in pecan production in 2019, with an estimated 97 million pounds of pecans to be harvested. Arnold said it's likely the state fell short of that estimate but still led the nation.
While the demand for New Mexico's legacy red and green Hatch Chilis remains viable and the market for high quality commercial pecans continues to grow, there are new farm products being introduced including the popular Central Rio Grande Valley onion.  Officials with the New Mexico Department of Agriculture say it's the rising diversity in New Mexico's agricultural offerings that seems to be making the biggest impact on farming and ranching in the Land of Enchantment, including the rapid entry of organic vegetable, fruit and tree nut operations.
While challenges like labor and water continue to put agriculture at risk, propping up demand for legacy foods like Hatch Chilis and western pecans and diversifying into onion and organic markets could be just the right formula to keep farming enchantment alive in a state where there seems to be as much magic in the soil and environment as there is in the skilled hands of western growers.
For more news on tree nuts as reported by growers and farm advisors, subscribe to the Tree Nut Farm Press e-newsletter.
About the Author(s)
Subscribe to receive top agriculture news
Be informed daily with these free e-newsletters
You May Also Like
---