Tips for managing and spotting harvest-time threats to almonds
Tips for managing and spotting harvest-time threats to almonds
Almond hulls are susceptible to hull rot fungi from the beginning of hull split until the hulls dry. That period can last anywhere from 10 days to 2 months depending on your fertilization and irrigation practices.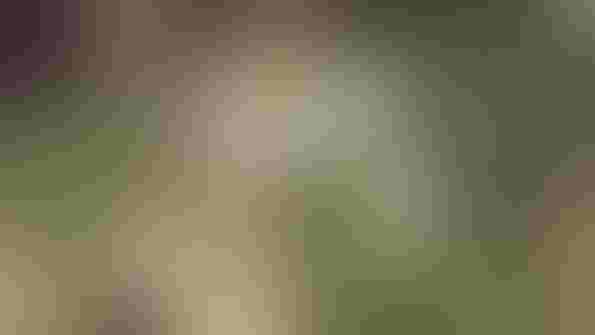 With the start of the 2014 almond harvest just around the corner, it's no time to let up efforts to protect the crop and trees from various insect, disease and other threats.
That includes harvesting early and removing nuts as soon as possible. The longer the nuts remain in the orchard after hull split, the more likely you are to have pest damage.
University of California IPM Guidelines recommend harvesting almonds when 95 percent to 100 percent of the hulls have split. That will help prevent damage from third-generation navel orangeworm eggs and minimize hull rot.
Almond hulls are susceptible to hull rot fungi from the beginning of hull split until the hulls dry. That period can last anywhere from 10 days to 2 months depending on your fertilization and irrigation practices.
For example, regulated deficit irrigating or reducing irrigation at the start of hull split greatly reduces incidence of hull rot at hull split. So can the use of appropriate rates when applying nitrogen. UC Cooperative Extension farm advisors and specialists recommend testing leaves for nitrogen levels in July. Levels should be below 2.6 percent to minimize hull rot.
The first indication of hull rot usually comes several weeks before harvest, when leaves on a shoot wither and die. Closely examine fruit on this shoot for a brown area on the outside of the hull and either tan fungal growth in the brown area on the inside or outside of the hull (this indicates Monilinia) or black fungal growth on the inside of the hull (this indicates Rhizopus).
Another indication of hull rot infection are nuts or leaves stuck on trees after harvest.
This is caused by fungi invading hulls and producing a toxin that kills the shoot attached to the fruit. As a result, other green fruit on the shoot don't mature and remain on the tree after harvest. The disease causes dieback of shoots and fruiting wood that reduces productivity in future years.
Also, say UCCE farm advisors, it's a good idea to check tree trunks for any bark injury to evaluate how well shaker or harvest work is being performed.
Once nuts have been shaken to the ground, remove them as soon as possible to protect them from ants.
Another key part of an effective integrated pest management program is to sample your harvested almonds for navel orangeworm, peach twig borer, oriental fruit moth and ants and the damage they cause. This allows you to assess the year's pest management program and start planning and making any necessary changes for year.
Want the latest agricultural news each day? Click here for the Western Farm Press Daily e-mail newsletter.
Before you deliver nuts to the huller, UCCE farm advisors recommend taking a representative sample after shaking and before sweeping. In addition to aiding your pest management plans for next year, the results also serve as a record to compare with the grade given by the huller.
Collect 500 nuts from a block, crack the nuts and check for evidence of pests. Here's what to look for:
Navel orangeworm
First-instar larvae bore into the nutmeat, and later instars can consume most of the nut, producing large amounts of webbing and white frass. Usually more than one NOW larva feeds in a nut. Damage from larvae also can lead to fungal infections. Some cultivars are more susceptible to damage, especially later-maturing softshell almonds with a lengthy hullsplit period or a poor shell seal.
Peach twig borer
Feeding by peach twig borer larvae leaves shallow channels and surface grooves on the nutmeat. This damage can be masked by navel orangeworm feeding, which often occurs on nuts previously damaged by peach twig borer.
Oriental fruit moth
Third- and fourth-generation oriental fruit moth larvae feed between the hull and shell. Although this damage is difficult to distinguish from that caused by peach twig borer, it's rarely significant. Occasionally, larvae have been found feeding on nut meats. They may feed in groups of several larvae within a nut. Larvae don't produce webbing. But, they do produce a characteristic reddish brown frass in the hull.
Ants
The southern fire ant has a wider distribution and generally causes more damage than the pavement ant. Ants are more prevalent in drip or sprinkler-irrigated orchards than flood-irrigated orchards. Ants feed on other hosts and are principally a problem after almonds are on the ground. The longer the nuts remain on the ground, the more the damage from ants. They can completely hollow out nutmeats, leaving only the pellicle.
Damage potential of ants appears to be less in weed-free orchards and those without cover crops. Damage is also lower on varieties that have nuts with tight shell seal or with shell splits less than 0.03 inch wide. Shell seal can vary greatly from year to year depending on variety, crop size and horticultural practices. Heavy crops that result in small nuts will likely have fewer open shells and less potential for ant damage.
More information on appropriate IPM practices at harvest, including photos of pest damage to nuts is available on the UC IPM Online website – www.ipm.ucdavis.edu
Subscribe to receive top agriculture news
Be informed daily with these free e-newsletters
You May Also Like
---