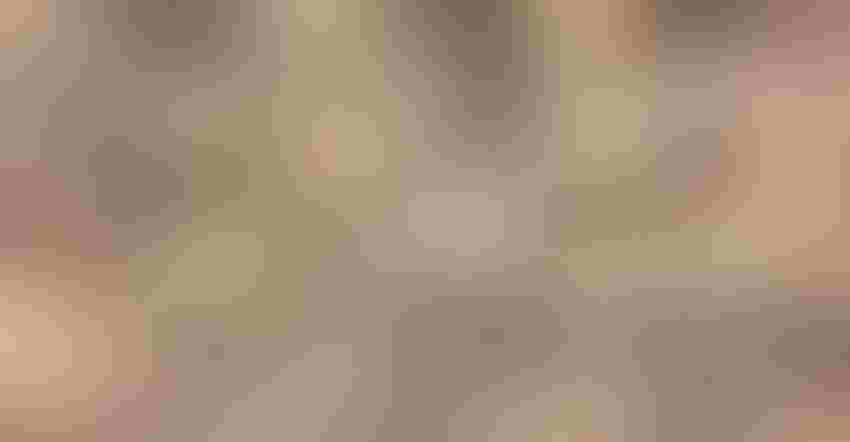 University of California researchers are perfecting the practice of biosolarization, which improves the soil as they recycle almond orchard biomass.
David Doll/UCANR
Biosolarization is a method of recycling almond waste biomass and at the same time, disinfesting orchards during replanting.
"It controls pests while improving soil health that relies on action from the sun and microbes," says Professor Chris Simmons at University of California, Davis. Since 2017, he and his research team have been experimenting with the process on a 10-acre plot in a Sacramento Valley orchard where 16.5 tons of hulls and shells per acre were recycled.
"It's our largest field trial to date in collaboration with a commercial grower (Nicolaus Nut Company) during a pre-plant using hulls and shells from different varieties as an amendment to drive fermentation in the soil during solar heating over a six week period," he says.
"We were able to record a high level of activation of parasitic nematodes in terms of manufacturing compounds that are natural pesticides. Once we took the tarps off and aired things out, we transplanted trees in and have been monitoring both tree and soil health ever since."
On the soil side, researchers have looked at nematode populations overall and specific ones that cause crop problems. "What we've seen is long-term control of parasitic nematodes, specifically root lesion and root knot nematodes that had started to return in our untreated control soils," Simmons says. "That's a very promising indicator of long-term pest management.  Along with that we noted significant and sustained increased in nitrogen in the soil's organic matter, suggestive of a multi-year benefit to the root zone."
In addition to enriching the soil for organic matter which also has benefits in terms of water-holding capacity, support of microbial life, and sequestering carbon, "When we look at tree health, the treated soil required a period of adaptation where growth rate was slightly lower," Simmons says. "But in the last year, we've seen tree adaptation with some showing significantly increased growth compared to untreated controls. While multi-year studies are needed to gauge longer term impacts, I think all the signals so far are promising."
Returning to orchards
Simmons and crew are anxious to return to the orchards and do yield measurements going into fourth leaf, what he calls "the ultimate metric of what we're aiming for."
Armed with funding from the Almond Board of California and the federal government, he expects to be able to do so. "One way or another, we'll figure out a way to keep the data monitoring going because they're really interested in the technology and its potential to displace the use of conventional soil fumigants and the associated risks," he says.
Apparently it does make a difference which variety of hulls and shells are used because of their specific properties. "Pollinator varieties have thick woody shells that are more substantial, harder for microbes to break down while Nonpareil has a softer shell," he says. "Sugar content within the hulls and protein content also differs as substrates for fermentation or chemicals that could have a direct impact on soil microbes or pests."
Any favorite varieties to date? "Nonpareil works well because the hulls contain a lot of sugars that ferment well and drive the process, but we've also achieved success with pollinator blends, a ground-up aggregation of many varieties to compensate for biochemical properties to really promote rapid breakdown and fermentation," Simmons says. "We've shown efficacy with a broad variety of different types of hulls and shells."
While this is a one-time process during the almond pre-plant period, "that's not so say if you were looking at an annual row crop, for instance, that this could be something you could do every 3-5 years to maintain control. When we look at the use of almond hulls and shells for this type of technology, it's not exclusively in the context of almond production. Diverting waste to be recycled for biosolarization encompasses a wide variety of crops."
For more news on tree nuts as reported by growers and farm advisors, subscribe to the Tree Nut Farm Press e-newsletter.
Subscribe to receive top agriculture news
Be informed daily with these free e-newsletters
You May Also Like
---