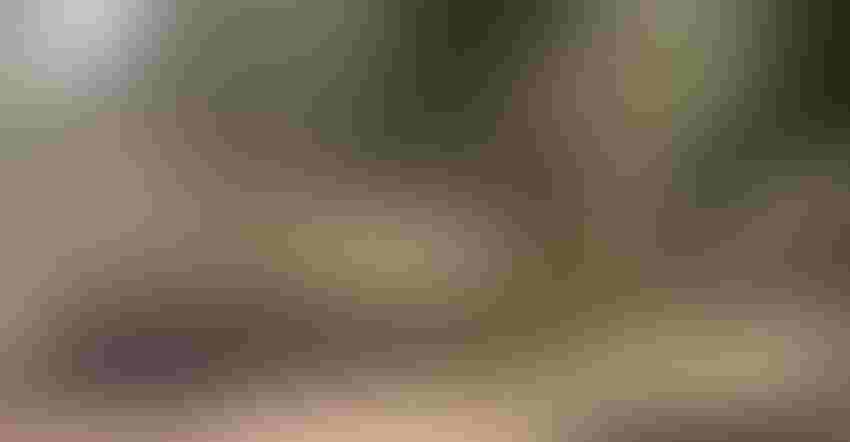 Almonds are harvested in California's San Joaquin Valley.
Todd Fitchette
For decades now, in fact since 1973 when initial research efforts began, the Almond Board of California has been sponsoring on-going investigative efforts to make all aspects of the industry better.
One of the major categories needing both clarification and improvement involves shelf stability and shelf life.
"Almonds are relatively low-moisture, high-oil-containing nuts with a long shelf life when properly handled," ABC reports, noting that, "Almond quality and shelf life can be influenced by three general factors — product characteristics, the environment during storage and distribution, and the package itself. These factors interact in many ways to influence quality and shelf life and maintaining almond quality during long-term storage in ambient condition."
Two instances are given as examples: The Journal of Food Science cited one long-term-storage study of almond shelf-life involving raw, blanched, and blanched-sliced kernels successfully with another shelf study done by the U.S. Army that proved various almond forms, from raw and roasted to blanched or sliced, had up to a three-year shelf life when packed in tri-laminated foil pounces under vacuum.
The Almond Board noted that packaging played an important part by providing physical protection and, "when needed, a barrier to moisture and/or oxygen and odors."
One such research study, overseen by Ronald Pegg of the Department of Food Science Technology in the University of Georgia's College of Agriculture, has just announced its results.
The objective of their research was to determine the impact of storing raw in-shell almonds to determine their kernel shelf-stability. In February 2019, raw Nonpareil and Butte almonds were stored, both in-shell and as shelled kernels with brown skins, into woven polypropylene bags and stored at selected environmental conditions varying in temperature and humidity.
The plan was to keep an eye on the samples for about 24 months to see which best tolerates long-term storage.
Deterioration of flavor
"The big takeaway from our data is that storing almonds in-shell can inhibit lipid oxidation which essentially leads to deterioration in flavor," said student researcher Daniel Seeler.
Project data showed Butte shelf kernels were actually a little bit more susceptible to oxidation relative to the Nonpareil cultivar. "However, when stored at shell, there wasn't a significant distance between the two," adds Pegg.
"We haven't crunched all the numbers and are still collecting some volatile data and looking at statistical measures for storage parameters at different time points. We also want to look at shorter periods, say six-month storage which might be more typical, to see if there are any associated differences re: time.
"Ideally you want to turn over your product as quickly as possible, but if you can store it in-shell for a certain period of time before shelling and extend the shelf life, you can have greater access to international markets. A lot really depends on moisture content and packaging although the fatty composition within the nut and how much polyunsaturated fatty acids actually exist are key drivers for lipid oxidation."
While research projects of this nature are ongoing and the results of one project may be the impetus to initiate follow-on research, data from this investigation will help growers who also store almonds in-shell maintain quality.
"A lot depends on grower space and how quickly they can get product out to the sheller and the market," says Pegg. "If they have the capacity, they can hold in-shell almonds for a good period of time before they have to send to the sheller, and still maintain quality. We now have scientific evidence on how quality can be maintained or extended by keeping almonds in-shell as opposed to having to shell them right away."
About the Author(s)
Subscribe to receive top agriculture news
Be informed daily with these free e-newsletters
You May Also Like
---