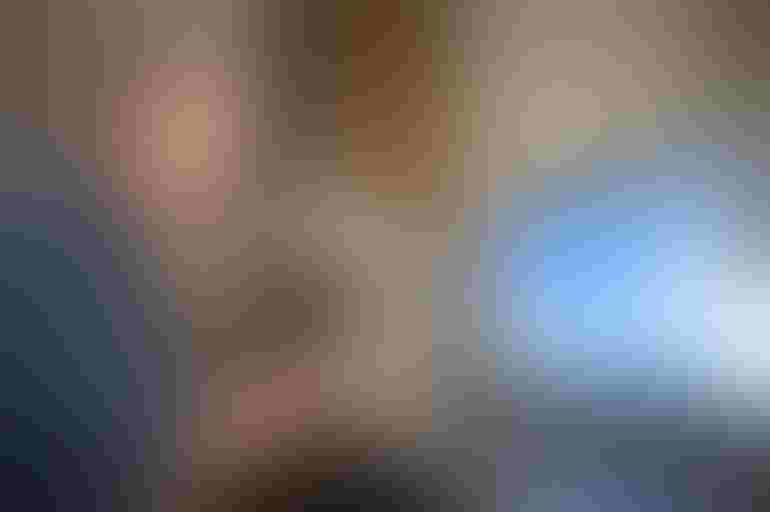 Plant physiologist Daniel Manter examines a Phytophthora culture. Phytophthora brought on by crown or root rot may have caused the early yellowing of some walnut tree leaves.
USDA ARS
In the days and weeks leading up to the beginning of walnut harvest in the Sacramento Valley this year, a limited number of orchards began reporting yellowing leaves on some trees.
The earliest reports indicated only select trees in a row or orchard seemed to be involved, prompting many orchards to call for assistance from extension farm advisors and University of California Cooperative Extension (UCCE) researchers.
Determining the cause of the condition can be challenging according to orchard specialists because yellowing can be an early signal of various problems.
"There can be multiple causes of yellowing trees," Greg Browne, USDA Plant Pathologist at University of California (UC), Davis told Western Farm Press in a telephone interview recently. "It's necessary to get your shovel out and investigate the root system in order to discover additional information that could provide a clue to the condition."
Early yellowing of leaves in walnut trees can be and often is caused by crown rot or root decay prompted by Phytophthora infection. Phytophthora crown and root rot is a serious cause of tree loss for most tree crops, including walnut. The disease is caused by a species of Phytophthora, a soil-inhabiting fungus-like organism. More than 10 species of Phytophthora attack walnut, some mainly invading the root crown or trunk base and some mainly invading the roots.
But researchers say after examination of roots on subject trees, the problem can most likely be attributed to waterlogging induced root death. With the heavy rains experienced in the late winter and spring across parts of the Sacramento Valley, potentially combined with early irrigation of orchards, soil moisture limited tree roots to atmospheric oxygen, eventually resulting in root asphyxiation.
"Wet, waterlogged soil conditions may have physiologically harmed the root system (of affected trees), but it is a hard one to prove exactly what is going on but that's sometimes the general story we have for some orchards that have been exposed to wet soil for a long period of time," Brown said.
Luke Milliron, UCCE Farm Advisor in Butte, Glenn, and Tehama Counties and Janine Hasey, UCCE Farm Advisor Emeritus, also addressed the topic in a recent blog post.
"Plant roots need to breathe," they wrote. "This process of respiration is critical to energy production in roots. Saturated surface soil moisture levels restrict root access to atmospheric oxygen, limiting the energy production of respiration and eventually resulting in root asphyxiation (death)."
Researchers say the condition is not always uncommon and can be caused by heavy rains and floods or by lighter rains and over irrigation in late spring.
"The most likely cause of the yellowing and tree collapse that we saw this spring and summer was waterlogging induced root death," reported Milliron and Hasey.
Prevention is often possible by better irrigation management, specifically by limiting irrigation schedules. Restrict fall irrigation to allow for rains in late fall and winter months and avoid starting irrigation too early in the spring before it is needed.
 "Careful irrigation management is key to preventing waterlogging induced root death. Two cultural controls are planting on berms and using stream splitters in sprinkler irrigated walnuts to keep water away from the tree trunk and crown."
"Saturated soils should always be avoided. Although, reducing irrigation set length to avoid saturated soils is a highly-site specific consideration. One rough rule-of-thumb is to limit irrigation sets to 18 hours. One excellent irrigation management strategy to avoid keeping roots too wet is to use the pressure chamber (pressure bomb) and wait until the trees indicate that they need water."
UC Cooperative Extension also advises not to allow irrigation water to stand in the orchard for more than 24 hours and use practices that promote good water infiltration and penetration. For new trees, establish root stocks or young trees on berms, and make certain drainage across the orchard is uniform, eliminating low spots.
In some instances, walnut trees can recover from waterlogging depending on the level of root damage involved. Several practices have been tried, including topping out the upper canopy. But it is recommended to consult UCCE orchard advisors or public or private tree specialists to evaluate your specific orchard and tree conditions.
For more news on tree nuts as reported by growers and farm advisors, subscribe to the Tree Nut Farm Press e-newsletter.
Subscribe to receive top agriculture news
Be informed daily with these free e-newsletters
You May Also Like
---