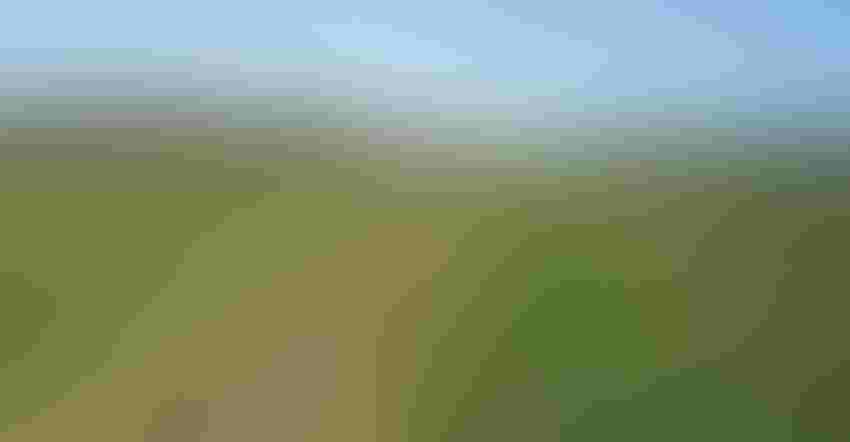 Effective spring burndown treatments are a function of previous weed control efforts in the trees' strips, selection of appropriate herbicide mixes for the weeds present, good sprayer calibration and setup, and accurate and timely application of the treatment.
Brad Hanson/UC Davis
They call it a "spring orchard burndown." No, not in the literal sense of burning it down, but in the context of part of the cleanup operation to control weeds that are present and not controlled by whatever has already been done.
Bran Hanson is a long-time weed watcher in his job as plant sciences specialist at UC Davis.  "This is just part of a broad brush under weed control," he said.  "Growers need to be scouting their orchards regularly, identifying weed arrival and catching weed growth before it gets out of control, then designing a burndown tank mix as necessary.
"The burndown mixture of herbicides could be some sort of translocated systemic herbicide or a mixture of those.  Often in the springtime burndown, what we want is contact herbicide, so the size of the weed is a determinant."
Usual timing for springtime burndown is in the March/April timeframe, but a lot of the previous "usuals" are changing because of climate change.
"It depends on what growers did over the winter months," he said.  "If you had really good wintertime weed control and have a solid pre-emergent herbicide program, that timeframe looks about right.  Bottom line, your clean-up operation depends on how clean your orchard was to start with.  If it's really weedy, you're going to have to be on it earlier and probably more frequently.  Conversely, if you have a fairly clean orchard because of a good program of weed control, burndown might not be needed until sometime in April, maybe even May.  It's all a function of how efficient you were in controlling previous cycles.
"The change to milder winter temperatures, particularly in the southern part of the Central Valley, is bringing summer weeds on earlier.  With winters less cold, soils warm up earlier because of the lack of fog and warmer nighttime temperatures, bringing on things like nut sedge that emerges in the San Joaquin Valley in late February."
Weed problems
When it comes to predictions of specific weed problems anticipated in 2022, Hanson said it's too early to tell.  Some of the usual pests like horse weed, flea bane, jungle rice, and three spike goosegrass remain problems because of glyphosate resistance.
"These tend to be summertime grasses and weeds, but their earlier-than-usual appearance is probably climate-related, and if 'summer' is starting earlier, that means you have a longer period where those weeds can emerge.
"With less rainfall to incorporate pre-emergent herbicides along with glyphosate resistance on top of that, you've got a recipe for problems arriving earlier and lasting through the summer."
Hanson and fellow researchers have been keeping an eye on something called alkaline weed.  "It's been a problem for several years, primarily in the pistachio growing areas but not in other tree crops.  It's a perennial weed, very tolerant of glyphosate.  I'm not sure why it's here unless it's a soil-related issue because pistachios — and alkaline weed — can both grow in some pretty tough soil conditions."
For growers about to undertake spring burndown, Hanson has some suggestions: "Make sure your spraying equipment is calibrated and in good operating condition, so you get good coverage.  A lot of failures come in the form of poor application, it's too late or the weeds are too big or we don't get proper coverage.  Sprayer calibration and operator training are efforts that help ensure the most bang for your buck."
Subscribe to receive top agriculture news
Be informed daily with these free e-newsletters
You May Also Like
---