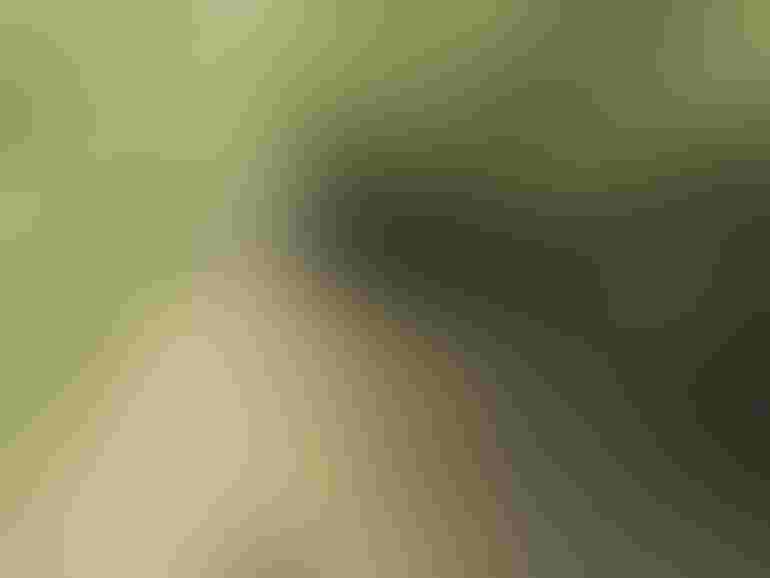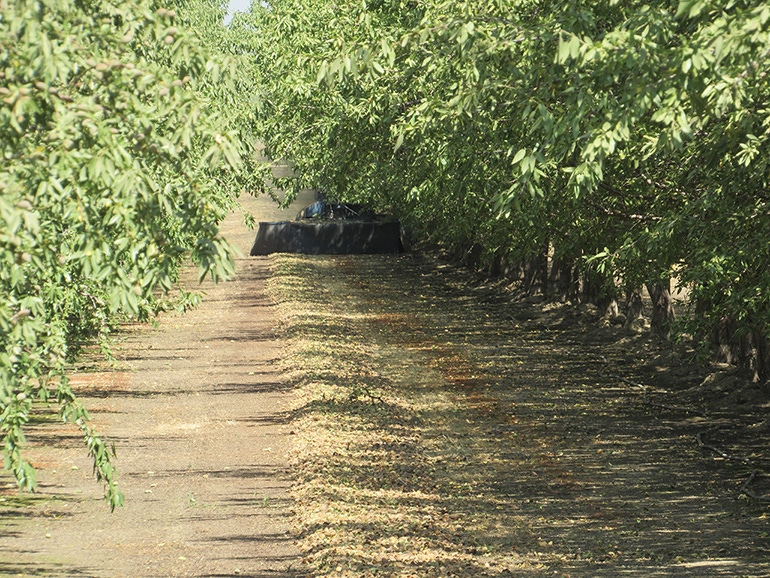 Almonds are harvested in an orchard near Dunnigan, Calif., in 2018.
Tim Hearden
It's been a rollercoaster year for farmers across California nut country this year. With harvest operations running at full speed at many almond orchards, it's hard to believe September has arrived and summer is quickly coming to a close.
For some almond farmers, harvest will continue over the next several weeks. Others will soon be or are already beginning orchard sanitation efforts. While it is still too early to know for certain, for some almond growers, like Michael Favagrossa of Favagrossa Farms near Fresno, almond yields look promising. He says in spite of a slow start to the year and the added challenge of excessive rains, he believes many growers are going to be pleased with their yields this year.
Generally, orchard operators in Fresno County are reporting they are running about a week late with this year's harvest compared to 2018 but advise that bountiful hot days in July and August have aided the crop in its final stage of development.
While USDA estimated in July that almond harvest this year would be about 2.3 billion pounds, some industry marketers say they think production could top that forecast. Regardless of total production numbers, they predict the price of California almonds will remain strong this year despite trade barriers. In a press release last week, Western Growers said the demand for California almonds remains high in China and once the trade conflict is resolved, the quality of the California nut should bring China buyers back to the table.
Blue Diamond Growers CEO Mark Jansen agrees optimism is growing, saying he is pleased with the possibility that a new U.S.-Japan trade deal may be in the works and if adopted it could lead to reductions in tariff and non-tariff barriers to access the Japanese market. He noted Japan is the third largest market for U.S. agricultural goods and a new agreement, as proposed, would enhance marketing efforts designed to reach Japanese consumers.
New temporary law addresses smoke, worker protection
The Occupational Safety and Health Administration (OSHA) has adopted emergency regulations designed to protect outdoor workers in California from exposure to smoke created from wildfires. The measure, adopted in July this year, will be administered by the California Division of Occupational Safety and Health (Cal/OSHA) and will cover day laborers, agricultural workers, landscapers, construction workers, and sanitation workers. 
Under terms of the new rule, employers will be required to provide respirators to workers exposed to unhealthy air because of wildfire smoke according to the Cal/OSHA board.
California employers are already required to protect workers from hazards like unhealthy air, but the new requirement seeks to shore up requirements specifically addressing fine particulate matter from wildfires, which can reduce lung function and worsen heart and respiratory conditions.
The temporary rule will be in place for one year. During that time, the board will stage a series of public meeting to receive comments. Following that, a permanent rule could go into effect.
Speaking of wildfires
Who can forget the deadly California Camp Fire last November that burned across 156,000-plus acres and claimed the lives of 86 individuals and injured others, not to mention the damage it caused for residents of Butte County?
This year don't be surprised if you see unmanned aerial drones flying high above Butte County and other areas of the nation. USDA's National Institute of Food and Agriculture is funding a project created by Xiaolin Hu, director of Georgia State University's Systems Integrated Modeling and Simulation lab that will collect real-time data about wildfires, including fire front data and wind data in wildfire areas.
Hu and research partners Haiyang Chao, director of the University of Kansas' Cooperative Unmanned Systems Laboratory, and Ming Xin, professor of mechanical and aerospace engineering at the University of Missouri, are testing their "KHawk" drone over prescribed fires, and building new drones for autonomous sensing, navigation, and control.
No official word where the drones will be flying, but if another California fire breaks out this year, the drones could be deployed.
Watch out for the threat of BMSB
You may have already heard, the Brown Marmorated Stink Bug (BMSB) is on the move in California and the insect threatens almond and pistachios in the Valley, as well as peach, apple, grapes and other crops. University of California Cooperative Extension (UCCE), Integrated Pest Management Farm Advisor Jhalendra Rijal, who serves Stanislaus, San Joaquin and Merced counties, has reported the pest has already caused damages in at least two Turlock area Almond orchard this year and have damaged other fruit and nut orchards in the year past.
He warns traps are the best method of determining the presence of BMSB. Rijal and other researchers are currently researching for a spray solution to the problem but warn diligence in the field and orchard is critical. Check the Western Farm Press Tree Nut section for a complete article on the problem and discover how to monitor for the pest and how to report it to extension officials.
Finally, don't miss the upcoming field meeting set to take place Sept. 12, 8 to 9:30 a.m. at the Nickels Soil Lab in Arbuckle where Dani Lightle (UCCE Orchards Advisor; Glenn, Tehama, and Butte Counties) and Drew Wolter (University of California (UC) Junior Specialist Intern and UC, Davis Graduate Student) will discuss how different trunk protection methods help mitigate herbicide damage to young almond trees.
As almond growers continue to harvest, walnut and pistachio growers are getting ready for the big event. Now is the time to check your pre-harvest to do list as the start to harvest season approaches.
Happy farming.
For more news on tree nuts as reported by growers and farm advisors, subscribe to the Tree Nut Farm Press e-newsletter.
Subscribe to receive top agriculture news
Be informed daily with these free e-newsletters
You May Also Like
---