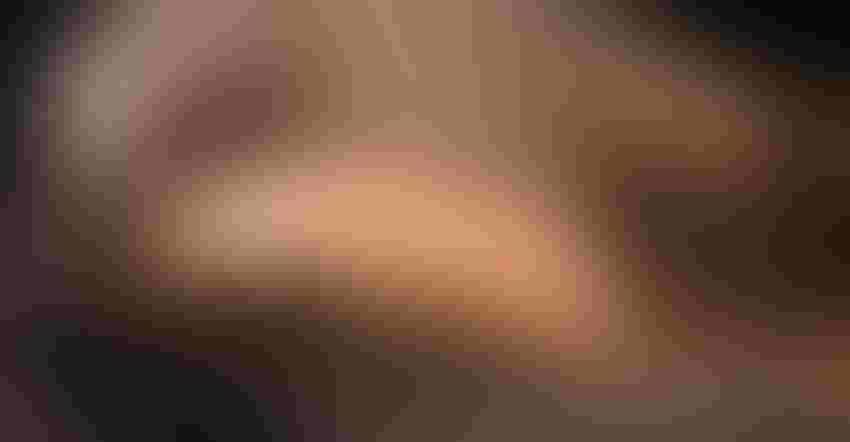 A navel orangeworm larva. This pest is the number-one insect enemy of almonds.
USDA ARS
With growers watching expenses rise and income droop, there's been some severe checkbook tightening going on involving later applications, minimal efforts, and even downright skipping some traditional protocol.
As reports surface that an increasing number of tree managers may have cut back on their winter sanitation efforts, i.e., mummy removal --- and now face the possibility of greater navel orangeworm presence --- we asked IPM Specialist and Kern County farm advisor David Haviland to comment.
"Winter sanitation is all over the board," he said.  "Some growers do it and always will because they recognize the value in making it happen.  There's also growers who never do it, never have, and will probably never be convinced they need to.  Then there's a whole bunch of orchard managers in-between on the issue."
Citing some of the associated negatives --- increasing labor costs, lack of that labor, and orchards with tall trees that make sanitation really difficult --- he adds in the factor that winter sanitation is easiest after a rain when the nuts are heavy and fall easier.  "We had some good rain early in the sanitation season where people could get in and do it, but for anyone that didn't get it done then, they watched the rest of winter go by without any rain.
Free Report: Tree Nut Management Guide
"So what we're left with is a combination of orchards fully-sanitized, partially-sanitized, or not sanitized at all.  On average, the amount of sanitation throughout the industry has gone down, although it's still a widespread practice with a high percentage of growers."
So, based on that status report, what kind of a NOW season can be expected?  "NOW seasons are never predictable and there's no crystal ball to help with that because so much of the influence related to pest pressure comes from how hot it is during the summer and how the various NOW flights line up with harvest dates.  Predicting how much damage there will be is not something that can be done."
Data proves helpful
However, looking at last year's data helps in planning ahead.  "Last year we were normal or a bit above normal --- not a super good year, but not a bad year either in terms of NOW.  And this year is starting off at fairly close to normal.  We do need to remember that worms had a high chance of winter survival because of minimal rainfall and should be ready to fly by sometime in May.  So we're on a track with normal, but with a little bit of a red flag."
Still, not a reason to become complacent.  "Growers start each year thinking it will be a relatively normal one with the recognition that if they didn't do winter sanitation, or did a poor job of it, NOW problems could be above-normal risk and will need to be addressed more aggressively."
There are other pest problems that may need additional attention like leaf-footed bug that are around thanks to a relatively warm and not-so-wet winter.  "It'll be something to monitor for as a sporadic pest as will spider mites.  A lot of people are concerned this year with spider mites because low water allocations potentially mean less water on trees which potentially means more tree stress which potentially means more mites.  It's a situation calling for more monitoring, although I wouldn't panic because biological controls and Mother Nature are awesome in the way they compensate for these situations."
About the Author(s)
Subscribe to receive top agriculture news
Be informed daily with these free e-newsletters
You May Also Like
---