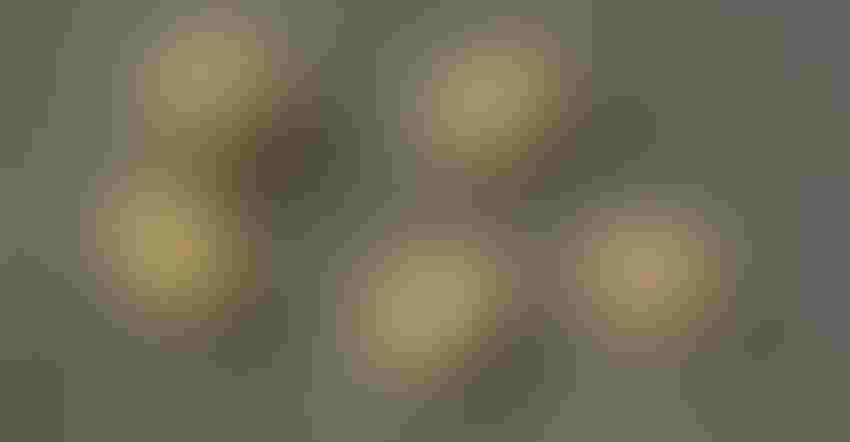 Pistachio growers expect to continue making profits despite water shortages and trade challenges.
USDA ARS
"We're now seeing some of the challenges our larger, more mature industry members, the almond and walnut sectors, are already experiencing," said Dennis Wood, Chairman of American Pistachio Growers Board.
As part of Woods Family Farms in Fresno, he's kicked a few dirt clods in his time growing grapes, almonds, and now, pistachios.
"Our board is made up of 18 volunteer members, both growers and processors, who our focused in promoting our product, especially the export side. And our efforts are proving successful as we've been able to get a 39% growth rate with the expectation of a continuing profit growth over the next five years."
But you don't live in the past, no matter how successful it's been, and Woods and his group have set their sights on what lies ahead. "We expect 115,000 acres to be in product over the next few years and that represents billions of pounds of product that will require work on the export side and tariff relief."
One marketing sector that has been heavily addressed is health. "We've commissioned studies involving health aspects and have had some phenomenal response in this area. But we're not sitting on any laurels. We like to emphasize that pistachios are a complete protein that you don't have to refrigerate or cook and that resonates well as a desirable product in a lot of overseas markets."
While trade barriers in the export market represent stumbling blocks in this area, there are other obstacles to overcome.
Woods is undaunted. "The biggest issue we all face is water…or lack of it, and sustainabilility and regenerative agriculture have become buzzwords. We're fortunate versus other nut products in that pistachios are a Middle East crop that can get by with not only less water, but water of lesser quality."
More groundwater
He cites the fact that more groundwater is being pumped to maintain all tree health. "We're all fighting for a water supply that's been poorly distributed with much of it going out to the ocean. The availability of that water is tougher and the quality of that water isn't as good as it used to be. All of which adds up to a big effect on price versus reward for growers.
"As a younger industry than some others, we're seeing the same problems but we're able to pivot a little quicker because of the location and needs of our trees. We've been in cotton country and land that used to grow row crops where the cost of water didn't work for those growers."
Woods was asked if the impact of climate change was making a difference in the world of pistachios: "We're noticing some movement to areas with longer growing seasons where there may be better water opportunities, movement similar to that of the grape growing community. Our temperatures have risen a couple of degrees, but we're a desert plant and we have more head room with the heat."
And still, the research continues on how things can be done better, cheaper, and with less. "It's on-going, looking for how we can stay ahead. Maybe there's a little luck in the crop we chose. We have a very forgiving commodity, but we're always looking to more efficient farming practices using less water and less inputs."
About the Author(s)
Subscribe to receive top agriculture news
Be informed daily with these free e-newsletters
You May Also Like
---