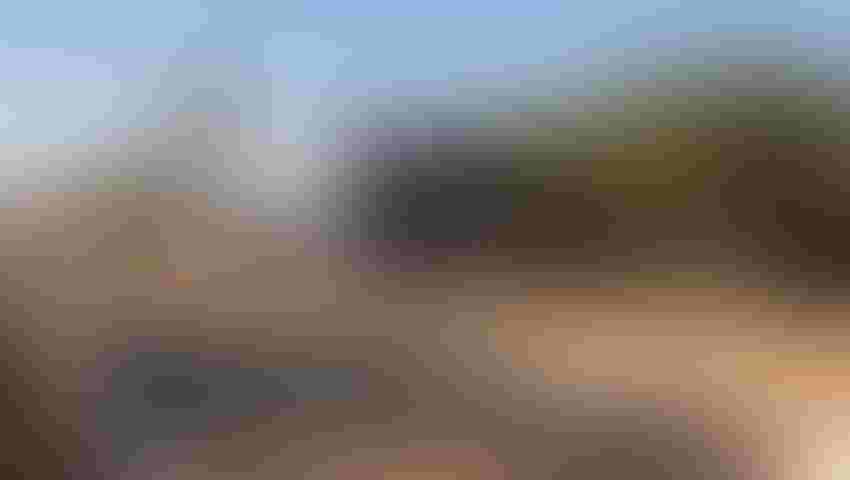 Pistachios are harvested in the San Joaquin Valley. Researchers are reminding pistachio growers not to kick up too much dust with field work during bloom.
Todd Fitchette
Weeds in orchard row middles are out of control and need cutting — but flail mowing is no delicate task and blows dust into leafless canopies. Is irreparable harm done to fruit set?
Horticulturist Lu Zhang, formerly with University of California, Davis and now on staff at Oklahoma State University, is among a group of researchers who set out to determine if field dust injured leaf stomata and prevented photosynthesis while inhibiting pollen loading that resulted in poor pollination.
Because florets of both male and female pistachio flowers have fully exposed stigmas and anthers vulnerable to things like desiccating winds, they don't appreciate dry conditions and flail mowing during pollination is a culprit because of the dust generated.
"We set out to learn if dust on stigmatic surfaces reduced pollination and fruit set; if herbicide residue in the dust compounded the problem, and if the dust influenced pistachio nut growth. We wanted to determine if orchard dust harmed pistachio pollination, and if so, how," Zhang noted.
In the investigation, supported by the California Pistachio Research Board, they determined that "higher dust-to-pollen ratio, particularly dust-containing herbicides, could prevent successful pollination that in turn brought poor fruit set and nut quality."
To decrease the threat of dust interfering with pollination, it was recommended that windbreaks be planted — particularly in young orchards where spring winds were a perennial problem. 
In more established tree groves, mowing during pollination becomes a non-recommended action. Instead, applying pre-emergent herbicides as early as possible before pollination was a recommended control measure.
Weeds among the trees
But what specifics apply to the problem of weeds among the nut trees? Richard Heerema, tree nut specialist at New Mexico State University, had some thoughts on that subject.
"There are orchard floor options available," he emphasized. "One way would be to maintain a completely vegetation-free floor using either herbicides or mechanical means. These are relatively easy approaches to use and they might allow you from having to do any mowing.
"Another approach involves herbicides in pre-emergent form as part of the herbicide rotation and that can be done before bloom as a spring application. My caution here is to make sure to follow the label of the particular formulation you're using because different pre-emergent herbicides are handled differently."
The struggle here is a balancing act between prevention and remediation; if you don't want to have to worry about battling weeds, try not to let them grow in the first place.
"Weed management differs between the trees and in the middle area, the length between the tree rows," he said. "Pre-emergent to prevent new weeds from growing is a possibility in the driving lane when you don't have vegetation on the orchard floor and can take equipment in before irrigation or the arrival of precipitation. It's always a balancing act."
If the long-term pre-emergent window of opportunity has passed for this season and blooms are already evident, Heerema has another suggestion involving drip system irrigation.
"With varied drip, you can reduce the amount of weed growth during that time period," Heerema said. "That's one way to manage the orchard during vegetation, but it also has its pros and cons as the non-weeded areas are actually more prone to throwing dust into the canopy. Like a lot of agriculture, it's all a balancing act."
For more news on tree nuts as reported by growers and farm advisors, subscribe to the Tree Nut Farm Press e-newsletter.
About the Author(s)
Subscribe to receive top agriculture news
Be informed daily with these free e-newsletters
You May Also Like
---