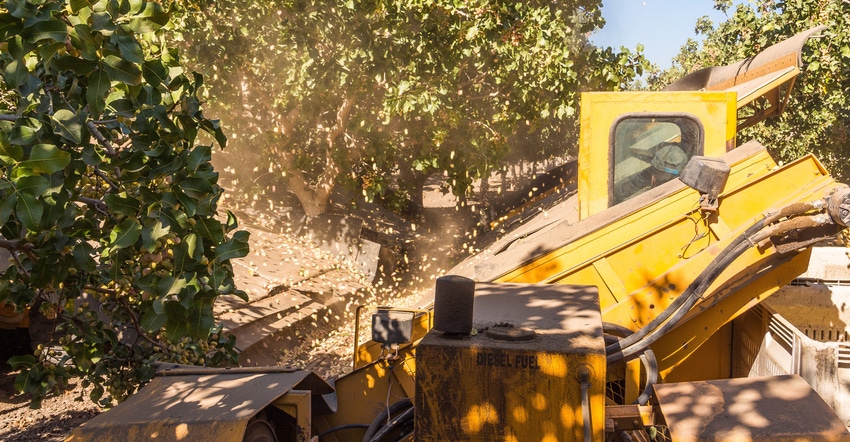 Pistachio production was robust this fall despite it being an "off" year for the alternate-bearing nuts.
Todd Fitchette
Based on the opinions of 1,200 members of the pistachio-growing community covering three states [California, Arizona and New Mexico], the next five years will present both opportunities and challenges.  The collective consensus came from ten of the 11 largest processors and the more than 800-plus growers who attended the annual Pistachio Conference in Carlsbad.
A panel of growers made that prediction about the future citing three topics uppermost in their minds — a desire to accelerate pistachio production over the next couple of years, remaining an integral part of the export sector, and the omnipresent and on-going battle with a variety of pests.
According to economic data, California growers alone should produce 6.9 billion pounds of the tiny nuts over the next 5 years, nearly 2 ½ billion pounds more than were produced during the last five-year period.  That rate of growth should keep pace with consumer demand, both domestically and in targeted export markets.
"The non-profit trade association of American Pistachio Growers packs a punch in export markets," says its chair, Dennis Woods of Woods Family Farms in Fresno.
Woods was one of the many boots-on-the-ground participants at the conference, a daily practitioner who kicks dirt in his three orchards daily.  "We have 300 acres of pistachios, first planted in 1981, and I was still the new kid on the panel — even after 41 years with trees in the ground.  Most of our growers are multi-generational families and that's what is somewhat unique about pistachio growers, there's so much accrued knowledge."
Predictions for this year
Asked to share some of that knowledge and apply it to a prediction for this year's crop, Woods said: "The big question mark every year is water and this will be a tough water year for growers, no matter what district you're in.  Where I farm, we will have a zero water year, the same as last year despite the fact we're in a large federal water district.
"We have to be creative as farmers always are.   I have an interest in a water bank and we have wells on our properties, but even the wells are limited to pumping because of SGMA rules.  I recently purchased another 350 acres with no short-term plans to plant pistachios until they figure out the water situation."
Although he praises his industry for its conservation efforts — "Early on, we were way ahead into drip irrigation and very stingy with water — he anticipates that belt will be tightened even further.  "When we're doing everything we possibly can and decisions are made about things like fish protection versus farmers and food production, that makes it tough."
Fellow grower panelist, Dominic Pitigliano of Tulare County (and past APG chair) indicated a focus on export markets was driving the increased consumer demand with particular attention being paid to India with its rising population and growing per capitia income that produces an increased consumption of pistachios.  It's estimated that by 2026, India's daily pistachio purchase will be over 400,000 pounds.
"Getting tariffs reduced or eliminated is step one, followed by marketing efforts that continue to promote the health benefits of American pistachios," said Woods.  Adds APG President Richard Matoian: "We've done a good job so far and we're optimistic about the next five years."
Subscribe to receive top agriculture news
Be informed daily with these free e-newsletters
You May Also Like
---