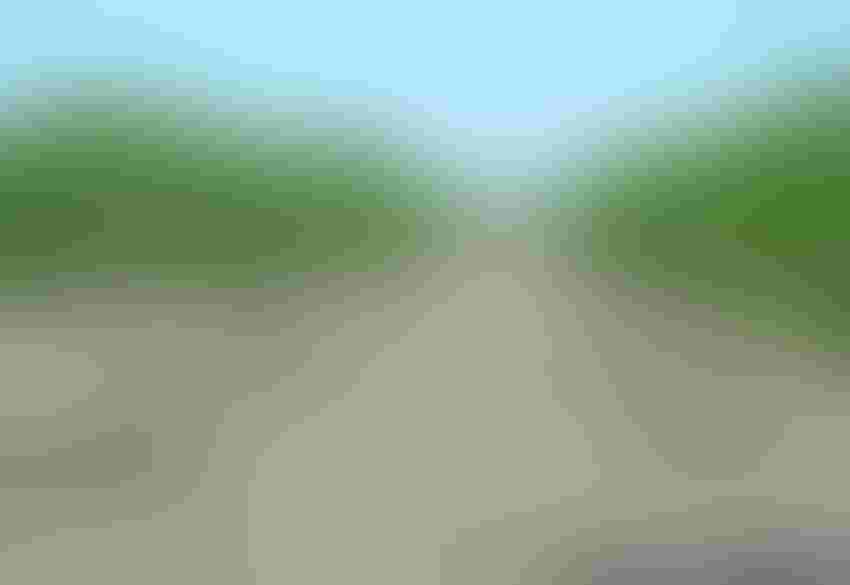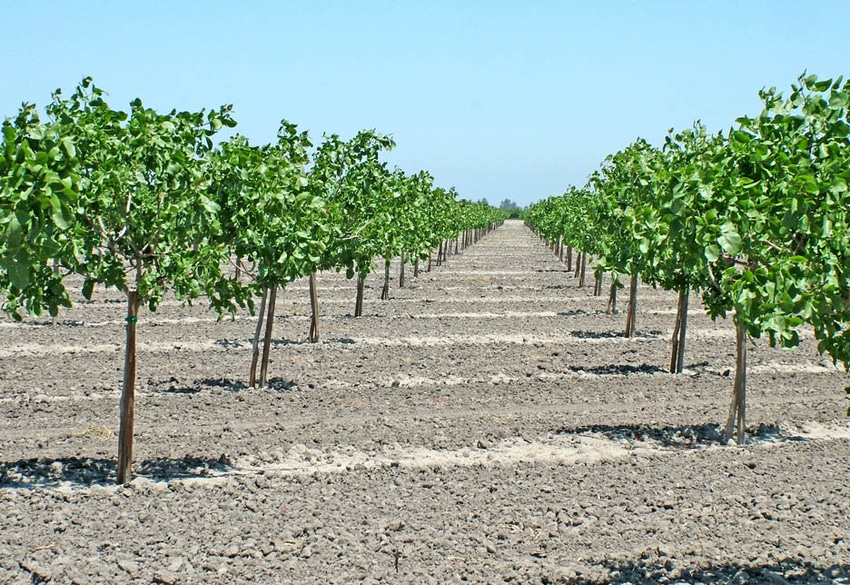 With one eye on the slow pace of the almond bloom this season, and another on their still dormant pistachio trees, growers in the southern San Joaquin Valley are anticipating a bud break in their pistachio orchards.
Usually, the earliest trees start blooming around March 25. This year that may be delayed about a week or so, says pistachio grower and consultant Carl Fanucchi, Fanucchi Diversified Management, Inc., Bakersfield, Calif.
"The almonds were late to get going this year, but once we had some hot weather they really came on fast," he says. "Temperatures in the second week of March were forecast to reach 80 degrees. Maybe that might help the pistachio buds pop out." Now, it's anyone's guess as to the size of this year's crop. However, the number of fruit buds on the trees is an early season indicator of what might be coming.
"The younger trees, those seven to nine years old, look good," Fanucchi says. "Depending on the size of their crop last year, some of the older trees are loaded with fruit buds. But some are pretty light."
Another clue is the number of new bearing trees coming on line this year. All this is leading many observers to predict a decent size 2013 crop.
"We have a pretty good idea of how many acres of trees are in the ground," Fanucchi explains. "Also, the crops keep getting better, and growers are doing a better job. So, most are thinking this crop has to be close to last year's record 555-million pound crop."
Want access to the very latest in agriculture news each day? Sign up for the Western Farm Press Daily e-mail newsletter.
Growers will get a better idea of the crop load by June 1 after nut drop and as the remaining fertilized nuts begin to size and clusters become more evident.
With near-record dry weather this winter, including much-lower-than-normal water content in the mountain snowpack in early March, getting enough water to support their trees and the crop is shaping up as the big issue for growers this year, he notes. It will be even bigger for those on the West Side of the San Joaquin Valley, who get their irrigation water from the San Luis Reservoir south of the Sacramento-San Joaquin Delta. This year, due to the amount of water being diverted into San Francisco Bay to sustain Delta smelt, the water level in this critical reservoir stood at 60 percent of capacity in early March.
"Reports indicate growers on that aqueduct system will probably get no more than 25 percent of their allocation, depending on mountain snow accumulation in March and April." Fanucchi says.
Most West Side water districts hold water bank interests that can trade water, depending on the amount of water they have stored underground. Most have not totally replenished what was used in the last round of cutbacks, he adds.
Still, the lure of strong pistachio prices continues to outweigh any water concerns, as growers keep planting more trees.  That is pushing up land prices, Fanucchi notes. He's heard of good land, with well and surface water, selling for as much as $14,000 to $15,000 an acre. "I've even heard of some pretty tough ground with lower quality water selling for more than $5,000 an acre," he says. "In my lifetime, I've never seen anything like it.
"Pistachios, as well as almonds and walnuts, are all in really strong demand. Right now, life in the nut business is pretty darn good."
This report on the almond bloom is from Tree Nut Farm Press, a twice-monthly electronic newsletter published by Farm Press during the growing season. If you would like to receive Tree Nut Farm Press go to the bottom right of this page and sign up for it and other Farm Press electronic newsletters.
More from Western Farm Press
Outcry grows over feral hog damage across US
About the Author(s)
Subscribe to receive top agriculture news
Be informed daily with these free e-newsletters
You May Also Like
---