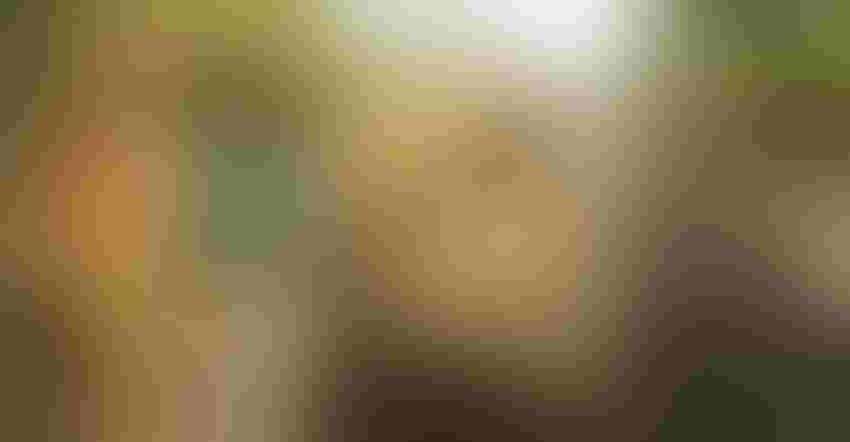 This year's pistachio crop is now expected to weigh in in the range of 875-900 million pounds.
Todd Fitchette
The pistachio industry's past and its future both remain hypothetical at this point as the past is still in the present and the future is yet to come.
Speaking as this year's shake was still winding down but not yet complete, Richard Matoian, president of the American Pistachio Association, put it this way: "We enthusiastically began 2022 believing we had the potential to produce about 1.2 billion pounds, which would be the third year in a row of over a billion pounds."
Of course, plans and projections are subject to unexpected twists. "We had unusually warm weather, like 90 degrees, during our bloom period which was followed by several days of unusually cold weather. All of which confused the trees and threw off bloom. Many orchards, particularly in the southern part of the San Joaquin Valley, ended up with erratic nut sets with clusters widely spaced. Add to that the summertime hot spells and the drought and SGMA limitations that caused many orchards to not be irrigated to their fullest."
And what you got as the nearly final crop headed to the processors was in the range of 865 million pounds. "I wouldn't expect the final final number to jump up substantially, probably somewhere in the range of 875-900 million pounds, quite a bit below our initial estimate," Matoian says.
And while he speaks mostly in terms of California crop, he also notes that while Arizona last year produced a little over 13 million pounds, this year's production in that state logged in at 8 million.
"Industrywide, we're likely not going to carry over as much as we anticipated — 354 million pounds — this year's crop indicates we'll easily go through that inventory."
Long-term, Matoian still believes the future is positive, made even stronger if industry members work together. "What generally affects one, affects all of us," he said.
Looking ahead, in his mindset, the glass can be both half full and half empty. "The positives include continuation of a strong demand worldwide, including China where we still have tariffs in place. And there's great growth opportunities in the Middle East and countries like India as well as an upsurge to Japan, in addition to our domestic market."
Recession looms
Then there are the headwinds: "A worldwide recession looms with consumer reluctance to purchase luxury snack items like pistachios. Grower costs continue to go up — fuel, fertilizer, electricity, labor, and the price and availability of water."
As costs escalate, the profit margin for growers and processors grows smaller as wholesale pistachio prices have fluctuated only a few cents per pound over the past couple of years.
Again, the half full/half empty example: "Consumers want product and are willing to pay for it and a shorter crop brings increased demand and rising prices. Although a worldwide recession means less consumers and with grower/processor costs increased, less profits will be returned to them."
So, with the industry's crystal ball still cloudy, there are still optimistic overtones. "From what I can tell, there's still a lot of growers looking at what crops are available to them and they're focusing more on pistachios than say almonds, walnuts, even wine grapes."
Pushing both optimism and obstacles aside, January 2023 represents a clean slate and a fresh start. As Mother Theresa so sanguinely noted: "Yesterday is gone. Tomorrow has not yet come. We have only today. Let us begin."
Subscribe to receive top agriculture news
Be informed daily with these free e-newsletters
You May Also Like
---