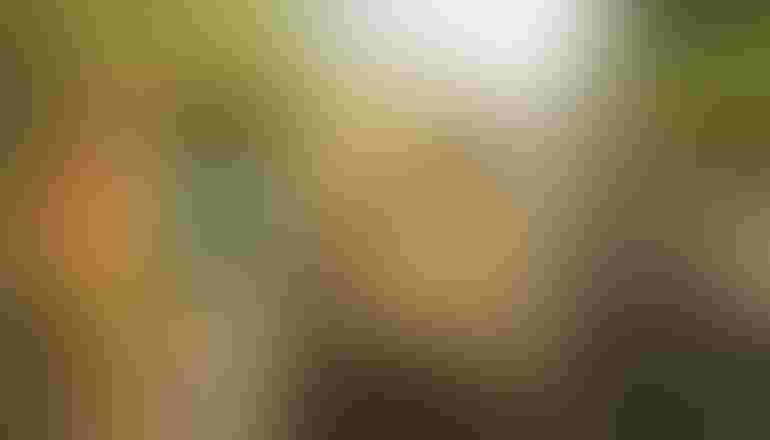 Pistachios are harvested in the San Joaquin Valley. Acreage is expected to keep increasing in the coming years.
Todd Fitchette
Pistachios first arrived in California in 1854, introduced as a garden tree.
According to the Keep California Farming web page, "The pistachio industry harvested its first commercial crop some 45 years ago, producing 1.5 million pounds on less than 4,400 acres."
By 2020, the industry had exploded with millions of pounds and hundreds of thousands of acres producing "the happy nut" as it's known in China.
American Pistachio Growers Association Executive Director Richard Matoian, representing 800 grower members in California, Arizona, and New Mexico (the only states with domestic commercial pistachio production), says there are more than 300,000 acres in California with some 250,000 of those currently bearing nuts and several thousand new acres being planted every year.
At the group's 2019 conference, the prediction was that pistachio acreage would climb to an estimated 350,000 acres in the next two to three years. Estimates of economic output hit the $3.6 billion figure when indirect spending by growers and processors was included. Nearly $1.1 billion in labor income is generated by that business activity which also generated nearly $121 million in indirect business taxes.
In a study commissioned by the American Pistachio Growers, the California pistachio industry is projected to be in excess of 392,000 acres which will produce more than 1.4 billion pounds by 2026. That's calculated conjecture based on tree plantings over the past five years and contemplating normal weather conditions and no disruption of water supply and the numerical rise in production, estimated at close to 90% over the past nine years. Some big "if's" — but overall optimistic opinions based on the expected one-billion-pound mark (actually the 1,071,600-pound mark) for the 2020 crop.
Nuts' popularity increasing
Assuming the estimated area, yield, and production projections to be reasonably correct, that would represent 3,700 pounds per bearing acre.
"All tree nuts are increasing in popularity with returns better than growing other commodities and with less labor being required," Matoian noted, referencing the growing popularity of pistachios as a healthy and nutritious snack. 
That said, he did acknowledge issues within the Golden State including water availability and cost, labor availability and cost, regulatory issues like groundwater pumping regulations, urban encroachment, a loss of pesticide products, and cost of land.
"It's not as easy as one might believe," he admitted.
In his pistachio projections [U.S. Pistachio Future Production Projections 2019-2026], agricultural economist Edmond Missiaen allows some caveats for leeway dependent on changing conditions. His estimates cover fully mature tree acres and account for cyclical nut production of 4,300 pounds per acre for on-years and 2,800 pounds per acre for off-years.
In referencing the on- and off-year production cycles, he does remind readers that these are projections and not too much faith should be put in that trend because Mother Nature often throws curve balls.
One of those curve balls is the navel orangeworm, the major pest of pistachios and other important tree nut crops in the Western United States. While the orangeworm feeds on almonds, walnuts, figs, and pomegranates, it's the most damaging caterpillar in pistachios, susceptible to infestation as soon as hull split occurs.
One farm pest management advisor in the Sacramento Valley noted that NOW is ubiquitous, while the California Pistachio Research Board referred to it as "the No. 1 pest for pistachios (and almonds)."
Battle against NOW
Last fall's federal spending budget included $6 million to accelerate the battle against the pest and Houston Wilson, UC Cooperative Extension Specialist with the Kearney Agricultural Research and Extension Center, spoke to his Sterile Insect Program on that subject.
 "It's an incremental process, but the short-term status involves good news," he said. "If everything goes well this year and we have good sterile moths by year-end, we'll move on to large scale field trials to figure out flooding ratios over the nearly 2 million acres of trees in California along with other susceptible crops. Short term, we're getting the model up and running before we try to figure out long term best use.  It's a lengthy roadmap, but we're starting to sketch it out."
Also included in the good news category was a new analysis showing that pistachios, grown and roasted in the U.S., meet the accepted definition as a "complete protein," and thus join the ranks of other plant proteins like soybeans, chickpeas, and quinoa. "Roasted pistachios contain all nine amino acids in the correct amounts and contribute to a balanced diet and healthy lifestyle," according to an APG news release.
For more news on tree nuts as reported by growers and farm advisors, subscribe to the Tree Nut Farm Press e-newsletter.
Subscribe to receive top agriculture news
Be informed daily with these free e-newsletters
You May Also Like
---