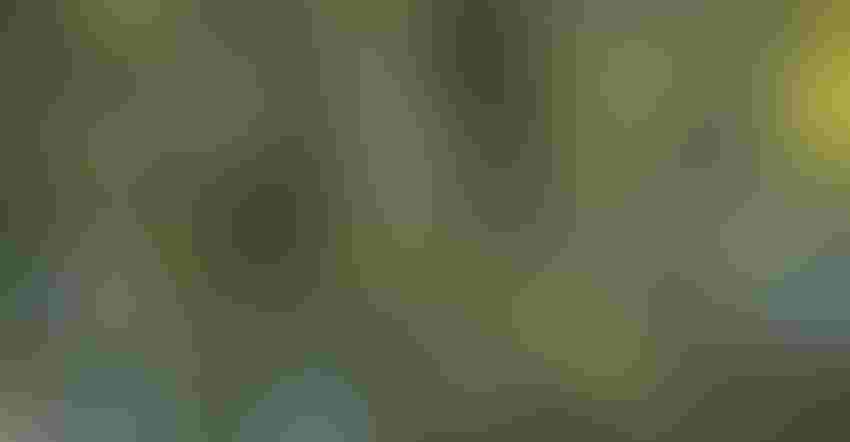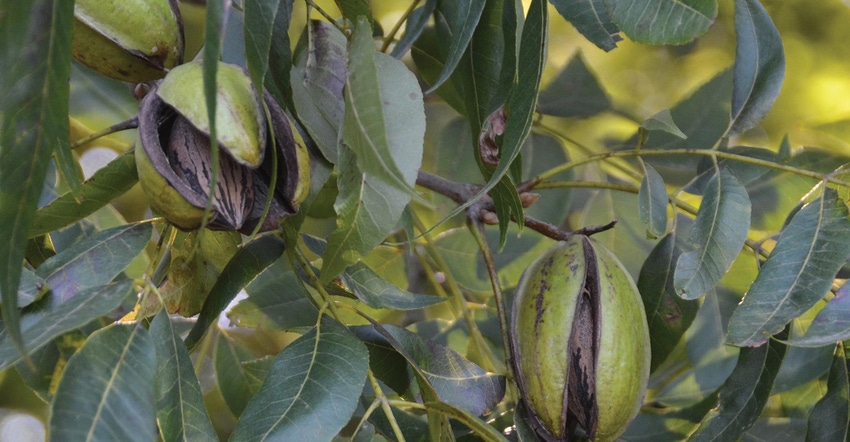 California's pecan industry estimates about 200 new acres are planted each year.
Mississippi State University Extension Service
When the topic of discussion turns to California tree nut production, the conversation generally starts with almond statistics, followed by either walnuts or pistachios.
And then there's pecans, the don't-forget-us nut that slowly increases in both grower interest and consumer popularity.   A decade ago, a Western Farm Press article referred to pecans as "the other tree nut" in the deciduous family dominated by the Big Three.
The first commercial pecan trees took root in California in the 1960s as growers entered the market with an eye on its financial potential — before reality intervened.  Then-President of the California Pecan Grower's Association, Brian Blain, who gave up teaching to turn his part-time farm into a full-time enterprise, noted: "Growing pecans seemed like a way to make good money and the California pecan industry thought it could do no wrong."
That assumption proved incorrect, and the bottom dropped out of yields that were close to a ton per acre.  The finger of blame got pointed at pecan growers who applied walnut-growing production methods imported from Southeastern pecan groves.  "Growing pecans as walnut trees was a huge mistake and we learned the lessons the hard way," remembered Blain.
Free Report: Tree Nut Management Guide
Industry numbers have improved of late.  Based on current estimated bearing acres, most orchards in northern and central California have expanded, although they still must fight soil drainage issues and periodic forays with frost arrival.
Current California Pecan Growers Association President Mark Hendrixson is of the belief that pecans have a bright future with opportunities for increased acreage beyond the current 5,000 or so already planted.  Although the Department of Agriculture dropped its reporting of California pecan acreage nearly five years ago, industry estimations are that some 200 new acres are planted each year.
No more reports
In September 2020, domestic pecan growers received a National Agricultural Statistics Service survey to be used as a base for 2021 production forecasting.  "It's crucial we have accurate data about this key sector of the economy to accurately measure acreage and production for pecans," NASS field office officials said, promising publication of the results in the October Crop Production Report.
Never happened.  Instead, this message: "This report does not contain forecasted pecan production estimates as has been the case in recent years due to a lack of funding.  NASS will not publish the Pecan Production Report in January 2022 that typically contains preliminary acreage, yield, production, price, and value estimated.  Cost funding for this effort was not renewed and as a result, NASS is suspending these efforts.  Annual forecast estimates will be included in the Noncitrus Fruits and Nuts Annual Summary to be released on May 4, 2022."
Until those numbers are published, it will be 'by guess and by golly' in trying to figure out volume harvested and other details.
The 2021 North American pecan harvest from early shake to last-on-the-tree started a bit slower in the East as ripening was a bit behind schedule and weather conditions hampered those efforts.  Texas (hampered somewhat by late season insects and pests), Arizona, and New Mexico were all contemplating good quality and decent yield while Georgia anticipated a reduction in production.  The demand is consistent and nationally, U.S. growers produce some 300 million pounds annually, supplying 80% of the world's pecan supply.
How well they did this harvest and what the upcoming season looks like relies on the fortune cookie message — "More Will Be Revealed."
Subscribe to receive top agriculture news
Be informed daily with these free e-newsletters
You May Also Like
---