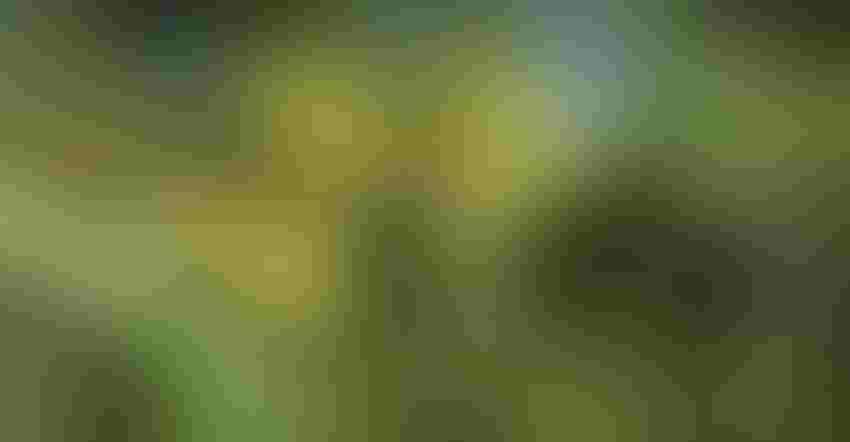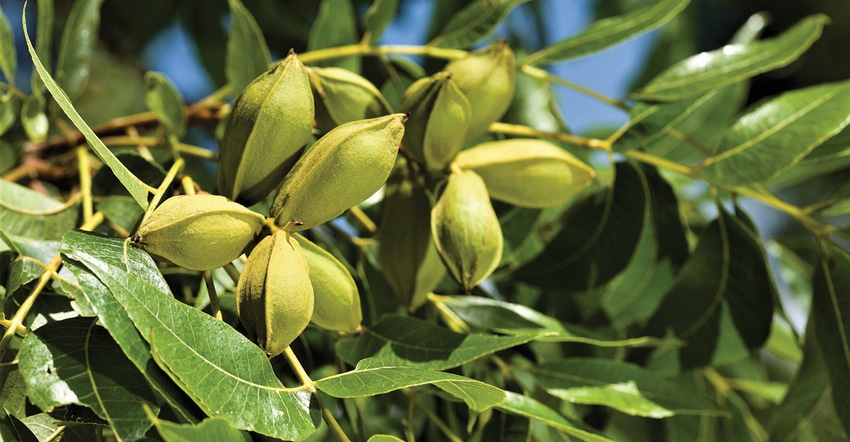 Pecans grow at midseason.
USDA ARS
It's always something, and in this case that something involves pecan pests in New Mexico, Texas, Arizona, and elsewhere.
They're ubiquitous in some orchards.  In Georgia, weevils are a problem in older trees and in Georgia, there's a lot of those.  In Texas, the weevils are referred to as, "the key pest in U.S. pecans."
New Mexico is the No. 2 pecan-producing state in the nation with Dona Ana County lauded as the top pecan-producing county.  The New Mexico Agriculture Department supervises pecan weevil quarantines and requires licensing of sellers and buyers to track shipments.
Arizona doesn't have a weevil problem, but the University of Arizona Pest Management Center has announced the state had joined the list of pecan providers on the lookout for yet another new pest.
"A mirid plant bug in high numbers has been observed on the catkins of some central Arizona pecan orchards," they reported, noting this was a first-time observation and, "multiple growers have expressed concerns about potential impacts to the crop."
In a Cooperative Extension bulletin, they wrote: "The primary concern is that these bugs may move from the catkins to young nuts where probing of young fruit before shell-hardening causes those young nuts to abort.  We are uncertain if the catkin bugs will become irrelevant to pecan growers or if Arizona's experience will be closer to that of pistachio growers in California.  There is no easy answer here."
Pest Management Center Director Peter Ellsworth advocates "exclusion" as the No. 1 job in Integrated Pest Management. "Everyone should practice vigilance so we can continue to prevent this serious pecan pest from establishing in Arizona.  Suspect samples can be brought to the attention of Cooperative Extension personnel so we can identify the insect before it establishes or threatens commercial production."
Monitoring in Arizona
"While Arizona pecan growers don't have to worry about pecan weevil, which can destroy 90% of a crop, we are closely monitoring an explosion of the plant bug in lower elevation orchards," said horticulturist Joshua Sherman of the University of Arizona College of Agriculture and Cooperative Extension.  The insects have been reported primarily on Western, Wichita, and Bradley varieties.
"The insect appears to be a species of clouded plant bug and because it's brand new, we don't know yet if it's a significant impact on flowering," he added. "Mirids feed on the catkins, the male flower of the tree, and subsequent lower pollination would significantly reduce yield success."  Sherman is also keeping an eye on another recent first-time arrival, the previously reported pecan bud moth.
"Arizona pecan growers already have to keep watch for the state's two biggest pecan pests, the yellow and black aphid and the brown marmorated stink bug."
Sherman was asked about this year's harvest in Arizona's 30,000 acres of pecans. "Newer acreage is coming into production years reaching sixth and seventh year and putting on more of a crop.  Pawnee got harvested on the normal schedule, but the traditional December/January harvest was delayed because of unusually warm weather. The mature trees are producing heavy loads and it looks like an above-average year might be possible."
Unfortunately for those who rely on numerical yield reports, the U.S. Department of Agriculture's National Agricultural Statistics Service did not publish its January Pecan Production report because of cost issues.  That report typically contained preliminary acreage, yield, production, price, and value estimates.
Subscribe to receive top agriculture news
Be informed daily with these free e-newsletters
You May Also Like
---